Bob Dylan's Brilliant 'Time Out of Mind' Gets the Box Set Treatment: Review
by Jeff Burger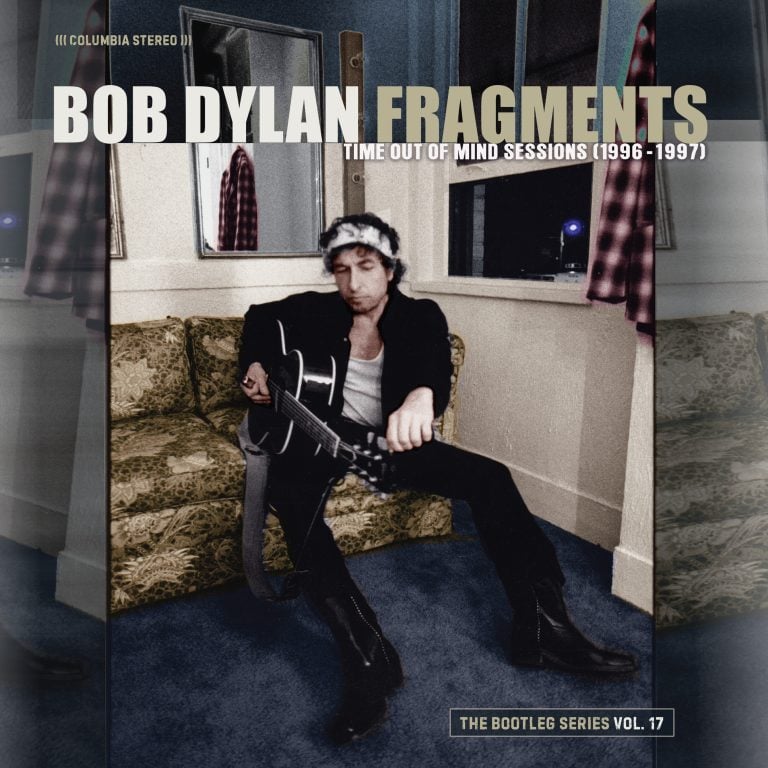 By 1997, many fans had probably lost track of the number of times Bob Dylan had fallen short or gone silent, been counted out, and then proved the critics wrong with yet another tremendous album. He did it again that year with Time Out of Mind—arguably his best record since the 1970s and his first collection of original songs since 1990's subpar (though better than its reputation) Under the Red Sky. Fans get a chance to dig deeper into the September 1997 release on the new five-CD (or 10 vinyl LP) Fragments—Time Out of Mind Sessions (1996–1997), the 17th volume in Dylan's sensational Bootleg Series, which expands on the original release in consistently fascinating ways.
A worldwide bestseller that won Grammys for Album of the Year, Best Contemporary Folk Album and Best Male Rock Vocal Performance (for "Cold Irons Bound"), the 1997 LP reunited Dylan with producer Daniel Lanois, who'd worked on his 1989 standout, Oh Mercy. In his liner notes for the new box, Douglas Brinkley aptly describes the lyrically rich Time Out of Mind as "a cohesive song cycle [that] is about personal survival in a world where dreams drown in black holes and quicksand and time is running out."
The LP includes several indelible love songs. The album-opening "Love Sick" begins, "I'm walking through streets that are dead" and finds Dylan declaring "I'm sick of love, I wish I'd never met you," but adding, "I'd give anything to be with you."
Here, too, are "'Til I Fell in Love with You," the often-covered "Make You Feel My Love" and "Standing in the Doorway," a version of which served as the superb title track in a 2021 collection of Dylan compositions by Chrissie Hynde.
Also featured are some extraordinary meditations on mortality, including "Not Dark Yet," one of the best songs ever written on the subject; the evocative, midtempo "Trying to Get to Heaven"; and "Highlands," a witty, dreamlike blues that was inspired by a Robert Burns poem and that, at more than 16 minutes, ranks as Dylan's longest song up to that point—about five minutes longer than "Desolation Row" and "Sad-Eyed Lady of the Lowlands." (When he and his band finished recording "Highlands," a session manager reportedly asked Dylan whether he had a shorter version. According to Jim Dickinson, who played keyboards on the album, Dylan replied, "That is the short version.")
Listen to "Not Dark Yet" (Version 1)
His sandpapery, world-weary vocals on the LP are right in tune with the material—he often sounds as if he's either running from the devil or singing from beyond the grave—and Lanois's production keeps his voice front and center, where it belongs. The album's backup crew—which includes Lanois on guitar as well as such veteran players as Augie Meyers (organ), Duke Robillard (guitar) and Jim Keltner (drums)—is perfectly in sync with the material as well.
The first disc of the new anthology features a likable remix of the record that, according to liner notes by critic Steven Hyden, is intended "to sound more like how the songs came across when the musicians originally played them in the room, without the effects and processing that Lanois applied later…If the original album remains mythic and enigmatic, this Time Out of Mind puts you in close proximity to the players." Dylan and his producer had reportedly argued about approaches and this stripped-down version is perhaps closer to the singer's intent. It's not necessarily superior to the released album, but it's significantly different and certainly worth hearing.
So are the remaining four CDs, which deliver 49 alternative versions of the material that featured in the album's sessions, including early takes, concert recordings, and outtakes. This writer has been known to question whether anyone (except fanatical fans) needs boxed sets that present three or four renditions of the same songs, but Dylan, who rarely does a number the same way twice, is a special case.
A first take of "Make You Feel My Love," for example, features a longer instrumental introduction and significantly different vocal phrasing than the original release while an alternate reading of "Dirt Road Blues" finds Dylan picking up the pace and trying out some different lines.
A concert rendition of "Highlands," meanwhile, incorporates a few alterations to the lyrics and almost enough variation on the previously released version's instrumentation to sound on first listen like a different number.
Similar comments apply to "Mississippi," the song where Dylan memorably proclaims, "Only one thing I did wrong/Stayed in Mississippi a day too long." (Brinkley's liner notes reveal that this is a quote from a traditional prison number called "Rosie.") Six versions of that song appear here, and most of them sound substantially different from one another as well as from the first official recording of the composition, which surfaced on 2001's Love and Theft.
None of the material on discs two through four has been previously released aside from a live version of "Make You Feel My Love" that served as a single's B-side. The fifth disc, though, features a dozen numbers that showed up in 2008 on the eighth volume of the Bootleg series. Among them are multiple studio and live versions of songs from the Time Out of Mind sessions that didn't make it onto that LP ("Marchin' to the City," "Dreamin' of You," "Red River Shore," and the aforementioned "Mississippi"), plus two alternate studio renditions of the album's "Can't Wait," and live readings of "Cold Irons Bound" and "Tryin' to Get to Heaven."
Previously unavailable recordings of all those songs appear here as well, however, along with assorted other outtakes and alternate versions of Time Out of Mind's tracks, including a whole CD's worth of frequently spellbinding concert recordings. In fact, there's not a weak minute in this package, which is really saying something, given that its playing time is well over six hours.
Related: Our review of Dylan's 2022 book, The Philosophy of Modern Song
Latest posts by Jeff Burger
(see all)