Billy Joel's career got off to a curious start. Originally a sometime session player, he made his way through a succession of early outfits, eventually finding a place within a Long Island-based band called the Hassles. Despite scoring a contract with United Artists and managing to release a pair of LPs (The Hassles and Hour of the Wolf), the band floundered, leading Joel to form a duo dubbed Attila. That band released an eponymous album but split soon after when it was discovered Joel was having an affair with his drummer's wife.
Fortunately, Joel's solo efforts fared far better. His debut album, Cold Spring Harbor, was released on a small independent label and got little notice, but its follow-up, Piano Man, provided his first big breakthrough, thanks mainly to its title tune. The two efforts that followed, Streetlife Serenade and Turnstiles, found marginal success and helped expand his following, but it was 1977's The Stranger that garnered the widespread attention Joel had been striving for.
The first in an ongoing series of releases with veteran producer Phil Ramone at the helm, The Stranger also featured the genesis of his touring band, consisting of drummer Liberty DeVitto, bassist Doug Stegmeyer and multi-instrumentalist Richie Cannata. Joel's determination to use his own musicians was allegedly the reason he declined an offer from the man who had been his first choice as producer, George Martin, who had suggested that Joel use session musicians to make the album, while prompting him to go with Ramone instead.
Not that other contributors weren't involved. A number of top-flight guitarists were recruited for the sessions, among them Steve Khan, Hiram Bullock and Hugh McCracken. Likewise, an all-star collection of backing vocalists—Patti Austin, Gwen Guthrie and Phoebe Snow—served in a combined chorus.
Related: When Billy Joel found an abandoned piano on the street
In essence, The Stranger could be considered its own greatest hits, given the fact that several of the songs are still considered essential Joel standards and remain an integral part of his live repertoire. At the same time, they further blur the distinction that's always dogged Joel's identity, pitting his rocker instincts against his reputation as a balladeer. The former is emphasized in what is rightfully considered one of Joel's most driving and determined songs, "Only the Good Die Young," which shares the story of a would-be suitor whose pursuit of a Catholic girl is thwarted by her religious convictions, yet who opts to try wooing her regardless. Its central coda, "You Catholic girls start much too late, but sooner or later it comes down to fate/I might as well be the one," sums up his decided determination, but was derided by certain fundamentalist groups for being anti-Catholic.
That said, a pair of ballads, "She's Always a Woman" and "Just the Way You Are," are unabashed love songs, suitable standards for weddings, soundtracks and any other medium where heartfelt emotion is eagerly on display. Both were inspired by Joel's then-wife and manager Elizabeth Weber, with the latter becoming the most successful single of Joel's career up until that time, earning a Top 10 placement in the U.S. and a pair of Grammy Awards for Record of the Year and Song of the Year in 1978.
Still, the song that best illustrates Joel's ability to set a scene and offer aural imagery came in the form of the sweeping ballad, "Scenes From an Italian Restaurant." Inspired—naturally—by his favorite New York eatery, it shares a revolving series of musical motifs over the course of its seven minutes and 37 seconds, segueing from a slow ballad into an uptempo midsection prior to reverting back to its slower set-up. Its tale of two lovers meeting at the restaurant is especially touching, bringing to mind Terry and Julie in the Kinks' "Waterloo Sunset," while the music motif itself is, in some ways, reminiscent of the Beatles Abbey Road medley, which Joel has claimed as its inspiration.
Watch the animated video for the song, released in 2021
Not surprisingly, The Stranger, released on Sept. 29, 1977, became the biggest seller of Joel's career to that time, reaching the top 5 in most countries around the world, including the U.S. where it spent six weeks at #2. It also garnered Diamond status, constituting sales of 10 million copies. It's still the most successful album of his career, no small irony considering that he was on the verge of losing his label deal with Columbia Records prior to its release.
Clearly, that threat was alleviated in its aftermath. Joel was a stranger no more.
Bonus Video: Watch Joel perform "Just the Way You Are" live in 1977
Tickets to Billy Joel 2021-22 concert dates are available here and here.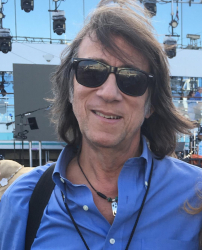 Latest posts by Lee Zimmerman
(see all)