11 Movies That Rock: Woodstock to Spinal Tap
by Noe Gold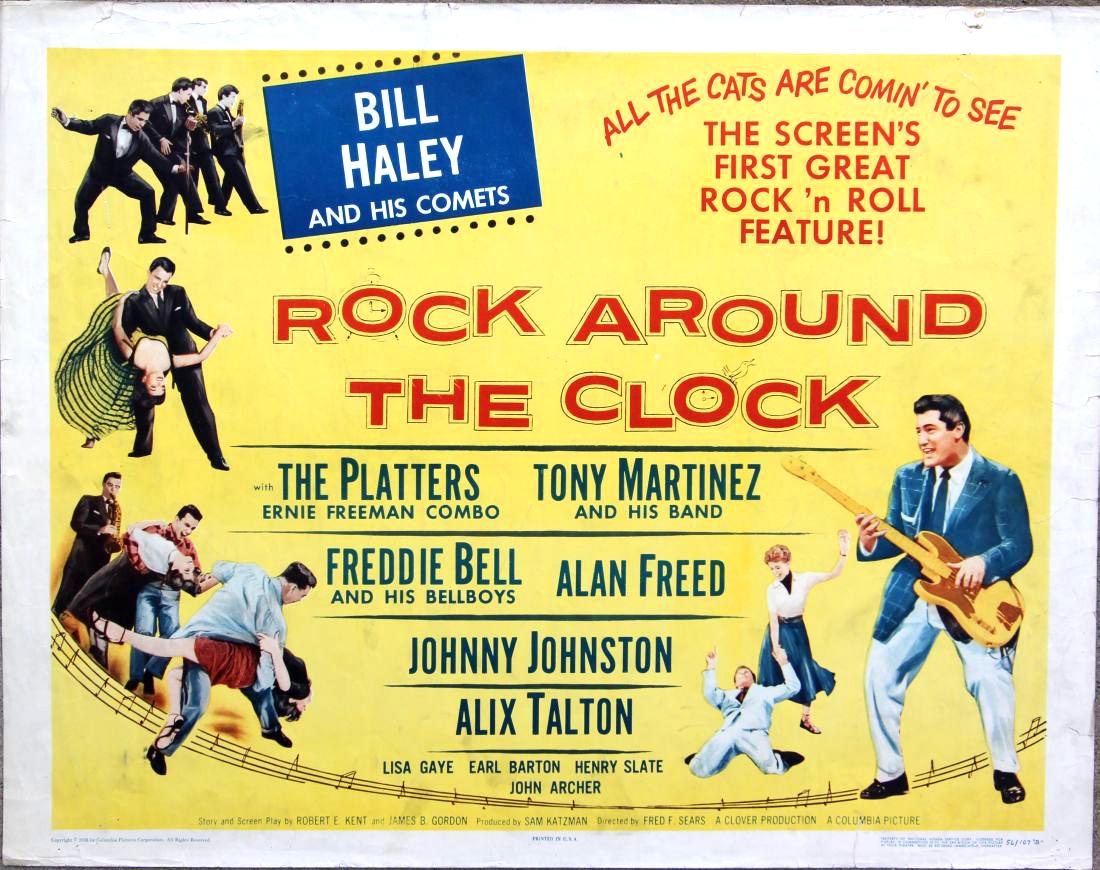 Ever since the 1950s, rock 'n' roll has been depicted on celluloid as this hellacious substance that makes teenagers go crazy and do wild, uninhibited things that freak the hell out of their parents. Take for instance 1956's Rock Around the Clock, universally considered by pundits to be the first real rock movie. it was banned in many countries – not because it encouraged kids to do illicit things like drag race, do drugs and terrorize innocent townsfolk. No, that was a different movie. Rock Around the Clock was banned due to reports of teenagers ripping up the seats in theaters due to their excitement over the loud, raucous music on the soundtrack.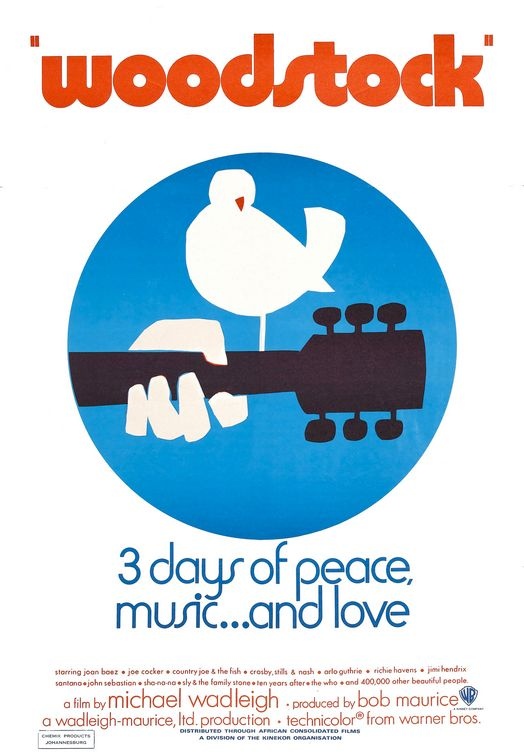 In other words, it was the jungle rhythms of rock music that drove 'em wild. Like the music videos and rock movies of the eighties, the main purpose of the film was to introduce Haley to a worldwide film audience. The plot line about a promoter who observes how Bill Haley and the Comets sell out a small-town venue and enlists AM radio deejay and promoter Alan Freed to take the new music phenom worldwide is a thinly veiled device to plug the music.
From those humble beginnings, the genre of rock movie has evolved to the Woodstock generation's answer to the movie musicals so revered by our parents and grandparents. When Woodstock the movie came along in 1970, it established a beachhead on the pop culture scene that is now defined by three subgenres: The rock doc(umentary); the rock biopic, and the rock musical comedy or drama.
All of these films have one essential ingredient that gets the fans to line up at the box office – balls-out classic rock with loud guitars and screaming fans. As you check these out, you might have the urge to whip out your cigarette lighter and wave it in the air.
11) The Last Waltz (1978)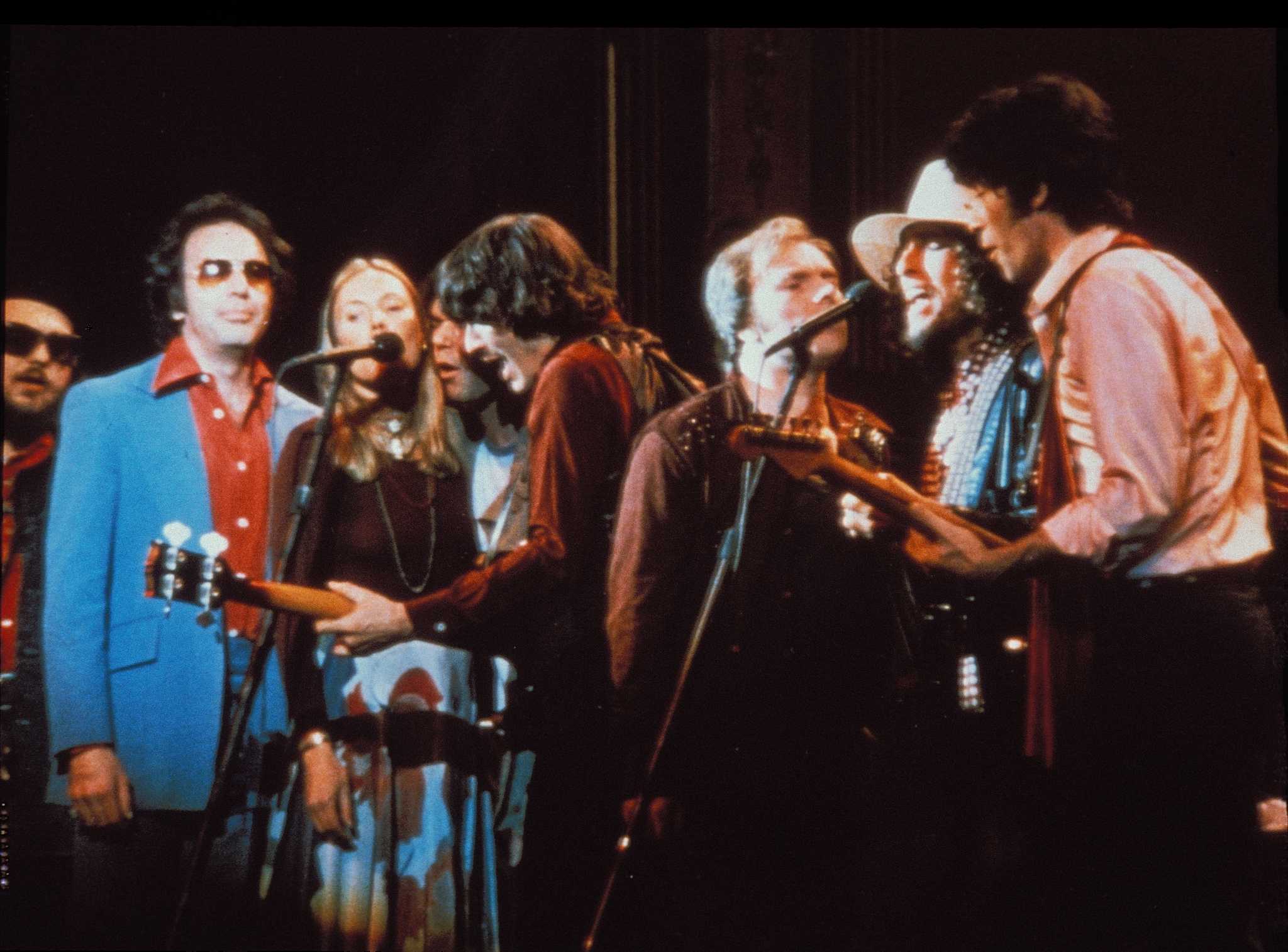 This 1978 documentary about The Band's "farewell concert appearance" Thanksgiving Day, 1976, at Winterland Ballroom in San Francisco is probably the greatest concert film ever made, and it shares a pedigree with Woodstock: Director Martin Scorsese and his longtime partner Thelma Schoonmaker were editors on that one (she was Oscar-nommed for it). The Last Waltz exec producer, former Band tour manager Jonathan Taplin (he produced Scorsese's Mean Streets five years earlier) introduced the director to Robbie Robertson who has since served as Scorsese's music supervisor on dramas such as Casino, The Departed and The Irishman.
Scorsese did not only film the concert. His cameras swoop in and out of the performance by The Band and more than a dozen special guests, including Bob Dylan, Paul Butterfield, Neil Young, Emmylou Harris, Ringo Starr, Ronnie Hawkins, Dr. John, Joni Mitchell, Van Morrison, Muddy Waters, Ronnie Wood, Neil Diamond, Bobby Charles, the Staple Singers and Eric Clapton. The action is punctuated by filmed segments on a soundstage with more musical performances, cinema-verité interview footage and travelogue material in and around the event, backstage and in the studio.
10) Woodstock (1970)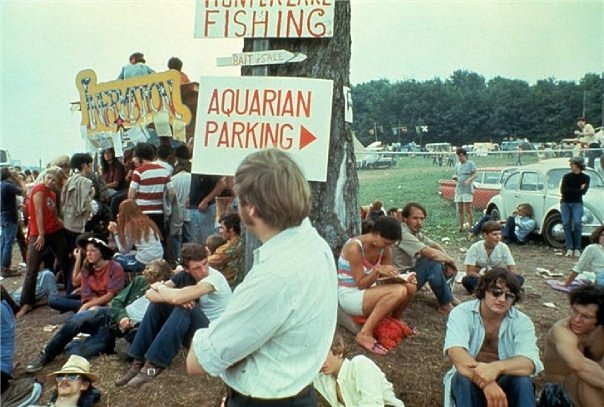 The mother of all festival films. Apres moi, le deluge. Here's a telling statistic: Film's original budget was $600,000. Box-office gross: $50 million. The 1994 version was 184 minutes, and a re-release "director's cut" in 1994 clocked in at 225 minutes. One thing is consistent: Richie Havens opened the film and Jimi Hendrix closed it. Fun factoid: The song "Freedom" on the video here, was composed on the spot, a happy accident due to the fact that scheduled opening band, Sweetwater, was late due to being stuck in the massive traffic jam surrounding the area. Richie Havens thus became the festival opener. More great serendipity for Richie came his way when he was informed that Sweetwater was not yet ready to go on, so instead of taking his bow, he improvised on this song on stage live on what was to become "Freedom," a worldwide hit for the lanky crooner with the big thumb.
9) Tommy (1975)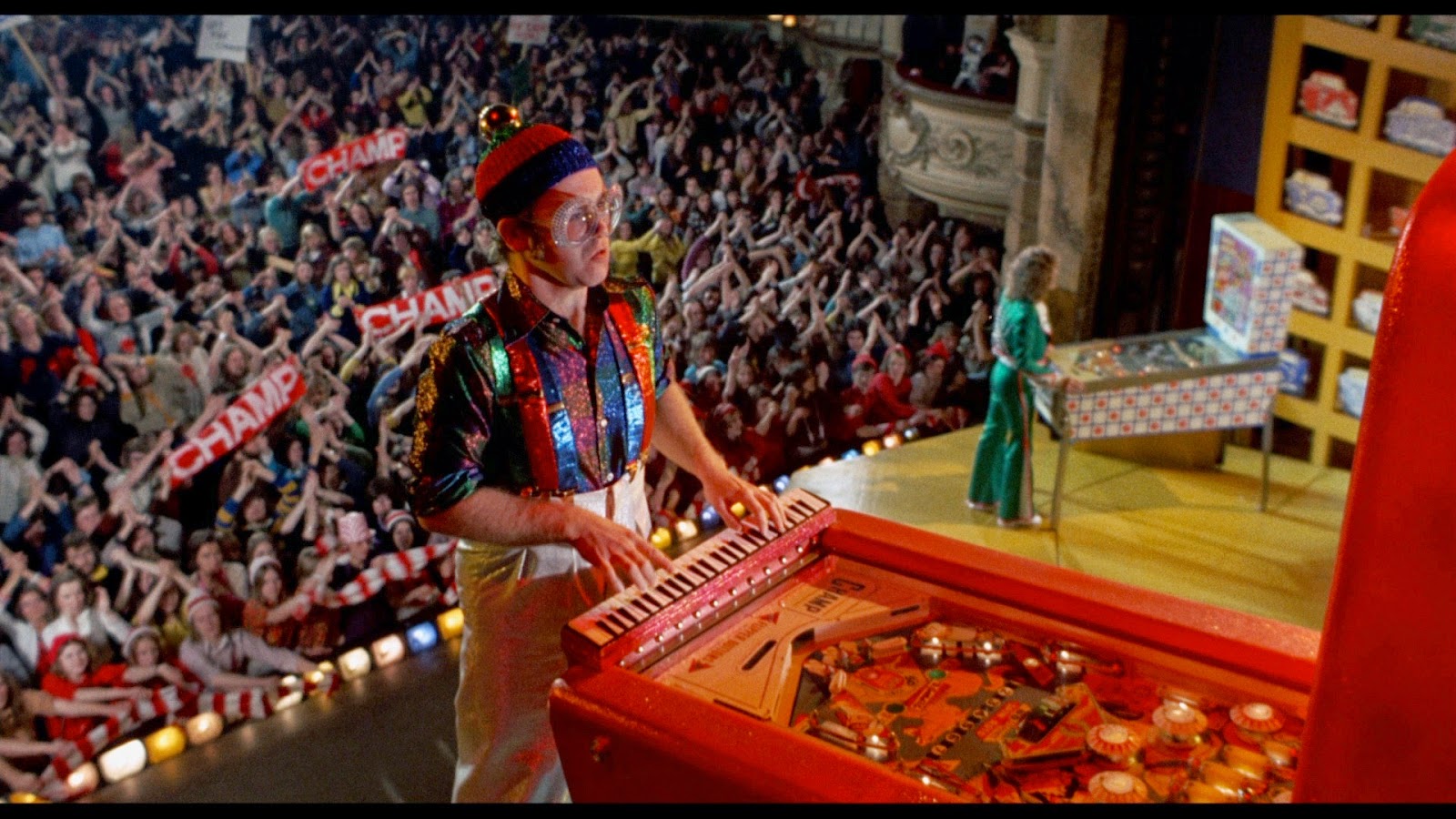 The title character (Roger Daltrey) goes from that "deaf, dumb and blind kid" to Pinball Wizard in this Ken Russell-directed raunchfest based upon The Who's 1969 rock opera album. Russell, a director not known for his subtlety, is a terrific match for the anti-church, anti-hypocrite social commentary of Pete Townshend. Featured are the band members themselves (especially Roger Daltrey, with his faux-innocent journey to a spectacular "I'm Free" and Keith Moon in all his dirty-old-man-in-raincoat glory) and Ann-Margret (Golden Globe Award- and Oscar-nommed for her performance), Oliver Reed, Eric Clapton, Tina Turner, Elton John, Arthur Brown and Jack Nicholson.
8) La Bamba (1987)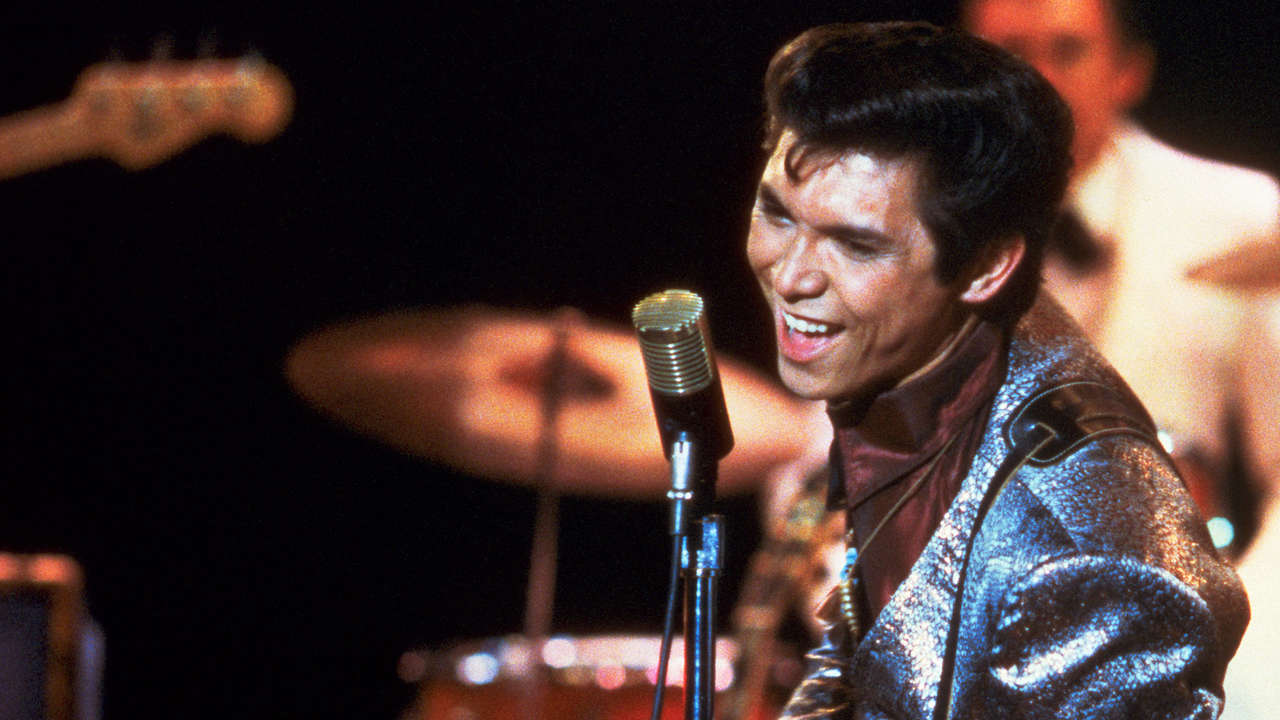 While this one is directed by Luis Valdez, it was produced by Taylor Hackford, who was busy that year, directing the next movie on my list, Hail Hail Rock 'N' Roll. The through-line is obvious, updating the energy of '50s rock via the revisionist perspective of eighties culture. Lou Diamond Phillips, is positively teen-idol soporific as the young Richard Steven Valenzuela, a normal teenage boy who becomes a rock 'n' roll superstar under the stage name Ritchie Valens. This is no concert film but in the rock romance subgenre, but there is plenty of music, courtesy of Los Lobos and Santana, and mucho intrigue and drama in a masterful plot that is inhabited by a stellar cast including Esai Morales, Rosanna DeSoto, Elizabeth Peña, Joe Pantoliano and Phillips. Oh yeah, and while there is plenty of leitmotif in the catchy rocker of the title, the back story about Valens' #2 crooner hit "Donna" is a corker.
7) Hail! Hail! Rock 'n' Roll (1987)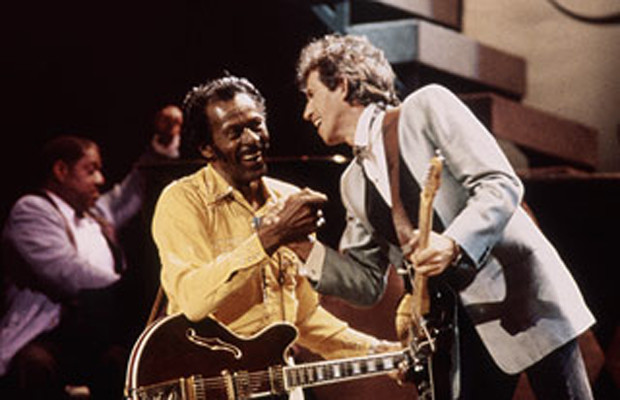 This movie is so delicious, I just have to quote my former colleague, Dean of American Rock Critics, Robert Christgau, who said, "Taylor Hackford's film is a wickedly funny and moving rock-doc classic, exposing Berry the money-grubbing control freak without devaluing his genius in the process." Yes, that's right, you get two portraits in one. There is the reverential homage by producer Keith Richards of his mentor even as said mentor constantly shits on said mentee with insightful comments like, "Don't touch my guitar," as he sniffs at a Gibson 355 offered up by Keith as a gift. And then there is the full-blown concert film with all the gaffes and behind-the-scenes drama of the intricate film shoot recording two Chuck Berry 60th birthday shows that were held on October 16, 1986, at the Fox Theatre in St. Louis. Among the artists performing with Berry were Linda Ronstadt, Richards, Eric Clapton, Robert Cray, Etta James, Johnnie Johnson, Steve Jordan, Bobby Keys, Julian Lennon and Joey Spampinato from NRBQ. Along with concert footage, the film also features scenes from the rehearsals for the shows, interviews with Berry and members of his family, and "talking-head"-type appearances from a number of musicians, including Bo Diddley, The Everly Brothers, John Lennon (archival footage), Jerry Lee Lewis, Roy Orbison, Little Richard and Bruce Springsteen. Did I say Little Richard? How do you get two peacocks in a bottle? Jack Daniels.
6) It Might Get Loud (2008)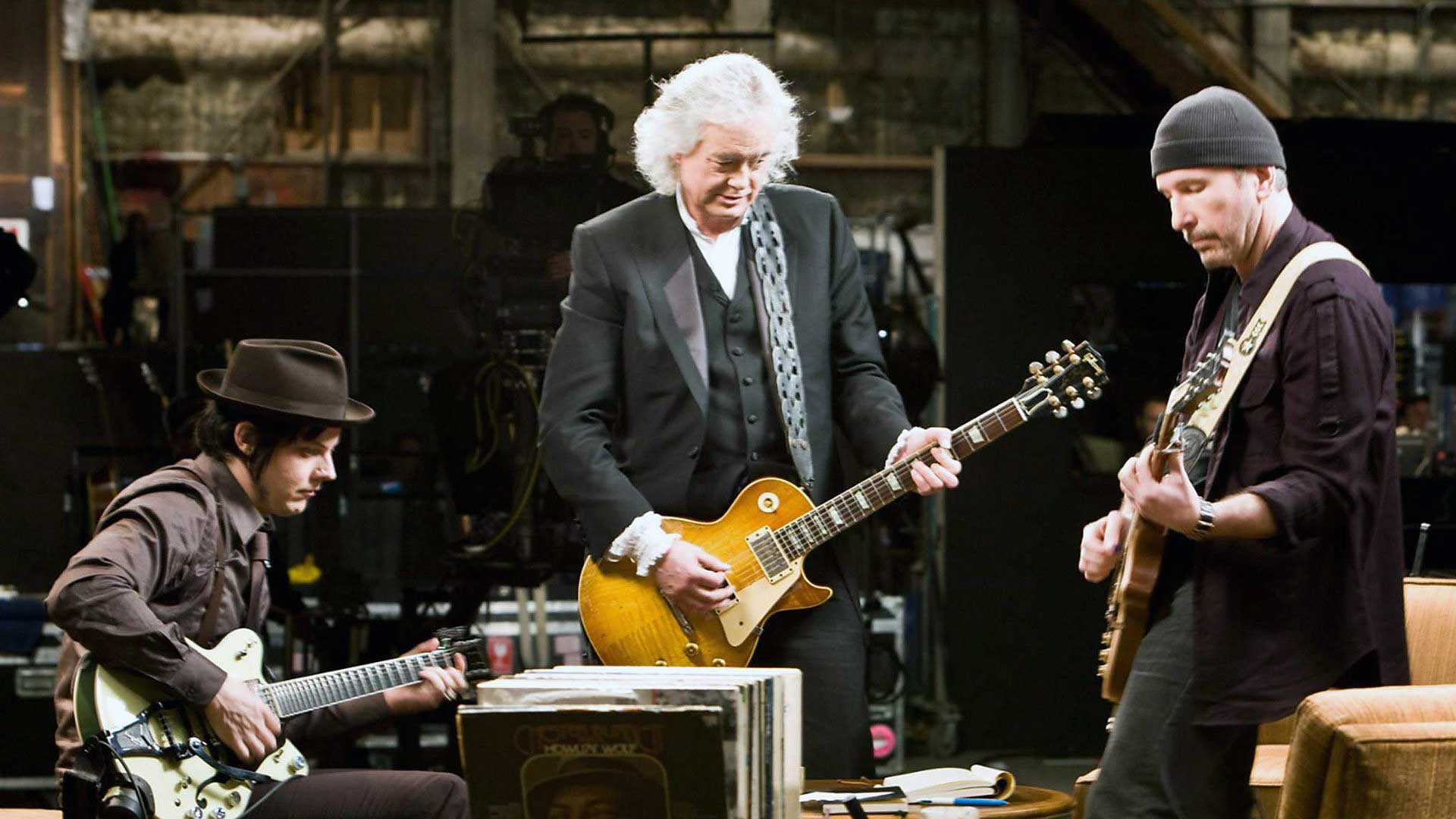 This rock-doc from pedigreed chronicler Davis Guggenheim is a love-fest for guitar geeks, successfully becoming a fly on the wall as Jimmy Page, The Edge and Jack White trade licks, steal tricks from each other (the teaching coming mainly from Page, the stealing unabashedly by White) and convening in a studio with cameras rolling in a process dubbed "The Summit." In these scenes, the three guitarists not only wax nostalgic and academic on their influences and techniques, but they also play each other's songs together, showing each other how to play "I Will Follow," "Dead Leaves and the Dirty Ground" and "In My Time of Dying." The film concludes with the men playing an impromptu cover version of The Band's "The Weight" on acoustic guitars. On the way, we are exposed to lots of footage showing the axemen in their native habitat – Edge's high school where he and his fellow U2-sters first forged their bond, Page's country estate with its immense collection of instruments and Zep lore and Jack White's origins in a midwest upholstery shop, where he formed the seminal group … wait for it … The Upholsterers. When it stops taking itself too seriously, this movie is a lot of fun.
5) Wayne's World (1992)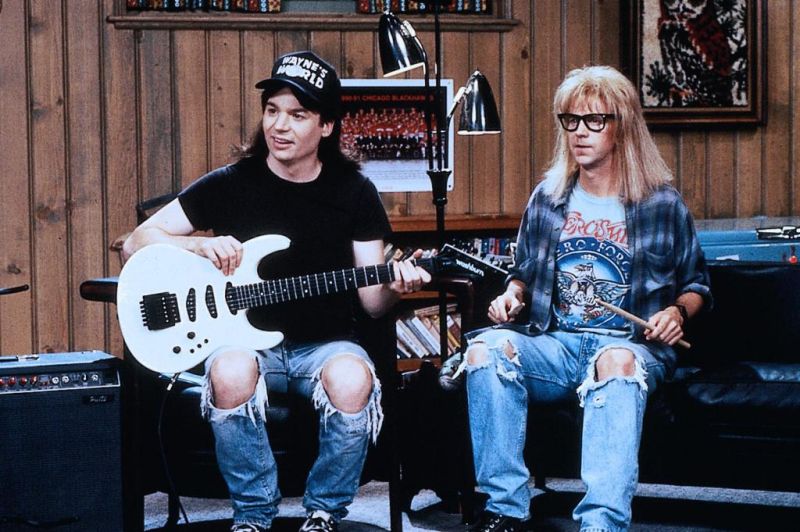 Speaking of fun, Schwing! The many buzzwords and expressions from this one movie that are now commonplace in our vernacular is a tribute to the impact this film has had, the tenth highest-grossing film of 1992 and the highest-grossing of the 11 films based on Saturday Night Live sketches.
"You think we'll win an Academy Award?"
"Oh I'm sure we will … not!"
It didn't win any awards, but who among you can hum a few bars of Queen's "Bohemian Rhapsody" without being transported to the inside of an AMC Pacer?
Fun factoid: One of the many signature gestures of the film that filtered out into the culture is the lads' "We're not worthy" genuflection when they meet Alice Cooper. Myers originally wanted Alice Cooper's "I'm Eighteen" and "School's Out" in the film, but Cooper's manager Shep Gordon convinced him to use "Feed My Frankenstein" instead. Myers' first meeting with Gordon made such a positive impression on him that they became BFFs. Myers' 2014 documentary about Gordon, titled Supermensch: The Legend of Shep Gordon, is his manlove letter. It, too, is a hoot.
4) This Is Spinal Tap (1984)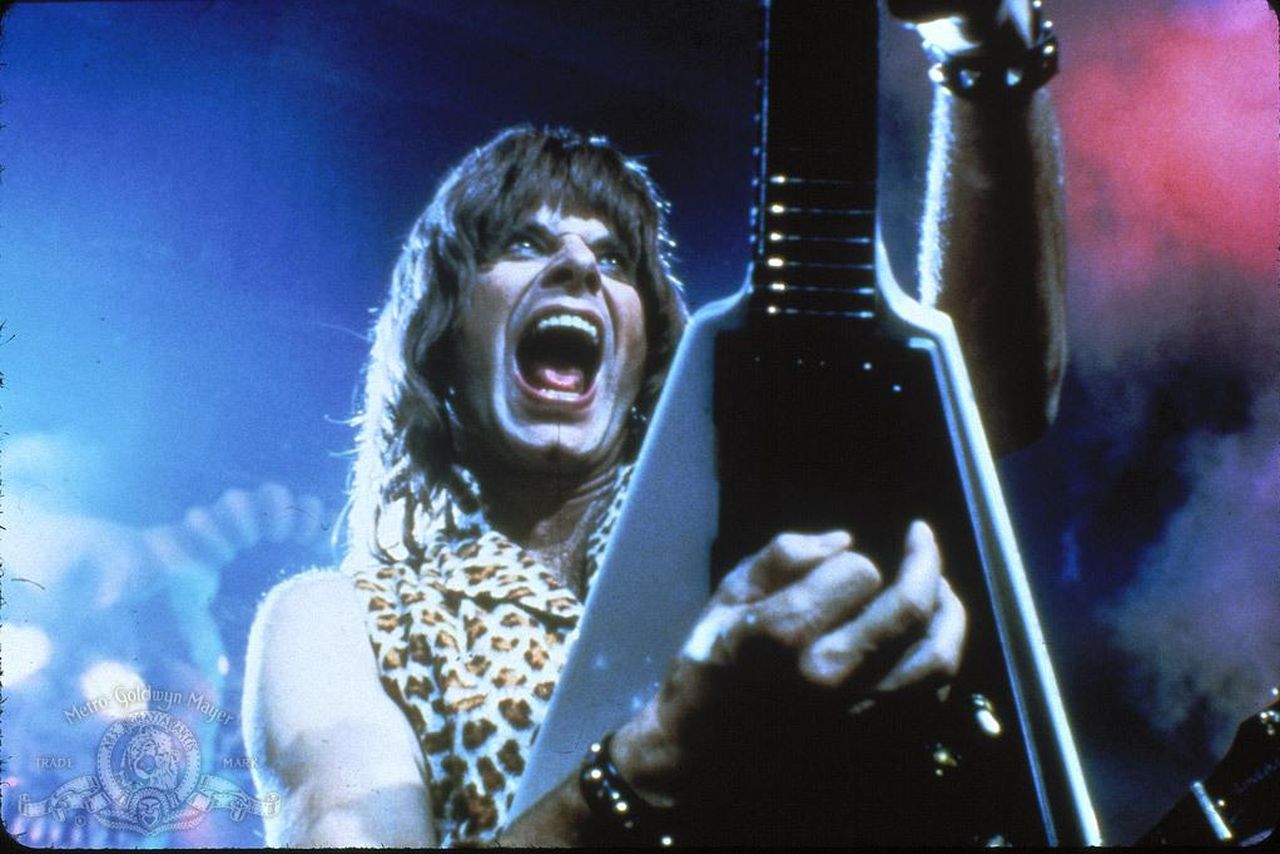 Aside from the fact that it is Fran Drescher reciting the line, "… But they can't prove whose vomit it was," when she chimes in on the mysterious cause of death of the band's second drummer, who supposedly choked on his own expectoration, what can you say? That it goes up to 11? That Nigel Tufnel looks and sounds like Jeff Beck? I've watched Rob Reiner's mockumentary over 100 times with its great performances from Michael McKean, Christopher Guest, Harry Shearer, Reiner, Bruno Kirby, Ed Begley Jr., Danny Kortchmar and Tony Hendra.
3) School of Rock (2003)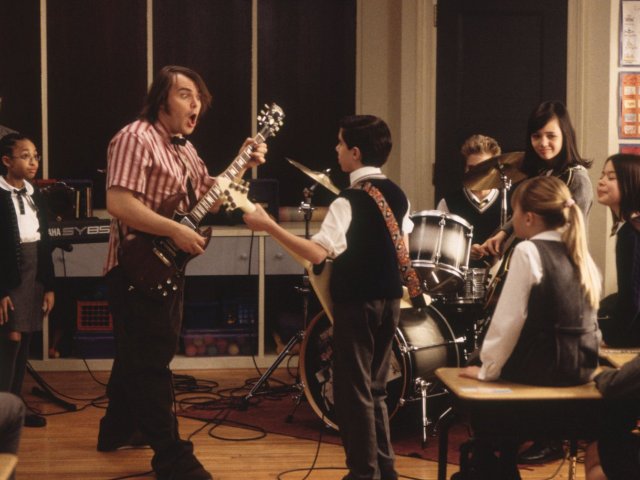 Jack Black was born to play wannabe rock star Dewey Finn, who poses as a substitute teacher at a prestigious prep school and transforms his fifth-graders to rock gods in order to conquer the Battle of the Bands. That is the logline of the Richard Linklater-helmed comedy (the highest grossing musical comedy of all time, until it was overtaken in 2015 by Pitch Perfect 2) on the face of it. But the subtext and the sheer manic joy of Black's Tenacious D-ness turns out to be a real lesson not only in the history of rock but a spot-on lecture about all its accoutrements. For instance, the guitars he wields are prime examples of their respective genres –Gibson SG for an AC/DC song, Flying V for Albert King, Strat for Hendrix, etc. White, Joan Cusack, Sarah Silverman and Miranda Cosgrove make matzoh balls out of bread crumbs. And in November 2015, School of Rock: The Musical opened on Broadway.
2) Almost Famous (2000)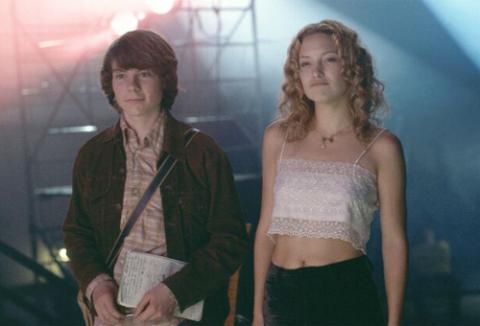 I am a golden god, you see, so that is why I am qualified to riff on this memoir of my friend Cameron Crowe, my contemporary in the rock-journo game (he was a 16-year-old Rolling Stoner when I was in my first job at Crawdaddy). Almost Famous is a gloss on his touring days with Poco, the Allman Brothers Band, Led Zeppelin, the Eagles and Lynyrd Skynyrd with the fictional Stillwater standing in mostly for the Allmans with a soupcon of the others in the mix. Aside from a realistic portrayal of the rock 'n' roll touring life and all its incumbent groupie-shambala-pot-smoking-acid-dropping glaze, the film is really finely turned and fully realized. A revelation is the late Philip Seymour Hoffman as wasted-but-wise Creem magazine editor Lester Bangs, played not necessarily true to life but with a more interesting Hoffman panache.
1) Shine A Light (2006)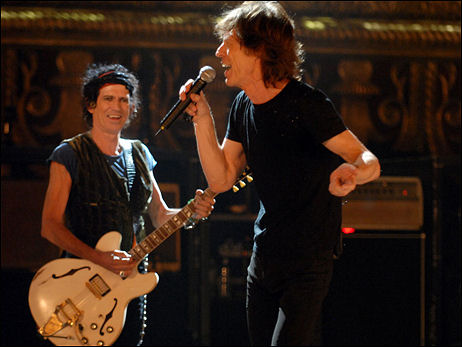 We opened this story with a Martin Scorsese rock-doc, so it's only fitting that we close out with one. It's fascinating to observe what Marty has learned – and what he has stood by – in the interim in terms of technique, storytelling and the management of large groups of technicians and equipment. The story of his transformation of the legendary Beacon Theater in New York is told chronologically, opening with the helicopter-mom tones of Mick Jagger over the speakerphone giving Marty his take on what the production ought to look like. Listening with his usual equanimity is Scorsese, mentally ticking off all the logistical bullet points he will need to pack tons of equipment, 17 cinematographers and the Rolling Stones into the venue. We see it all take shape from the POV of the master director, and then sit back in our seats and watch a great fucking gig. Although the Mickster is fine with his patented prance – and in good physical shape to pull it off – the fulcrum of this entertainment is decidedly Keith. It's priceless to watch him interact with special guests like Buddy Guy. And the sound is fantastic, even in the cheap seats.