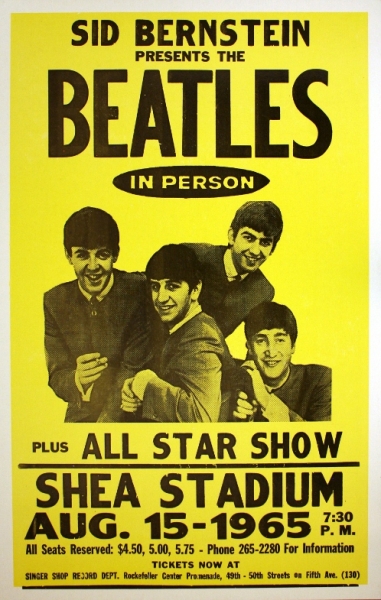 These days it's no surprise when your favorite superstar rock band plays a ballpark or stadium. But for those of you too young to have lived through Beatlemania, step into our time machine with us.
Rock music was still far outside the mainstream. But in the mere 18 months since The Beatles had first arrived in America in February 1964 they'd had five #1 hits and the landscape was rapidly changing.
Their first concert in the New York metro area was the 2,800 or so seat Carnegie Hall in February '64. They returned that summer for two performances at Forest Hills Tennis Stadium, on Aug. 28-29, both of which seated around 16,000. One year later, promoter Sid Bernstein made the leap to 55,000 tickets for Shea Stadium. Not surprisingly, every one of them sold and the take was a bit over $300,000, split between the band and Bernstein. That may not sound like all that much until you translate it into the dollar value today: around $1.3 million for the Fab Four. Not a bad haul for a 12-song, 30-minute set. The show set records for both the size of the audience and its earnings.
One day before, they taped a performance on The Ed Sullivan Show.
Watch them get introduced to the Shea Stadium crowd by Sullivan
Historic footage from the concert is included in the documentary The Beatles: Eight Days A Week – The Touring Years from director Ron Howard, which was released in U.S. theaters in 2016.
Related: Our interviews with eyewitnesses for the Beatles at the Hollywood Bowl, two weeks later
The Beatles' Shea Stadium Setlist
1. "Twist and Shout"
2. "She's a Woman"
3. "I Feel Fine"
4. "Dizzy Miss Lizzy"
5. "Ticket to Ride"
6. "Everybody's Tryin' to Be My Baby"
7. "Can't Buy Me Love"
8. "Baby's in Black"
9. "Act Naturally"
10. "A Hard Day's Night"
11. "Help!"
12. "I'm Down"
Watch footage from their NYC visit including clips from their Shea performance

Latest posts by Best Classic Bands Staff
(see all)