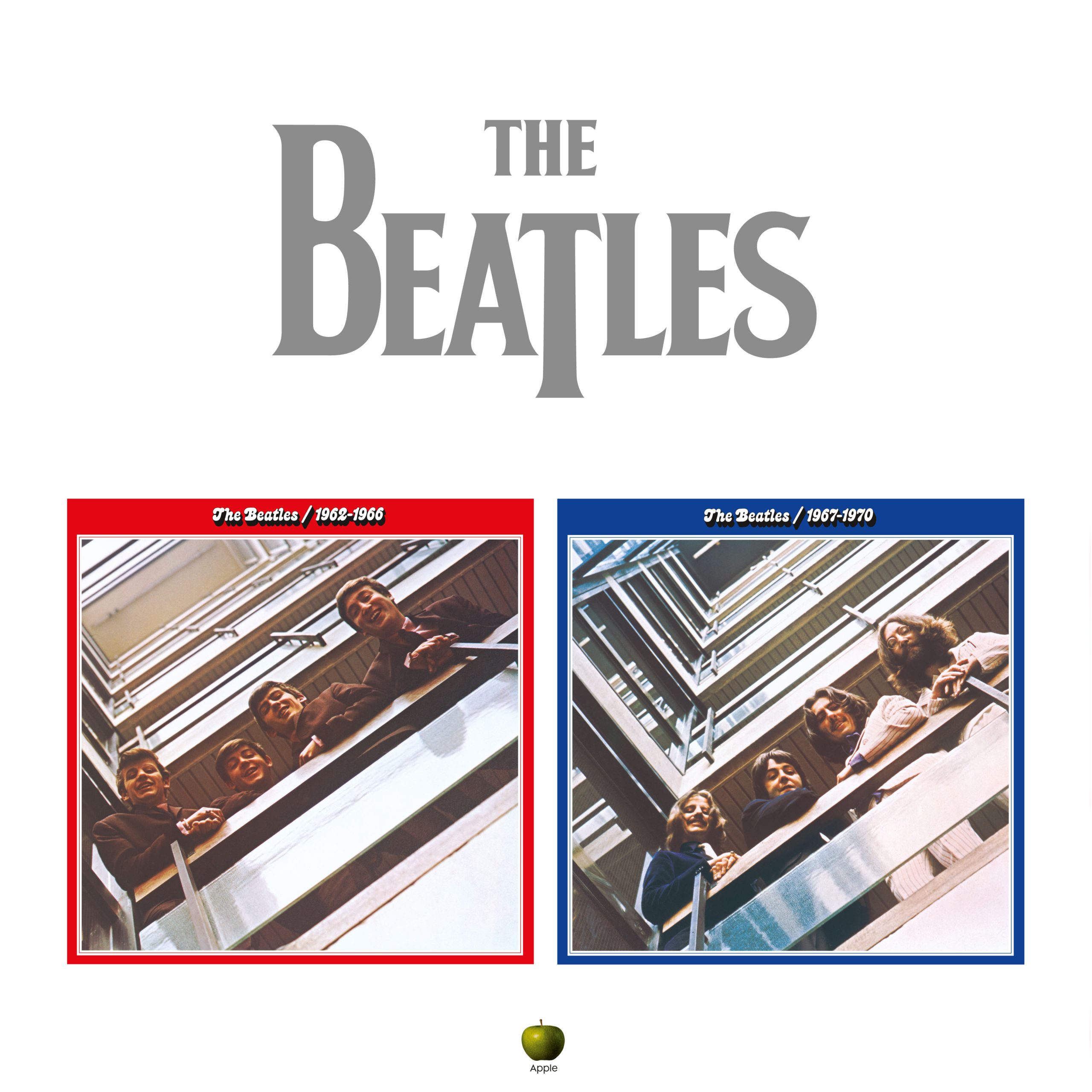 Since their first incarnations appeared 50 years ago, the Red and Blue albums have introduced successive generations to The Beatles' music. Now, both collections' track lists have been expanded, with all the songs mixed in stereo and Dolby Atmos. New 4-CD and 180-gram 6-LP vinyl collections pair 'Red' and 'Blue' in slipcased sets. The U.K. single version of "Love Me Do" now kicks off 1962-1966 and the 2023 single "Now And Then" now closes 1967-1970 to complete the career-spanning collections. All of the new editions were released on November 10, 2023, via Apple Corps Ltd./Capitol/UMe.
Expanded for their new 2023 Edition releases, 1962-1966 and 1967-1970 together span The Beatles' entire recorded canon with 75 standout tracks. The collections' 21 newly added tracks (twelve on 'Red' and nine on 'Blue') showcase even more of The Beatles' very best songs. These include such #1 singles as "I Want To Hold Your Hand," "Ticket To Ride," "Help!," "Paperback Writer," "Hello, Goodbye," and "Lady Madonna." The complete track listing for the 2023 Editions of the Red and Blue albums appears below.
In recent years, several 1967-1970 tracks and a few from 1962-1966 have received new stereo and Dolby Atmos mixes for The Beatles' Special Edition album releases, including Sgt. Pepper's Lonely Hearts Club Band (2017), The Beatles (aka The White Album) (2018), Abbey Road (2019), Let It Be (2021), and Revolver (2022), as well as new stereo mixes for The Beatles' 1 (2015). All tracks not also featured on those releases have been newly mixed in stereo and/or Dolby Atmos by Giles Martin and Sam Okell at Abbey Road Studios, aided by WingNut Films' audio de-mixing technology. Both collections include new essays written by journalist and author John Harris.
Order 1962-1966 and 1967-1970 (2023 Editions): 180-gram 6-LP set (U.S. and U.K.); 180g 3-LP black vinyl Red (U.S. and U.K.); 3-LP black vinyl Blue (U.S. and U.K.); 2-CD Red (U.S. and U.K.); 2-CD Blue (U.S. and U.K.).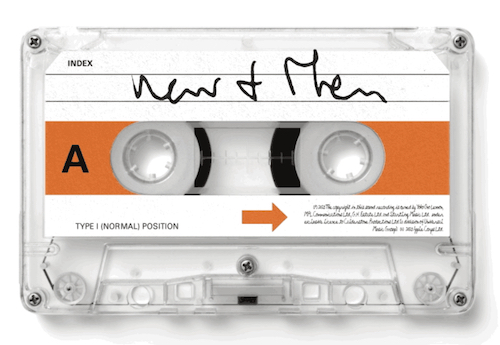 It's being billed as "the last Beatles song." And now, 2023 has brought one of the most anticipated releases of their long and endlessly eventful history. "Now And Then," written and sung by John Lennon, developed and worked on by Paul McCartney, George Harrison and Ringo Starr, was finally finished by Paul and Ringo over four decades later. The track was released worldwide on November 2 by Apple Corps Ltd./Capitol/UMe. And on Nov. 3, the day after the song's streaming release, its brilliant music video, directed by Peter Jackson in his first foray into music video production, premiered on The Beatles' YouTube channel.
First, though, a 12-minute "Now And Then – The Last Beatles Song" documentary film, written and directed by Oliver Murray, debuted on Nov. 1 on The Beatles' YouTube channel. The short film tells the story behind the last Beatles song, with exclusive footage and commentary from Paul, Ringo, George, Sean Ono Lennon and Peter Jackson. Watch it below.
"There's John in his apartment in New York City, banging away at his piano, doing a little demo," says McCartney. "Is this something we shouldn't do? Every time I thought like that, I thought, 'Wait a minute.' Let's say I had a chance to ask John. 'Hey John, would you like us to finish this last song of yours?' I'm telling you… I know the answer would have been 'Yeah!' He would've loved that."
Listen to "Now And Then," which premiered on Nov. 2
Jackson, the Academy Award-winner who also directed the 2021 documentary series The Beatles: Get Back, admits he was reluctant to direct the "Now And Then" music video. "My lifelong love of The Beatles collided into a wall of sheer terror at the thought of letting everyone down," he says. "I told Apple how the lack of suitable footage worried me. We'd need to use a lot of rare and unseen film, but there's very little… Nothing at all seemed to exist showing Paul, George and Ringo working on 'Now And Then' in 1995… There's not much footage of John in the mid-seventies when he wrote the demo.
"I found myself swept along as they quickly addressed my concerns. Paul and Ringo shot footage of themselves performing and sent that to me. Apple unearthed over 14 hours of long forgotten film shot during the 1995 recording sessions, including several hours of Paul, George and Ringo working on 'Now And Then,' and gave all that to me. Sean [Ono Lennon] and Olivia [Harrison] found some great unseen home movie footage and sent that. To cap things off, a few precious seconds of The Beatles performing in their leather suits, the earliest known film of The Beatles and never seen before, was kindly supplied by Pete Best.
Watching this footage completely changed the situation – I could see how a music video could be made. Actually, I found it far easier if I thought of it as making a short movie, so that's what I did… My lack of confidence with music videos didn't matter anymore if I wasn't making one.
"I teamed up with Jabez Olssen, my Get Back editor, to try and figure ways the new film footage could be used. It was a very organic process, and we slowly started build little fragments, sliding pictures and music around in different ways until things began to click.
"Fortunately, Dhani Harrison happened to be visiting [New Zealand] at this time. I discussed the ending with him, and described one vague idea I'd been toying with. His eyes immediately filled with tears – so that is the way we went."
Watch Peter Jackson's video for The Beatles' "Now And Then"
The double A-side single cleverly pairs the last Beatles song with the first: the band's 1962 debut U.K. single, "Love Me Do," a truly fitting full-circle counterpart to "Now And Then." The songs will be included in expanded editions of The Beatles' 1962-1966 (aka The Red Album) and 1967-1970 (The Blue Album) collections coming in various formats on November 10. (See the track listings below.)
Excitement and anticipation for "Now And Then" had been building since June, when McCartney first teased "a new Beatles song" in a media interview. The first official teaser came on Oct. 25 when the image of an audio cassette appeared on the group's various social media platforms.
Both "Now And Then" and "Love Me Do" are mixed in stereo and Dolby Atmos®, and the single release features original cover art by renowned artist Ed Ruscha.
From the initial Oct. 26 announcement: The story of "Now And Then" begins in the late 1970s, when Lennon recorded a demo with vocals and piano at his home in New York's Dakota Building. In 1994, his wife, Yoko Ono Lennon, gave the recording to Paul, George and Ringo, along with John's demos for "Free As A Bird" and "Real Love," which were both completed as new Beatles songs and respectively released as singles in 1995 and 1996, as part of The Beatles Anthology project. At the same time, Paul, George and Ringo also recorded new parts and completed a rough mix for "Now And Then" with producer Jeff Lynne. At that point, technological limitations prevented John's vocals and piano from being separated to achieve the clear, unclouded mix needed to finish the song. "Now And Then" was shelved, with a hope that one day it would be revisited.
Cut to 2021, and the release of The Beatles: Get Back docu-series, directed by Peter Jackson, which astonished viewers with its award-winning film and audio restoration. Using WingNut Films' MAL audio technology, Jackson's team had de-mixed the film's mono soundtrack, managing to isolate instruments and vocals, and all the individual voices within The Beatles' conversations. This achievement opened the way to 2022's new mix of Revolver, sourced directly from the four-track master tapes. This led on to a question: what could now be done with the "Now And Then" demo? Jackson and his sound team, led by Emile de la Rey, applied the same technique to Lennon's original home recording, preserving the clarity and integrity of his original vocal performance by separating it from the piano.
In 2022, Paul and Ringo set about completing the song. Besides John's vocal, "Now And Then" includes electric and acoustic guitar recorded in 1995 by George, Ringo's new drum part, and bass, guitar and piano from Paul, which matches John's original playing. Paul added a slide guitar solo inspired by George; he and Ringo also contributed backing vocals to the chorus.
In Los Angeles, Paul oversaw a Capitol Studios recording session for the song's wistful, quintessentially Beatles string arrangement, written by Giles Martin, McCartney and Ben Foster. Paul and Giles also added one last subtle touch: backing vocals from the original recordings of "Here, There And Everywhere," "Eleanor Rigby" and "Because," woven into the new song using the techniques perfected during the making of the LOVE show and album. The finished track was produced by Paul and Giles, and mixed by Spike Stent.
Related: Our feature story on Peter Jackson's "Now And Then" video
The complete track listing for the 2023 Editions of the Red and Blue albums appears below the Amazon links. When you buy something using a link on this page, we receive a commission. Thank you for supporting Best Classic Bands.
The Beatles 1962-1966 (2023 Edition)
(2CD: stereo / Digital + Streaming: stereo & Dolby Atmos)
* = newly added track
CD1
1: Love Me Do (2023 Mix)
2: Please Please Me (2023 Mix)
3: I Saw Her Standing There (2023 Mix) *
4: Twist And Shout (2023 Mix) *
5: From Me To You (2023 Mix)
6: She Loves You (2023 Mix)
7: I Want To Hold Your Hand (2023 Mix)
8: This Boy (2023 Mix) *
9: All My Loving (2023 Mix)
10: Roll Over Beethoven (2023 Mix) *
11: You Really Got A Hold On Me (2023 Mix) *
12: Can't Buy Me Love (2023 Mix)
13: You Can't Do That (2023 Mix) *
14: A Hard Day's Night (2023 Mix)
15: And I Love Her (2023 Mix)
16: Eight Days A Week (2023 Mix)
17: I Feel Fine (2023 Mix)
18: Ticket To Ride (2023 Mix)
19: Yesterday (2023 Mix)
CD2
1: Help! (2023 Mix)
2: You've Got To Hide Your Love Away (2023 Mix)
3: We Can Work It Out (2023 Mix)
4: Day Tripper (2023 Mix)
5: Drive My Car (2023 Mix)
6 Norwegian Wood (This Bird Has Flown) (2023 Mix)
7: Nowhere Man (2023 Mix)
8: Michelle (2023 Mix)
9: In My Life (2023 Mix)
10: If I Needed Someone (2023 Mix) *
11: Girl (2023 Mix)
12: Paperback Writer (2022 Mix)
13: Eleanor Rigby (2022 Mix)
14: Yellow Submarine (2022 Mix)
15: Taxman (2022 Mix) *
16: Got To Get You Into My Life (2022 Mix) *
17: I'm Only Sleeping (2022 Mix) *
18: Here, There And Everywhere (2022 Mix) *
19: Tomorrow Never Knows (2022 Mix) *
The Beatles 1967-1970 (2023 Edition)
(2CD: stereo / Digital + Streaming: stereo & Dolby Atmos)
* = newly added track
CD1
1: Strawberry Fields Forever (2015 Stereo Mix / 2023 Dolby Atmos Mix)
2: Penny Lane (2017 Mix)
3: Sgt. Pepper's Lonely Hearts Club Band (2017 Mix)
4: With A Little Help From My Friends (2017 Mix)
5: Lucy In The Sky With Diamonds (2017 Mix)
6: Within You Without You (2017 Mix) *
7: A Day In The Life (2017 Mix)
8: All You Need Is Love (2015 Stereo Mix / 2023 Dolby Atmos Mix)
9: I Am The Walrus (2023 Mix)
10: Hello, Goodbye (2015 Stereo Mix / 2023 Dolby Atmos Mix)
11: The Fool On The Hill (2023 Mix)
12: Magical Mystery Tour (2023 Mix)
13: Lady Madonna (2015 Stereo Mix / 2023 Dolby Atmos Mix)
14: Hey Jude (2015 Stereo Mix / 2023 Dolby Atmos Mix)
15: Revolution (2023 Mix)
CD2
1: Back In The U.S.S.R. (2018 Mix)
2: Dear Prudence (2018 Mix) *
3: While My Guitar Gently Weeps (2018 Mix)
4: Ob-La-Di, Ob-La-Da (2018 Mix)
5: Glass Onion (2018 Mix) *
6: Blackbird (2018 Mix) *
7: Hey Bulldog (2023 Mix) *
8: Get Back (2015 Stereo Mix / 2023 Dolby Atmos Mix)
9: Don't Let Me Down (2021 Mix)
10: The Ballad Of John And Yoko (2015 Stereo Mix / 2023 Dolby Atmos Mix)
11: Old Brown Shoe (2023 Mix)
12: Here Comes The Sun (2019 Mix)
13: Come Together (2019 Mix)
14: Something (2019 Mix)
15: Octopus's Garden (2019 Mix)
16: Oh! Darling (2019 Mix) *
17: I Want You (She's So Heavy) (2019 Mix) *
18: Let It Be (2021 Mix)
19: Across The Universe (2021 Mix)
20: I Me Mine (2021 Mix) *
21: The Long And Winding Road (2021 Mix)
22: Now And Then *
Related: Our feature story on The Beatles' 'Red' album

Latest posts by Best Classic Bands Staff
(see all)