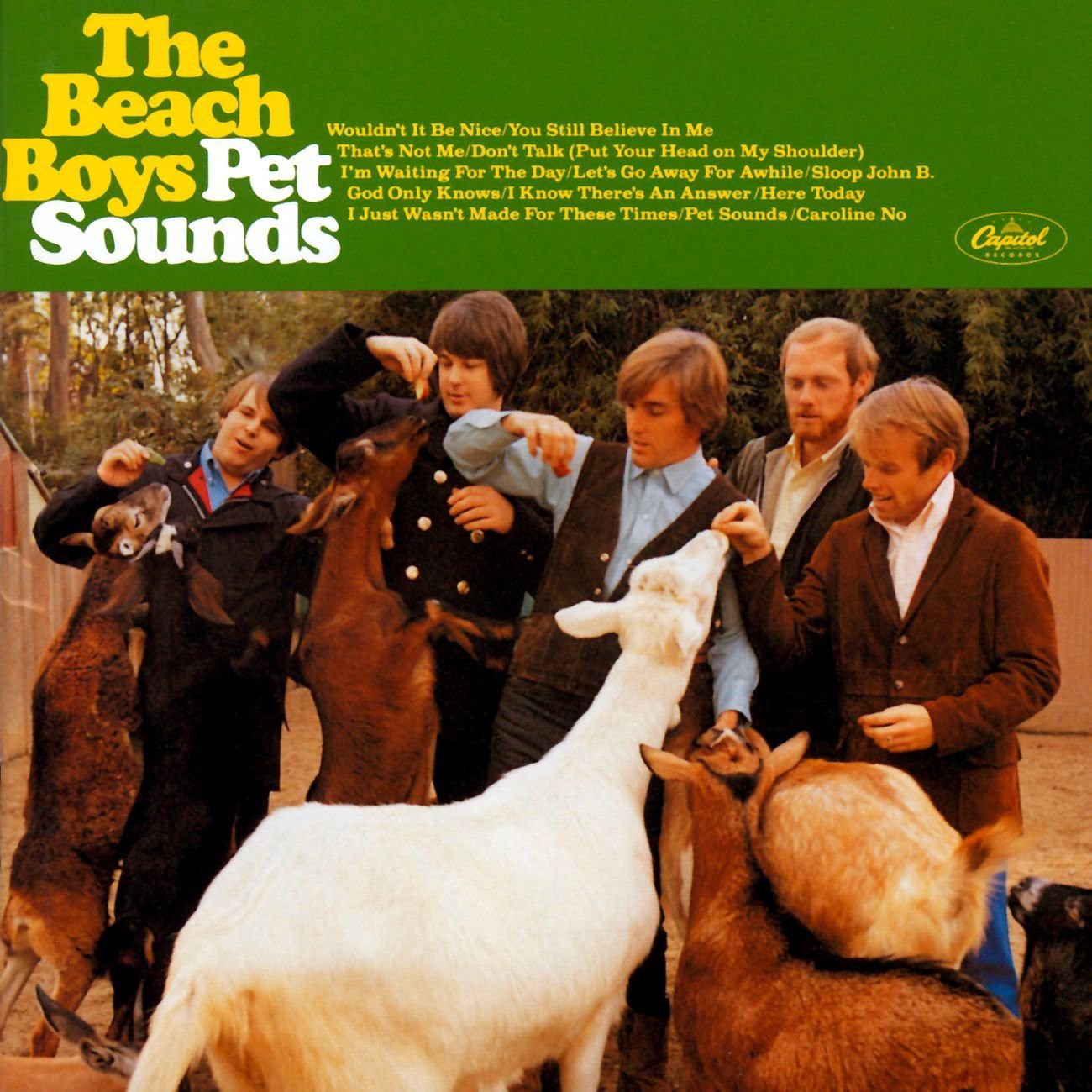 Some time in the spring of 1966, Al Kooper, a musician who'd recently supplied the signature organ riff to Bob Dylan's groundbreaking "Like a Rolling Stone," was invited to Brian Wilson's home to hear some new Beach Boys music, an album called Pet Sounds, still a few weeks away from release. "He played it for me," remembers Kooper, "and then he played it again, which did not bother me. Little did I know that it would receive more plays than anything else in my house for the rest of my life. It's still my favorite album. Brian was in a world of music that no one else dwelled in."
Kooper is not alone in his assessment. England's Mojo magazine has named Pet Sounds, the Beach Boys' 11th album, the greatest LP of all time and Rolling Stone placed it at number two in its original top 500 list, just behind Sgt. Pepper's Lonely Hearts Club Band. Conceived, written, produced and arranged by Wilson, with lyrics primarily by advertising copywriter Tony Asher – with whom Wilson had never previously collaborated – Pet Sounds was released by Capitol Records on May 16, 1966, more than a half-century ago. Its impact has only swelled over the years and it was celebrated in 2016 by Capitol via Pet Sounds (50th Anniversary Collectors Edition), a box set housing four CDs and a Blu-ray audio disc. The package, which both reprises and expands upon The Pet Sounds Sessions, released 20+ years ago, includes the original album in stereo and mono, various other mixes, session outtakes and previously unreleased live recordings. It provides deep insight into the making of a landmark recording.
While much of the box set's minutiae may appeal only to diehard fans and audiophiles, the original 13-track album, which features such Beach Boys classics as "Wouldn't It Be Nice," "God Only Knows" and "Caroline, No," continues to find new fans. A key recurring plot point in 2015's Brian Wilson biopic, Love & Mercy, revolved around the heady, intense Los Angeles sessions for the album, the creative genius directing the ace studio musicians known as the Wrecking Crew while butting up against the other group members, who, the film alleges, felt that his new compositions were not representative of their trademark, best-selling sound. Those oft-repeated qualms, say Beach Boys Mike Love and Al Jardine, never existed.
"It was a big leap from where we were," says Jardine. "We'd been out on tour for a long time [minus Brian, who'd stopped traveling with the band in 1964 to concentrate on writing and recording, his place in the road band taken by new recruit Bruce Johnston]. There was a lot of adjustment. But it wasn't that we didn't want to do it."
Adds Love, "One thing I've been quoted as saying was, 'Don't fuck with the formula.' But I never said that! It's the most famous thing I said that I never said. First of all, I named the album. Second, all of us – Carl [Wilson], Al, Bruce, myself – all worked really hard on the harmonies. Pet Sounds is awesome for so many reasons. How could you dislike that music?"
Not all Beach Boys fans did initially fall for it though. On its release, Pet Sounds, despite garnering raves from the nascent rock press, peaked at #10 on the Billboard albums chart, a lesser performance than most of their previous albums, among them 1965's Beach Boys Party! and Summer Days (And Summer Nights). Whether or not Brian Wilson and the other Beach Boys felt they'd created a defining work, Capitol Records balked, its executives complaining that the new music – much of it lush, soft, ambitious and introspective, Brian's response to the Beatles' new, more sophisticated direction on Rubber Soul – was too far removed from the music the public had come to expect from them. The label failed to promote the album adequately and its sales withered.
"We played the album for Karl Engemann, the A&R [artists and repertoire] guy at Capitol responsible for the Beach Boys," says Love, "and he listened and said, 'Gee, guys, that's great, but couldn't we get something more like "California Girls" or "I Get Around" or "Fun, Fun, Fun"?'" The label's solution was to tack on to the end of the album's first side the group's most recent hit single, an update of the traditional Bahamian folk song "Sloop John B." Stylistically, it seemed at odds with Wilson and Asher's more reflective compositions, among them "That's Not Me," "I'm Waiting for the Day," "Here Today," "I Just Wasn't Made for These Times," "You Still Believe In Me" and the achingly beautiful, Carl Wilson-sung "God Only Knows," a romantic gem that Paul McCartney has cited as one of his favorite songs. The album also included two instrumentals, a head-scratcher to the company brass who'd only seen the Beach Boys as a vocal group.
Related: More from our interview with Mike Love
"It didn't meet their expectations so they took Pet Sounds off the market and quickly put out a best-of album that took the wind out of our sails," says Jardine. "We really didn't have a chance to exploit it or perform it. We were basically a hitmaking machine and they didn't know what to do with it."
Related: Our expanded interview with Jardine
If it was ahead of its time, Pet Sounds did eventually find its audience. "God Only Knows" alone has been covered by David Bowie, Elvis Costello and jazz great Charles Lloyd, among others, and the album has inspired countless other musicians.
"Brian raised the bar with Pet Sounds," says Jardine. "People play off that ingeniousness that he has. He hears things and phrases things in a way that you wouldn't expect."
For Brian Wilson, who turned 78 on June 20, 2020, the album represents part of a continuum, the latest development in his evolution as an artist. By the time Pet Sounds was released he was deeply involved in perfecting his next masterpiece, the single "Good Vibrations," which he'd hoped to include on the album but continued to fine-tune for months. "I decided to experiment with a new kind of music," Wilson told Best Classic Bands. "I was young and creative and we really did good. I'm glad that people still like the album. It makes me proud."
When the Beach Boys tour, tickets are available here and here. Tickets to see Brian Wilson are available here and here.

Latest posts by Jeff Tamarkin
(see all)