Beach Boys Party! – Fun Time and Lots (and Lots) of Covers
by Mitchell Cohen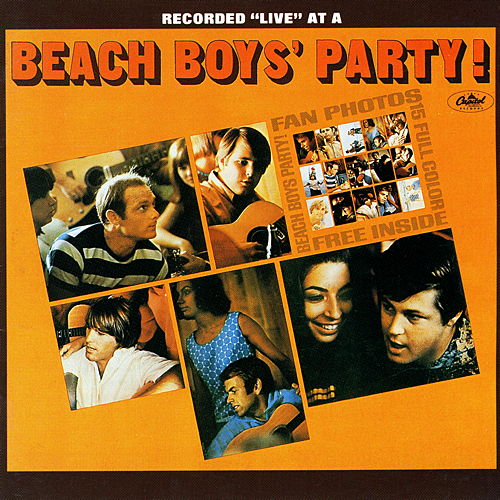 Capitol Records wanted a new Beach Boys album in the stores in time for Christmas 1965, but Brian Wilson was still immersed in the music that would become Pet Sounds, and the group had already released holiday and live albums the year before. That might've been an opportune time for a Greatest Hits LP (they'd scored around a dozen Top 20 singles by then), but instead everyone decided to book a few sessions at United Western in September to create a faux-Beach Boys Party: the guys brought acoustic guitars, harmonica and some rudimentary percussion (Hal Blaine played ashtrays), and ran through a collection of mostly cover tunes. Then they added ambient house-party chatter and Beach Boys Party! was in the stores.
The sessions involved a lot of goofing around: they did some Lennon & McCartney and Dylan songs, a few novelties ("Papa-Oom-Mow-Mow," "Alley Oop"), some Leiber & Stoller (none of those attempts — "Riot In Cell Block #9," "Ruby Baby," "Smokey Joe's Cafe," "One Kiss Led To Another" — made the original album), they harmonized beautifully on The Everly Brothers' "Devoted To You" and The Crystals' "There's No Other (Like My Baby)," mocked Sonny Bono. Dean Torrence from Jan & Dean dropped by to sing on "Barbara Ann." They took a couple of messy stabs at "(I Can't Get No) Satisfaction."
Bootlegs of these recordings have been bouncing around for years, but selections from the sessions have been released on Capitol/Universal Music Enterprises' Beach Boys Party! Uncovered and Unplugged, for fans of studio chatter and multiple discarded takes. Listeners get five shots at "You've Got To Hide Your Love Away." The track listing identifies many selections as "Dialog" and "Fooling Around," and the whole thing has been stripped of the overdubbed "party" elements, so this is bare-bones.
Some folks call this the first "Unplugged" album, but what it most reminds me of is the period when The Beatles were mucking about in the studio trying to make the album that was nearly Get Back and became Let It Be: a lot of strumming on half-remembered oldies, jockeying for band dominance, creative tension.
You — or at least I — can hear things pulling apart. Brian is there, but he doesn't do very much, and why should he? He has much bigger things on his mind than wasting precious studio time doing other people's material; he adds his harmonies to "Papa-Oom-Mow-Mow" as he always did live (the song had already been preserved on Beach Boys Concert in '64), and sweetly blends with Mike on "Devoted To You," but otherwise he's not really playing this party game.
The "Produced by Brian Wilson" credit seems almost insulting, because for the most part it's Mike's show, even more so on the naked sessions: Mike takes lead most of the Leiber and Stoller tunes that hit the cutting room floor (is that Carl or Brian on "Ruby Baby"?), does his shticky thing on "Alley Oop" and "Hully Gully," and can be heard doing a nasal Sonny Bono/Bob Dylan whine on a creakingly unfunny "protest" parody of Bono's "Laugh At Me." Al Jardine takes the sincere lead on Dylan's "The Times They Are A-Changin'" and the "Blowin' In The Wind" outtake, but he was the group's token folkie, and you can almost hear Mike in the background sneering and throwing potato chips at him.
Beach Boys Party! hit the stores on November 8, 1965, and a few weeks later, The Beatles released Rubber Soul, and that must have made Brian nuts: his group was forced to go in and cut this throwaway album — with three Beatles songs on side one, and "Ticket To Ride" tried to boot.
And then, when The Beach Boys' "real" new single "The Little Girl I Once Knew" barely squeaked into the top 20, Capitol pulled "Barbara Ann" from Party! as an emergency 45 and Brian had to watch that go to #2 in early 1966 while he was crafting an album worthy to stand along The Beatles' latest.
I can imagine (well, not imagine completely, because history has been pretty clear on this) Mike hearing Pet Sounds and saying, look, Brian, we just had a smash hit single with "Barbara Ann," why don't you write us a follow-up that sounds like that? This had to have been torture: a song by The Regents, with Dean Torrence on vocals, from an album made solely to sit under Christmas trees (gatefold cover! photo insert!), and this is what the public wants? Beach Boys Party! sounds to me like an attempt to take some of the power away from Brian. Or maybe I'm being too harsh; maybe it was to take some of the burden off him, give him more time. But Beach Boys Party! went to #6 and Pet Sounds stalled at #10, and therein lies madness.
Everyone was moving forward as 1965 was ending. Compare U&U to what Dylan was up to (as exhaustively documented on the essential The Cutting Edge box). The Stones started Aftermath that December, and The Beatles were finishing and releasing Rubber Soul. The Beach Boys put out an album that pretended to be something it wasn't, that made fun of their own hits. Listen to them messing around with "Satisfaction," like they can't quite figure out what it is.
They try to do Dylan's "She Belongs To Me" and it falls apart in non-comprehending chaos.
Mike is much more comfortable digging into his crate of oldies, Carl and Dennis grab on to The Beatles tunes like a life raft, and Brian is in the corner. This isn't his party, but he'll have to clean up when it's over.

Latest posts by Mitchell Cohen
(see all)