Bert Berns: Behind-the-Scenes Producer/Songwriter Legend
by Mitchell Cohen
Van Morrison is not a gentleman known for his warmth, or his affection for music industry executives, so it's a shock to see him on screen testifying to the talents of Bert Berns, who wrote and produced one of Morrison's early band Them's hits, "Here Comes the Night," and produced Van's breakthrough solo single "Brown Eyed Girl."
"It was easy," Morrison admits. "I just came into the studio and it just was happening right away." Morrison is one of many, many admirers going on the record in 2016's BANG! The Bert Berns Story [now available on demand]. Paul McCartney and Keith Richards, whose respective bands covered Berns songs in their early years, soul legends Ben E. King and Solomon Burke, former colleagues Jerry Ragovoy and Mike Stoller, all praise Berns for his tremendous contribution to the rock and soul music of the 1960s.
BANG!, directed by Bert's son Brett Berns and Bob Sarles, is one of many documentaries turning an appreciative and revelatory light on a musical career spent in the shadows. Like The Wrecking Crew, 20 Feet From Stardom, and A.K.A. Doc Pomus, it makes a convincing case for why we should pay closer attention to the men and women behind the scenes, the people whose names were in small print on the records we bought and loved, if they were credited at all. The film takes Berns from the Grand Concourse in the Bronx, where he was born on Nov. 8, 1929, to the nightclubs in Havana, to the recording studios in New York and London, and shows how the deeply soulful songs he wrote and produced came from an understanding that music could express the yearnings and doubts that stirred in his own fragile heart.
Watch the trailer for BANG! The Bert Berns Story
The movie started as a passion project for Brett Berns and his sister Cassandra, who were young children when their father passed away on December 30, 1967, at 38 years old. Brett "spent over eight years gathering interviews," Sarles says. "All of the folks interviewed in the film really opened up to Brett in a way they would not have to the typical journalist or documentarian because he is Bert's son, and these people still had such great affection for his father."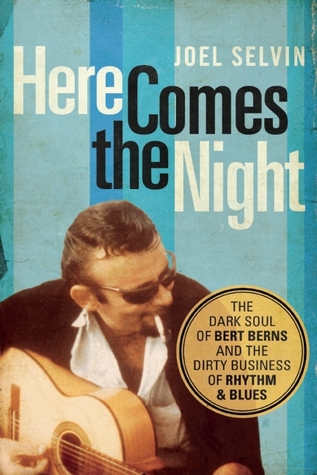 Sarles, whose credits include producing and editing the DVD set Rock and Roll Hall of Fame Live! and directing documentaries on Jefferson Airplane, John Lee Hooker and others, met Brett through Joel Selvin, the author of the Berns biography Here Comes The Night. "Brett let me see an early cut of the film and invited me to join him in an effort to help him make the film reach its full potential," Sarles says. "I told him my vision of what we could do with this story was inspired by what Scorsese might do with the subject." Selvin wrote the narration for the film based on his book, and to do the voice-over, the filmmakers got rock maven Steven Van Zandt (who's part of the team that brought the Berns musical Piece of My Heart to the stage).
Berns might not have been the first producer to incorporate Latin rhythms into R&B and pop—Leiber & Stoller and their arranger Stan Applebaum had already started swirling the pulse of baion into records with the Drifters, and Berns' first hit as a writer, the Jarmels' "A Little Bit of Soap" (1961), was squarely in that mold—but he took that swaying, driving sensuality and combined it with naked emotion. His songs were crafted for voices that shouted and sobbed, and he gave them songs that put them on the brink of despair: Garnet Mimms on "Cry Baby," Freddie Scott on "Are You Lonely For Me Baby" ("After that," Keith Richards says in the film, "if you want to write an R&B song you've got to top that"), the Drifters' Charlie Thomas on the lost masterpiece "I Don't Want to Go On Without You," Lorraine Ellison on "Heart Be Still," the incredible Brenda Reid on the Exciters' ecstatically desperate "Run Mascara."
If you're a new Best Classic Bands reader, we'd be grateful if you would Like our Facebook page and/or bookmark our Home page.
So many songs in the Berns discography reflect his sense of mortality. He literally had a damaged heart after contracting rheumatic fever as a child, and he left behind a catalog filled with sadness, helplessness and free-flowing tears. On "Look Away," Mimms has to avert his eyes so his ex doesn't see him crying. "Here it comes, here comes the night," Morrison sings, and the prospect is terrifying. Erma Franklin's "Piece of My Heart" is a vulnerable invitation: "Come on, come on, break it." What difference does it make?
BANG! shows how bumpy the paths of creating classic records can be. Berns' best-known songs are so much a part of the language of rock that they feel inevitable, but before Berns cut "Twist and Shout" (which he co-wrote) with the Isley Brothers, it had been totally botched by Phil Spector with the Top Notes.
And "Hang On Sloopy" (then called "My Girl Sloopy") slipped away practically unnoticed by the Vibrations before Richard Gottehrer, Bob Feldman and Jerry Goldstein recorded the McCoys' version. The Strangeloves' "I Want Candy" was a garage-rock "Bo Diddley" until Berns suggested a new title and lyric capitalizing on the scandalous Terry Southern novel Candy.
There isn't enough time in an hour and a half to push everything to the foreground, but there are three CDs on Ace Records that help complete the musical story, and there's Selvin's book for a more thorough narrative. What BANG! does is sort out Berns' legacy against a vivid backdrop of music business machinations (there are compelling tales of his battles with Atlantic Records, the formation of his own labels Bang and Shout, and the looming presence of the mob). Berns was at the center of uptown pop-soul, a genre that had its own rhythms, a groove that made pain feel rapturous. Part of it was the Latin undercurrent, part was the Jewish angst and sentimentality, part was its roots in early R&B and doo-wop, all colliding into a big, dramatic rush of emotion.
In BANG!, longtime record label exec Doug Morris calls Berns "one of those lost figures in the history of music." With his 2016 induction into the Rock and Roll Hall of Fame, a biography, the musical and this film, his remarkable story of hustle and heartache is finally being told.
BANG! The Bert Berns Story is available on demand. Viewers may find it on the platforms noted below.
Apple TV (iTunes) – U.S., U.K., Ireland, Belgium, Luxembourg, Eastern Europe, Portugal, Greece, Africa, Caribbean, Sweden, Norway, Denmark, Iceland, Finland
Amazon – U.S. and U.K.
Google Play and YouTube Rentals — U.S., U.K.
Major U.S. Cable Providers

Latest posts by Mitchell Cohen
(see all)