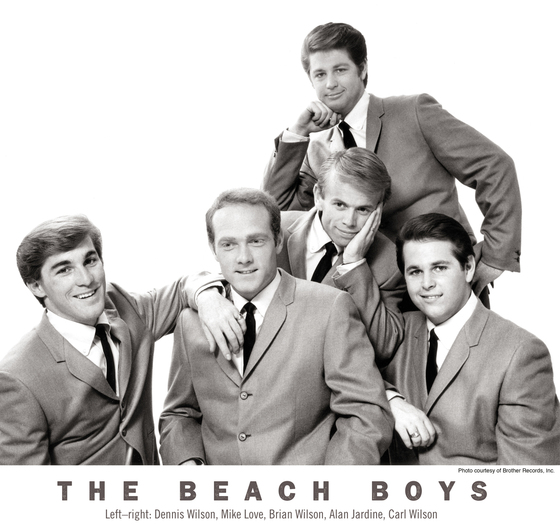 In September of 1961, Brian Wilson, Mike Love, Al Jardine, Carl Wilson and Dennis Wilson stepped up to a microphone together for the first time at the home of Hite and Dorinda Morgan to demo The Beach Boys' first three songs. To mark that 55th anniversary, Omnivore Recordings will be releasing Becoming The Beach Boys: The Complete Hite & Dorinda Morgan Sessions, the first-ever release of the group's entire earliest recordings, Becoming The Beach Boys: The Complete Hite & Dorinda Morgan Sessions, on August 26. (Preorder is available here.)
The collection reveals the Beach Boys' creative development of many of their now-legendary songs and of the group's musical style. One example is the hit song, "Surfer Girl'" which can be heard in an entirely different harmony structure and key than the version that became a hit, reaching #7 on the Billboard Hot 100 in 1963. Originally recorded as more of a down tempo track, the collection's six different studio takes showcase the evolution of the track into the familiar, upbeat recording it ultimately became.
Besides "Surfer Girl," rough takes of future hits "Surfin' Safari" and "Surfin'" are featured (see complete song list below). Fans can also hear studio banter and every surviving take, false start and master take, giving a truly unique glimpse into the recording process. There are 63 tracks on two CDs, including over 40 previously unissued. Have a listen…
Liner notes, written by James Murphy, author of the book Becoming The Beach Boys, 1961-1963 lends insight into the group's early formation: "Appropriately enough, 'Surfin',' the Beach Boys' first effort, released in late November 1961, had its origin near the ocean. 'I remember Dennis and Michael going to the beach, and when they came back they were talking about making a song about surfing,' Carl recalled. 'That's the first thing I remember as far as the reality of a group actually forming.'"
Between September 1961 and March 1962, they committed nine songs to tape under the direction of the Morgans. They would sign a recording contract with Capitol Records later in 1962.
The Beach Boys would go on to record 36 U.S. Top 40 hits. They were inducted into the Rock and Roll Hall of Fame in 1988 and earned a Grammy® Lifetime Achievement Award. Becoming The Beach Boys documents their humble beginnings. As Murphy notes, "This is where it all began."
Becoming The Beach Boys: The Complete Hite & Dorinda Morgan Sessions Track Listing:
Surfin'
Luau
Lavender
Surfin' Safari
Surfer Girl
Judy
Beach Boy Stomp (aka Karate)
Barbie
What is a Young Girl Made Of

Latest posts by Best Classic Bands Staff
(see all)