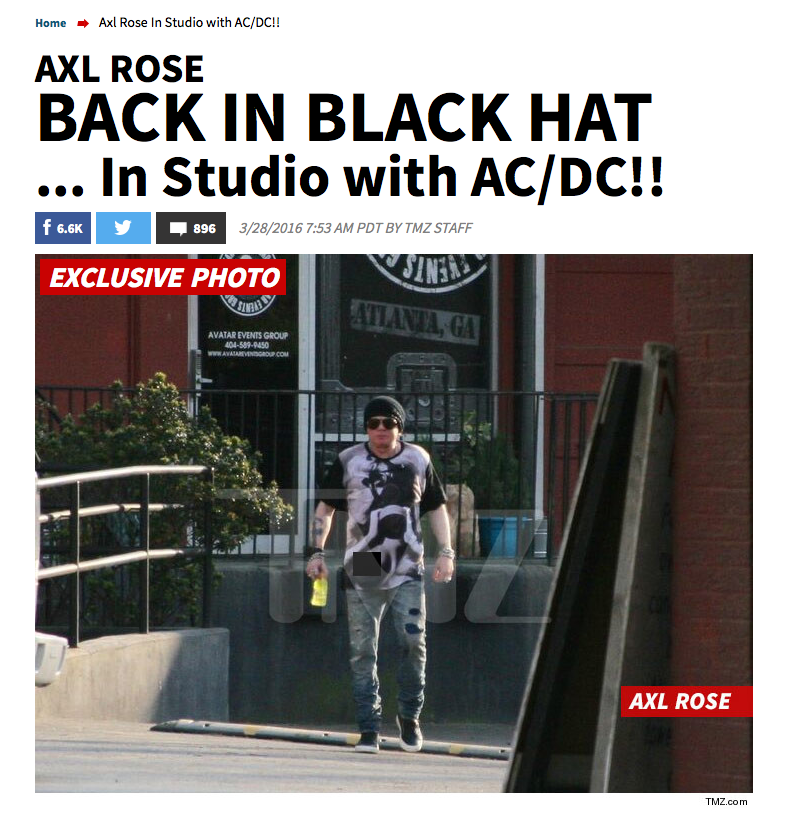 The avid gossip hounds at TMZ have come as close as possible to confirming that Guns N' Roses singer Axl Rose has indeed, as rumored, been in Atlanta singing with AC/DC. They posted a picture of Rose earlier today (3/28) exiting from the city's Avatar Events Group, a professional backline equipment rental company with a large rehearsal room. And a shot of members of AC/DC leaving the building as well.
This is all happening at the same time that Gn'R is gearing up for six confirmed reunion dates next month (see story here), has teased a 21-city tour (see here), and may play a club gig at West Hollywood's Whisky A-Go-Go this coming Friday (4/1; see here).
Which begs the question: When will Rose have time in his schedule to play the 10 postponed AC/DC North American tour dates the band has said it wants to make up with or without singer Brian Johnson? (He has a hearing loss problem that took him off the road under doctor's orders.) Some media outlets have speculated that AC/DC will open for the reunited Gn'R lineup with Rose, Slash and Duff McKagan – an absurdity as both acts are sell-out arena headliners. And the toll it might take on Axl's voice.
Meanwhile, in lieu of confirmation from the AC/DC camp, fans and media anxious for news are giving credence to whatever indications they can. The latest was a Facebook post on Friday (3/25) by former recent Gn'R bassist Tommy Stinson (also formerly of The Replacements) congratulating Axl on landing the AC/DC gig.
(If you're a new Best Classic Bands reader, we'd be grateful if you would Like our Facebook page and/or bookmark our Home page.)

Latest posts by Best Classic Bands Staff
(see all)