He came into the world in Istanbul, Turkey, but his contributions to American popular and musical culture are inestimable. With his subtly stylish suits and calm air of genuine class, one might have taken Ahmet Ertegun for a diplomat – his father's profession – or perhaps a prosperous merchant of exotic goods from the East. But make no mistake: He was one of the last great record men, if not the greatest ever, with an abundant love and keen ear for music. And he did as much as anyone in the record business to make classic rock an indelible style.
After Ertegun and his partners started Atlantic Records in 1947, they first made records with now-classic R&B artists, and after Jerry Wexler – the man who came up with the term "Rhythm & Blues" – joined the company, they became a powerhouse force in the rise of soul music. Among the all-time greats that recorded for the label: Ray Charles, Aretha Franklin, Ruth Brown, Otis Redding, Wilson Pickett, the Drifters and Percy Sledge, to name a few.
"We started Atlantic simply because we wanted to sign a few artists whose music we liked, and make the kind of records that we would want to buy." – Ahmet Ertegun.
Here's a truly classic song Ertegun wrote for Ray Charles that proves beyond the shadow of a doubt: Ahmet rocked.
Atlantic may have come to rock music a little later than some other labels. But when they did in 1966 it was in a big and hugely influential way with Cream and Buffalo Springfield. Also calling 1841 Broadway (and then 75 Rock) home: Led Zeppelin, Crosby, Stills & Nash, Rolling Stones Records, Yes, Bad Company, AC/DC, Emerson, Lake & Palmer, Cream, Foreigner, Genesis, the Woodstock movie soundtrack… the list of classic rock legends goes on and on.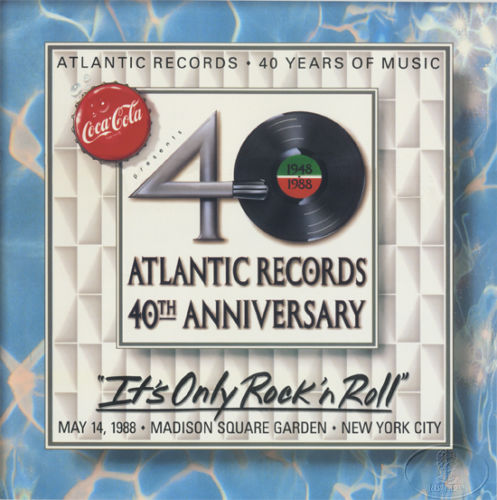 The list of artists performing at Atlantic's all-day 40th anniversary concert at Madison Square Garden in 1988, is a mile long. Even Led Zeppelin's Jimmy Page, Robert Plant, John Paul Jones and Jason Bonham (son of the band's legendary drummer, John Bonham) reunited for the occasion to honor Ertegun and the label they called home.
Ertegun was a natty dresser and, with his wife Mica, a fixture in New York society circles. More importantly, he was a wise eminence grise, mentor, advisor and genuine friend to the artists he worked with, and also a songwriter himself. He was inducted into the Rock and Roll Hall of Fame in 1987.
Sadly – but also in a way indicative of Ahmet's devotion to music – he died at age 83 in December 2006 as a result of injuries sustained when he fell backstage at a Rolling Stones concert.

Latest posts by Best Classic Bands Staff
(see all)