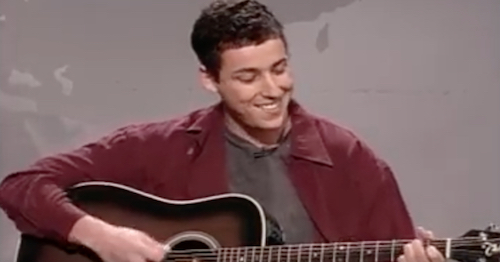 We wanted to share an updated version of a holiday favorite. Adam Sandler performed a new edition of his classic "Chanukah Song" at the 2015 New York Comedy Festival and even worked in a classic rock star. Enjoy these Classic Videos!
The original, of course, identified famous members of the Jewish faith (plus partial members and non-members). Who could forget some of the rhyme schemes of "a list of people who are Jewish" from the original:
David Lee Roth lights the menorah; so do Kirk Douglas, James Caan and the late Dinah Shore.
Guess who eats together at the Carnegie Deli? Bowser from Sha Na Na and Arthur Fonzarelli!
This was from 1994 and the song has been such a holiday staple that it's surprising how slow the audience is to react to most of Sandler's creative lyrics. Check it out:
The new "Chanukah Song Part 4" cleverly offers:
We've got Scarlett Johansson… talk about a Kosher crush; and if you need a higher voice to turn you on, how about Geddy Lee from Rush?!?
Princess Leia cuts the challah with Queen Elsa from Frozen; David Beckham is the king of soccer studs and also a quarter chosen!
Sandler has a new movie about a compulsive gambler, Uncut Gems, with a limited release on Dec. 13, which is getting some of his best reviews in years.
Related: Eddie Murphy helps celebrate the spirit of Christmas "taking" in SNL's "Mister Robinson's Christmas" sketch

Latest posts by Best Classic Bands Staff
(see all)