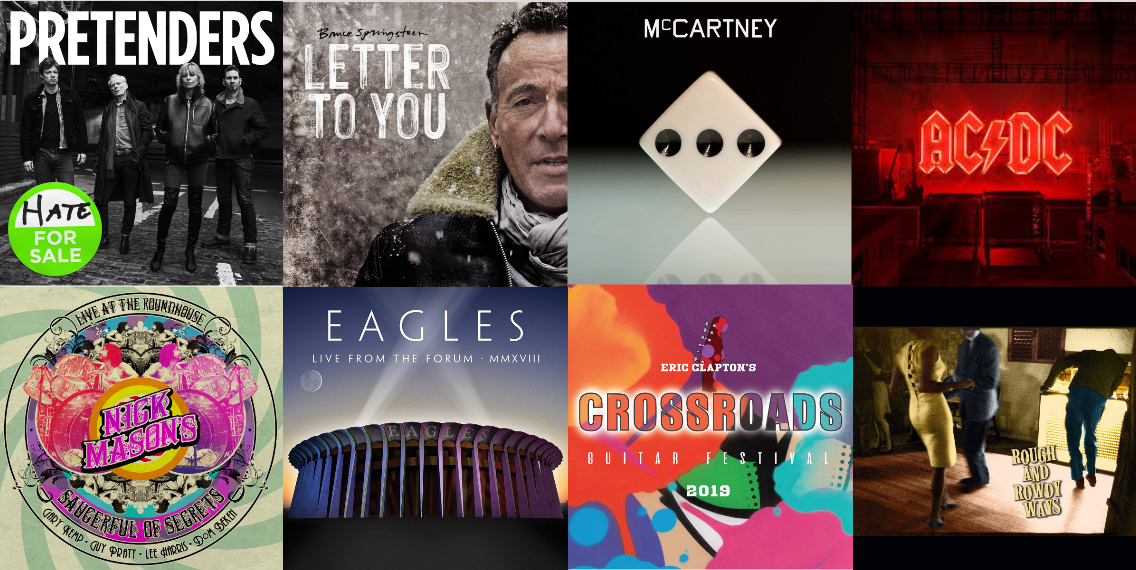 In part one of our three-installment 2020 holiday gift guide, we looked at the best of the boxed sets, reissues and historical collections aimed at classic rock fans.
Part two focused on the year's best music books.
For this third and final segment, we're focusing on newly recorded albums by classic rockers, including AC/DC, Bruce Springsteen, Bob Dylan and many others.
This list is arranged alphabetically by artist—no rankings here because they're all worthy. All of these are available on CD, many also on LP and digitally. All can be found via the handy ordering links at the bottom of this story.
Happy listening!
AC/DC—Power Up
The band's 17th studio album, arriving after a period of turmoil threatening the future of the band, features a lineup of Angus Young, Brian Johnson, Cliff Williams, Phil Rudd and Stevie Young.
The Allman Betts Band—Bless Your Heart
Picking up from where the Allman Brothers Band left off, Devon Allman (son of Gregg), Duane Betts (son of Dickey) and Berry Duane Oakley establish their own identity on their sophomore release.
Jon Anderson—1000 Hands
Originally issued solely via his website, the latest solo album by the longtime Yes vocalist got an official release this year. Yes-mates Chris Squire, Steve Howe, Alan White and Rick Wakeman are among those dropping by the studio.
Bon Jovi—2020
The 15th Bon Jovi studio release was begun in 2019 and finished during the pandemic at the leader's home studio. It includes a few songs with socially conscious themes, among them "American Reckoning," a response to the killing of George Floyd.
Boomtown Rats—Citizens of Boomtown
For their first new studio album since 1984 (!), Bob Geldof and friends run the gamut stylistically from blues-rock to electronic dance music.
Alice Cooper—Detroit Stories
The album pays tribute to the city that launched the original Alice Cooper band. "Detroit was the birthplace of angry hard rock," said Cooper. "After not fitting in anywhere in the U.S. (musically or image-wise), Detroit was the only place that recognized the Alice Cooper guitar-driven, hard rock sound and our crazy stage show."
Elvis Costello—Hey Clockface
Recorded in Helsinki, Paris and New York, the album marks his first new music since 2018. Said Costello, "We spoke very little. Almost everything the musicians played was a spontaneous response to the song I was singing."
Related: What were the best new releases of 2019?
Deep Purple—Whoosh!
For their third collaboration with producer Bob Ezrin, Deep Purple "stretched out in all directions without any limitation, letting their creativity go," said the band in its announcement of the release.
Dion—Blues With Friends
Said the Rock and Roll Hall of Fame inductee, "The blues has been at the heart of my music since the early 1960s. I was covering Willie Dixon and Jimmy Reed in my early years at Columbia—much to the dismay of my corporate masters." His "friends" on the album include Bruce Springsteen, Billy Gibbons and Jeff Beck.
Related: Our review of Dion's Blues With Friends
Bob Dylan—Rough and Rowdy Ways
"Though Dylan's phrasing is arguably more subtle, precise and evocative than some of what we've heard from him in recent years, he's still singing (and often half talking) in the rough, world-weary voice that has characterized his other 21st century albums," said our reviewer.
Eagles—Live From the Forum MMXVIII
The companion piece to the film culled from the same 2018 gigs is the first documentation of the post-Glenn Frey lineup. Performances include such band favorites as "Hotel California," "Lyin' Eyes" and "Take it Easy," as well as many of the individual members' solo hits.
John Fogerty—Fogerty's Factory
The former Creedence leader and three of his kids remake classic tracks by the band ("Proud Mary," "Bad Moon Rising"), as well as select covers ("Lean on Me," "City of New Orleans").
Steve Howe—Love Is
The Yes mainstay's first solo release since the all-instrumental Time in 2011 includes five instrumental tracks among its 10 songs.
Robby Krieger—The Ritual Begins at Sundown
For his first solo album in a decade, the former Doors guitarist examines his jazz side with former members of Frank Zappa's bands and other ace musicians.
Bettye LaVette—Blackbirds
The veteran R&B singer covers a collection of classic songs associated with female singers (Billie Holiday, Nina Simone) and closes the set with her immaculate reworking of Paul McCartney's "Blackbird."
Huey Lewis and the News—Weather
Having been diagnosed with Meniere's disease, which causes sounds that he hears to be severely distorted, the singer managed to piece together his band's first new collection since 2001.
Gordon Lightfoot—Solo
On his first new release since 2004, the Canadian singer-songwriter goes it alone—the recordings are nearly 20 years old but were only recently discovered hidden away.
Related: Our review of Gordon Lightfoot's Solo
Nick Mason's Saucerful of Secrets—Live at the Roundhouse
Said our reviewer, "The 97-minute program preserves versions of [early] Pink Floyd material from concerts the band performed in 2019 at London's Roundhouse, a venue where the original group also appeared in its earliest years."
Paul McCartney—McCartney III
Although not yet released at the time of this writing, the album is described as a true solo effort in the vein of 1970's McCartney and 1980's McCartney II.
Willie Nile—New York at Night
This affectionate tribute from the veteran singer-songwriter was released even as the city itself often resembled something of a ghost town due to the Covid-19 pandemic.
The Monkees—The Mike & Micky Show Live
This live album features 25 tracks and offers a set list that spans the Monkees' 50-plus year career, including several semi-obscure numbers from the two surviving band members.
Ozzy Osbourne—Ordinary Man
The former Black Sabbath frontman's first solo studio album in a decade is described as a return to form, an energetic and creative effort that, says Osbourne, "I put my heart and soul into."
Pretenders—Hate for Sale
The group's first album in four years is also the first to feature the band's longtime touring lineup of Chrissie Hynde, guitarist James Walbourne, bassist Nick Wilkinson and founding drummer Martin Chambers.
Patty Smyth—It's About Time
Her first album of new, original music in 28 years finds the former Scandal singer "having a blast," in her own words. "I started to realize this is a real thing that's happening and just went with it," she said.
Bruce Springsteen—Letter to You
"I love the emotional nature of Letter To You," said Springsteen. "And I love the sound of the E Street Band playing completely live in the studio, in a way we've never done before, and with no overdubs."
James Taylor—American Standard
Just as its title suggests, the singer follows the lead of contemporaries like Bob Dylan and Rod Stewart, interpreting classic songs, among them "God Bless the Child." "Moon River" and "Pennies from Heaven."
The Third Mind—The Third Mind
This side project for ex-Blasters guitarist Dave Alvin and members of Counting Crows and other bands features psychedelic covers of tunes by the Paul Butterfield Blues Band, the Grateful Dead, the 13th Floor Elevators, Fred Neil and more.
Various Artists— Eric Clapton's Crossroads Guitar Festival 2019
The latest celebration of all things guitar features several Clapton classics as well as performances by Jeff Beck, Robert Cray, Sheryl Crow, Peter Frampton, Bonnie Raitt, Buddy Guy and others.
Roger Waters—Us + Them
Released along with the same-titled concert film, the program features songs from the Pink Floyd albums The Dark Side of the Moon, The Wall, Animals and Wish You Were Here, and from Waters' 2017 album, Is This the Life We Really Want.
Lucinda Williams—Good Souls Better Angels
The acclaimed singer-songwriter's first new recording in four years serves as a reminder that Williams is an American treasure, one of our most reliably gifted and artists.
But wait, there's more!
These too may be of interest to the classic rock fan on your shopping list:
Elvin Bishop and Charlie Musselwhite—100 Years of Blues
David Bromberg Band—Big Road
Jimmy Buffett—Life on the Flip Side
David Clayton-Thomas—Say Somethin'
Robert Cray Band—That's What I Heard
Firefall—Comet
Steve Forbert—Early Morning Rain
Ace Frehley—Origins Vol. 2
Bruce Hornsby—Non-Secure Connection
The Jayhawks—xoxo
Kansas—The Absence of Presence
Nils Lofgren—Weathered
Bob Mould—Black Hearts
Pearl Jam—Gigaton
Psychedelic Furs—Made of Rain
Steve Perry—Traces (Alternate Versions & Sketches)
Cliff Richard—Music Is the Air I Breathe
Sparks—A Steady Drip Drip Drip
Stone Temple Pilots—Perdida
Tower of Power—Steppin' Up
Loudon Wainwright III—I'd Rather Lead a Band
Paul Weller—On Sunset
Jesse Colin Young—Highway Troubadour
X—Alphabetland

Latest posts by Best Classic Bands Staff
(see all)