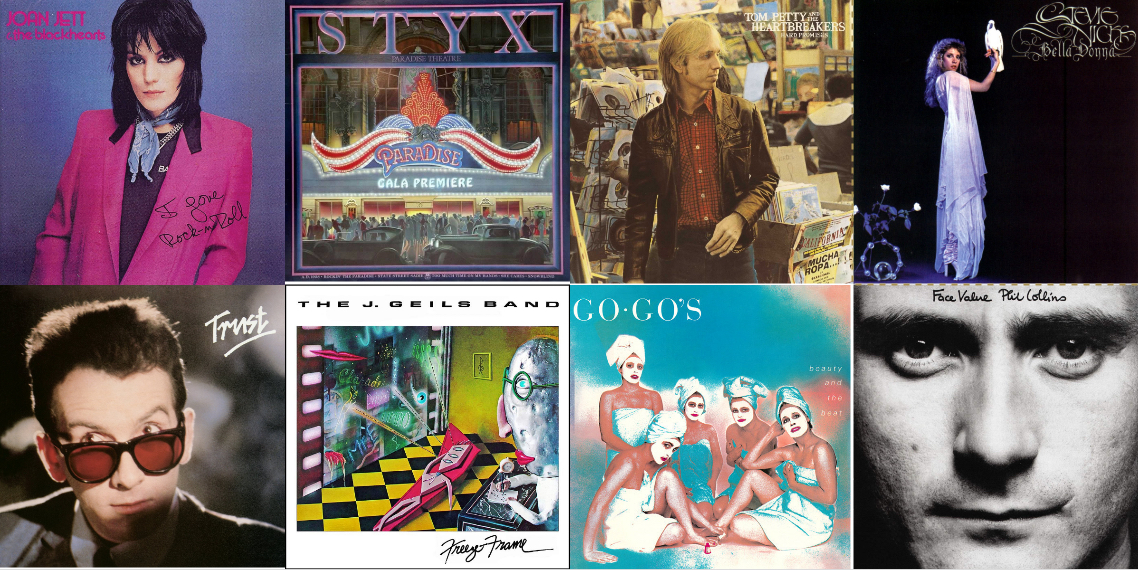 The biggest rock news of 1981, by far, was the launch of MTV on August 1. MTV would change the way music was conceived and created. From that point on, if you wanted to have a hit record, you had to make videos. And if you wanted to make videos, it helped a lot if you looked good—or at least if you did something interesting visually.
But MTV wouldn't truly begin to make its greatest impact for another year or so (one word: Thriller). For the most part, 1981 didn't look all that different from 1980. In fact, of the 50 albums we've chosen to represent 1981, 20 of them are by artists that also appear on our 1980 list. Many of the other 30 are by artists who were holdovers from the '70s and even the '60s. Whether that says something about the year or about our perspective we don't know—it's probably a fine line—but nonetheless it's telling that so few new artists of significance were breaking through at the very time that MTV was rearranging the way music was promoted and sold.
That said, there's a lot of musical diversity here, from hard rock to soft, from the newly emerging synth-pop to funky R&B to the punk and new wave that had been shaking things up for the past few years. You may not like all of them, but we bet you love some of them.
For our survey, we looked back at hundreds of albums released in 1981 and whittled the list down to the 50 that we think represent the most significant or memorable of the year's crop. Many of these titles remain cornerstones of any essential classic rock record collection, sounding as fresh now as when we first removed the vinyl from the shrink-wrapped album jacket.
The list isn't intended to be definitive and, honestly, they're not all necessarily our personal favorites, nor were they all best-sellers—they were chosen because we feel they represent best what was happening that year, whether artistically, commercially, socially or because they just do. Chances are you will disagree with some of our choices and find that some of your own favorites are missing. Please let us know your thoughts in the comments section!
We're not ranking them; they're arranged alphabetically by artist. How many of the 50 do you own?
AC/DC—For Those About to Rock (We Salute You)
How do you follow the album that will eventually become the second-best-seller of all-time, Back in Black? How about with the album that will become your first #1 (that's right, Back in Black peaked at #4)? Numbers aside, For Those About to Rock was just as solid, confirming that the Australians were now one of the biggest rock bands in the world.
Pat Benatar—Precious Time
Precious Time was the singer's only #1 album, and although the standout single, "Fire and Ice," peaked at #17, it managed to take the Grammy for Female Rock Vocal. Benatar would remain a force throughout the remainder of the decade.
Black Flag—Damaged
The debut by the West Coast-based punk band came nowhere near the charts, but it had an outsized influence on the subgenre that came to be called hardcore. Frontman Henry Rollins and lead guitarist Greg Ginn were a formidable force.
The Blasters—The Blasters
Released at the tail end of the year, the sophomore album by the L.A.-based roots band, led by brothers Dave and Phil Alvin, presaged what would eventually take on the tag Americana: a potent combination of rockabilly, R&B, country and more. At a time when rock was becoming more and more prefab, they were an oasis for fans who wanted the real deal.
Lindsey Buckingham—Law & Order
The Fleetwood Mac guitarist/songwriter's debut solo album had some help from bandmates Christine McVie and Mick Fleetwood, but otherwise he did it all: writing, playing, producing, etc. More pop-oriented than FMac, it helped Buckingham establish a following outside of the group's.
Phil Collins—Face Value
If just for the signature drum break toward the end of "In the Air Tonight," this debut album by the Genesis drummer/singer would have been notable. It was more than that though, and went to the top 10, signaling to its maker that he would do just fine if and when he decided to leave the group behind.
Elvis Costello and the Attractions—Trust
The fifth album by the British singer-songwriter, and fourth with his band the Attractions, was reasonably successful in its time, peaking at #28, but its stature has since grown, thanks to the durability of such tracks as "Clubland" and "New Lace Sleeves."
Bob Dylan—Shot of Love
The third and last of Dylan's so-called Christian albums is arguably the best, although it topped out at #33 in Billboard, one of his least impressive showings to that time. The gospel-ish elements were toned down from before, and several tunes, among them "The Groom's Still Waiting at the Altar" and "Every Grain of Sand," are among his best of the decade.
ELO—Time
Now officially abbreviated to ELO (RIP Electric Light Orchestra), Jeff Lynne and friends also took the opportunity to move into new musical areas, embracing electronics and even a bit of reggae and new wave. Conceptually though, Lynne's head was still in the future: the album's theme involved time traveling more than a century ahead.
Dan Fogelberg—The Innocent Age
The archetypal '70s soft-rock singer-songwriter was still at the top of his game as the calendar turned. The album was his third consecutive top 10, plus three singles from the album also went top 10 ("Leader of the Band," "Same Old Lang Syne" and "Hard to Say"). In spite of the big changes in rock music, there was still undeniably a huge audience for what he was offering.
Foreigner—4
After seeing their first three albums vault into the top 5, Foreigner finally made it to #1 with their fourth. Say what you will (they definitely had their detractors), they truly knew how to craft a radio-bound single. Evidence: "Urgent" (with a great sax solo courtesy of Junior Walker), "Waiting for a Girl Like You" and "Juke Box Hero" all came from 4.
The J. Geils Band—Freeze-Frame
After a decade of proving themselves one of the most exciting live bands in the country, the soul-rockers from Boston suddenly discovered how to sell tons of records. Freeze-Frame definitely benefited from the MTV explosion, for which their #1 song "Centerfold" was custom-made.
Genesis—Abacab
Their third album as the trio of Phil Collins, Mike Rutherford and Tony Banks was, remarkably, the first under the Genesis name to reach the top 10 in America. Perhaps it's not all that surprising as they'd been inching away from their prog roots for some time and were now firmly into pop-rock territory (although hit singles continued to elude them for the time being).
The Go-Go's—Beauty and the Beat
Of course, there was the fact that they were five women rocking, still considered something of a novelty at the time. They were inspirational, yes, but beyond that, they were just so much fun! Songs like "We Got the Beat" and "Our Lips Are Sealed" were refreshing in their simplicity—hooky and devoid of pretense. You had to love them.
Daryl Hall and John Oates—Private Eyes
They'd spent the '70s churning out hit after soul-pop hit: "Sara Smile," "She's Gone," "Rich Girl." Then, for a few years, they kind of went away. Then the '80s dawned and—suddenly, it seemed—they were not only back but bigger than ever. Private Eyes was actually their first top 5 album, helped along by even more hit singles (the title track, "I Can't Go for That [No Can Do]").
Related: The #1 albums of 1981
George Harrison—Somewhere in England
His solo albums hadn't exactly been burning up the charts for several years, so what made this one different? Mostly it was "All Those Years Ago," his affectionate look back at the early days of the Beatles, sung as a tribute to his good mate John, cut down by an assassin's bullet at the turn of the decade. The single hit #2, the album #11, and George was back in the game.
The Human League—Dare!
There was little in their first two albums to suggest that these British synth-poppers would soon have a major hit on their scorecard. But this third outing, following some big personnel changes, caught on in a big way once it moved in a more radio (and MTV)-friendly direction. It largely boiled down to "Don't You Want Me," the album's final track, which rocketed to the top of the charts in America and stayed there for three weeks, boosting the genre itself into the mainstream.
Joe Jackson—Jumpin' Jive
The lanky Brit had already been a favorite of the new wave crowd for a few years, appealing to the same listeners who fell for new singer-songwriters like Elvis Costello and Graham Parker. Then, out of the blue, for his fourth release, Jackson left all of that behind and released this swingin' retro tribute to the jump blues sound of the '40s, covering tunes associated with folks like Cab Calloway and Louis Jordan. And then, just like that, he left this experiment behind too.
Rick James—Street Songs
"Super Freak." That may be all you really need to know about why this fifth album by the funk master has become such an R&B cornerstone over the years. The album itself was a huge hit, reaching #3, but despite the presence of several other beat-happy tunes, it was "Super Freak," with its signature bass and drum rhythms, that became one of the most popular dance hits of all time (and one of the most sampled).
Joan Jett and the Blackhearts—I Love Rock 'n' Roll
After the breakup of the Runaways, Joan Jett jumped right into making solo albums; this was her second. The title track, co-written by Jake Hooker and Alan Merrill and originally recorded by the Arrows, had anthem written into it, enough to send it straight to the top of the charts. And her top 10 version of the old Tommy James and the Shondells hit "Crimson and Clover" was definitive too.
Grace Jones—Nightclubbing
One of the more strikingly original dance music artists of the era, Jones had been kicking around the scene—establishing herself as both music and fashion icon—for several years, when she released this genre-busting album. Nightclubbing features covers of songs from a wide-ranging array running from Iggy Pop to Bill Withers.
Quincy Jones—The Dude
Quincy Jones is so often cited as one of the most successful and visionary record producers in history that it's easy to forget he also had numerous successes as an artist too. The Dude was his second career top 10 (following 1974's Body Heat). It went platinum and racked up an amazing dozen Grammy nominations, winning three of them. We had no idea that Thriller would be arriving 18 months later.
Journey—Escape
What had begun as a scrappy little San Francisco-based offshoot of Santana had, over the past several years, grown into an ascendant commercial juggernaut. Escape, the first to feature new keyboardist Jonathan Cain, was Journey's third consecutive top 10 album and first to reach #1. Its opening song, a little ditty called "Don't Stop Believin'," which reached #9 at the time, would go on to enjoy a massively successful life of its own for decades to come. (Just ask Tony Soprano.)
King Crimson—Discipline
The prototypical English prog-rock band had been on hiatus for seven years when guitarist and founder Robert Fripp decided to start from scratch, with mostly new members (only drummer Bill Bruford was a holdover) and a more modern sound. Discipline was the result, largely influenced by current trends such as new wave and electronic dance music. Not all of KC's old fans warmed to it, but Fripp just made new ones to replace them.
Related: 1980 in 50 albums
The Kinks—Give the People What They Want
Amazingly, this was the Kinks' 19th studio album since their arrival in 1964. In some ways they were a much different band, but in others they hadn't really changed at all: brothers Ray and Dave Davies were still at the helm, pouring out brilliantly written and played rock songs of substance. Both "Better Things" and "Destroyer" from the album charted (although neither did too well), but they've both remained emblematic of the latter-day integrity of the Kinks' music.
Loverboy—Get Lucky
It was only their second album, but the Canadian band did indeed get lucky! The album peaked at #7 on the Billboard LP chart, and remained on that chart for more than two years, selling four million copies in all. It spawned two top 30 singles as well: "Working for the Weekend" and "When It's Over."
The Moody Blues—Long Distance Voyager
The Moodys, well into their second decade as a worldwide success, replaced founding keyboardist Mike Pinder with Patrick Moraz for this release and soon found themselves back in the #1 position—only for the second time in their career (the first was Seventh Sojourn, nearly a decade earlier). The lead track, "The Voice," also became a hit.
Motörhead—No Sleep 'Til Hammersmith
Although no one would deny that they were one of the most influential and beloved metal bands among true aficionados, Motörhead simply never caught on in America with the general public—only one album cracked the top 100. But in the U.K. that wasn't the case, and this, their first live set, reached #1 there, their most successful ever.
Stevie Nicks—Bella Donna
Spending nearly three years on the charts and peaking at #1, the debut solo album by the Fleetwood Mac chanteuse certainly proved that she had viability outside of the group. The album also spawned four hit singles, notably "Stop Draggin' My Heart Around," co-written by and featuring Tom Petty, and a duet, "Leather and Lace," with the Eagles' Don Henley. Another of those, "Edge of Seventeen," is still a Nicks signature song today.
Ozzy Osbourne—Diary of a Madman
Taking its title from an early '60s horror film, the second solo album by the Black Sabbath frontman notably featured the whiz-kid guitarist Randy Rhoads, who would meet a tragic end the following year. The triple-platinum seller remains one of the most popular recorded by Osbourne outside of the band.
Tom Petty and the Heartbreakers—Hard Promises
Their fourth album together, Hard Promises would have been released sooner had Petty and his record label not fought over its retail list price (the company wanted to charge a buck more; Petty won). Its lead track, "The Waiting," quickly became one of Petty's most popular, entering the top 20, while a couple of other tunes featured guest vocals by one Stevie Nicks.
The Police—Ghost in the Machine
By the time the British trio recorded their fourth studio album they were already one of the fastest-rising bands in the world, and the #2 placement of this record became their highest to date. It was helped along by two hit singles, "Every Little Thing She Does is Magic" and "Spirits in the Material World." The album displayed a marked shift toward more of a mainstream pop sound that would serve them well until their 1984 hiatus.
Pretenders—Pretenders II
The second full album by the British band came about a year after their debut, as they were quickly rising in popularity. It would also be their last for three years, as both guitarist James Honeyman-Scott and bassist Pete Farndon would die in the interim. Many critics found II to be less striking than the debut, but the public disagreed, sending it up to #10 on the chart, just one point behind the first LP.
Prince—Controversy
His big breakthrough wouldn't arrive for another year, with the release of 1999, and Purple Rain was still a few years away, but Prince was already displaying the breadth of his gifts on this fourth studio effort. He self-produced, wrote it all and played most of the instruments, and while there weren't any hit singles to be found, the album serves as a solid blueprint for what's ahead.
The Rolling Stones—Tattoo You
It's not as if many fans would cite Tattoo You as their favorite Stones album, but it did reach #1 on the Billboard chart, even though it was largely a collection of leftovers from the previous decade. Still, you can't go wrong with an album that includes tunes like "Start Me Up" and "Waiting on a Friend," and it offered proof that the group still had plenty of viability among rockers.
Rush—Moving Pictures
The Canadian trio's second consecutive top 5 album confirmed that their long-sought (and finally attained) success down below in the U.S.A. wasn't a fluke. Hit singles would remain elusive, but several songs from the album, among them "Tom Sawyer" and "Limelight," became rock radio staples, and the instrumental "YYZ" was nominated for a Grammy.
Bob Seger and the Silver Bullet Band—Nine Tonight
Their second live album, following 1976's mega-popular Live Bullet, Nine Tonight consists largely of tunes (recorded at a Detroit gig) from Seger's most recent albums. But when those included such classic rock staples as "Hollywood Nights," "Old Time Rock & Roll" and "Against the Wind," it couldn't lose.
Soft Cell—Non-Stop Erotic Cabaret
The debut album by the British synth-pop duo of Marc Almond and David Ball was just one of many in that category released during this year. But It was also one of the best, highlighted by their top 10 smash cover of Gloria Jones' "Tainted Love." Soft Cell's dance-crazy version remains popular today, long after the pair stopped performing together regularly.
Squeeze—East Side Story
The fourth album by the British band found them expanding their sound beyond the impeccably catchy pop-rock of their earlier work, but there are still some great tunes instantly identifiable as Squeeze. Notably, the original "Tempted"—sung by keyboardist Paul Carrack—has become one of their most beloved, although at the time it was under-appreciated, just squeaking into the top 50 in the U.S. and not faring much better at home.
Related: Our Album Rewind of East Side Story
Billy Squier—Don't Say No
His first album, 1980's The Tale of the Tape, barely caused a ripple, but the rocker found the magic formula with his sophomore set the following year. Don't Say No rose to #5 on the charts, went multi-platinum, and produced three hit singles: the top 20 "The Stroke," "In the Dark" and "My Kinda Lover."
Styx—Paradise Theatre
Paradise Theatre is living proof that persistence pays off. The 10th album by the American prog-hard rock band, it became their first—and only—#1 in America. Whether it was that different from its predecessors—it was a concept album—or just the right music for the right time is debatable, but the top 10 success of the singles "The Best of Times" and "Too Much Time on My Hands" confirmed that Styx had finally put all of the right elements into place.
Related: Our Album Rewind of Paradise Theatre
38 Special—Wild-Eyed Southern Boys

While his brother Ronnie attained rock stardom with Lynyrd Skynyrd—and then died in the plane crash that also killed several other band members—Donnie Van Zant's 38 Special couldn't quite gain a foothold commercially. Then, finally, several years after their formation, they caught on with this top 20 set that shifted away somewhat from the trademark Southern rock sound toward a more mainstream, harder brand of rock.
Tom Tom Club—Tom Tom Club
Formed as a side project by Talking Heads' husband-and-wife rhythm section Tina Weymouth and Chris Frantz, Tom Tom Club emphasized the more danceable side of their many musical paths. Utilizing ace musicians like guitarist Adrian Belew, the pair fared fairly well with the album, and the singles "Wordy Rappinghood" and "Genius of Love," were popular in dance clubs and college radio stations.
Triumph—Allied Forces
Yet another hard-rocking Canadian band that was enjoying peak success as the decades turned over, Triumph was already four albums into their career, with each successive release finding a larger audience. Allied Forces would be their biggest in America, with the single "Magic Power" giving them their highest showing on the Billboard Mainstream Rock chart, #8. For many fans, Allied Forces marked the height of Triumph's recorded output.
The Tubes—The Completion Backwards Principle
After releasing five albums on A&M Records, the San Francisco theatrical-rock band moved over to Capitol and enjoyed their highest charting LP to date. Two singles, "Don't Want to Wait Anymore" and "Talk to You Later," also fared well. Another concept album (they were big around that time), it helped set the scene for their followup, Outside Inside, which would give the group its biggest single, "She's a Beauty."
U2—October
We tend to think, falsely, that everything this band ever did turned into gold (or platinum), but remarkably, their second studio album, October, peaked at #104 in the U.S., even while the band was steadily making headway in other countries. Still, songs like "Gloria," "Fire" and the title track would become long-standing fan favorites, and it wouldn't be much longer until everyone within earshot of a radio or TV would know who these four Irishmen were.
Van Halen—Fair Warning
There were few bigger bands than Van Halen by 1981, who were coming off of two consecutive top 10 albums when they released Fair Warning. It too would fly up the charts, and sell in the millions, but the general consensus at the time was it was somewhat lackluster in comparison to what they'd done before. They'd rebound in a bigger way in a few years, but they were hardly down for the count even if this was a stopgap.
Was (Not Was)—Was (Not Was)
A duo comprising Detroit musicians David Was (real name: Weiss) and Don Was (Fagenson), Was (Not Was) created music that stirred together an amalgam of styles in a most funky way, utilizing superb musicians and vocalists (Sweet Pea Atkinson and Sir Harry Bowens, most notably). This debut was insanely catchy, particularly the leadoff track "Out Come the Freaks," a dance favorite as well as something refreshingly different on those radio stations that dared to go there.
The Who—Face Dances
Is Face Dances anyone's favorite album by the Who? With a decade and a half behind them, including game-changers like Tommy, Quadrophenia and Who's Next, probably not. But the album, their ninth—one of two featuring Kenney Jones on drums—was solid, and the lead track, "You Better You Bet," has remained part of their standard setlist to this day.
Carl Wilson—Carl Wilson
The first of only two solo albums released by the late Beach Boy, the youngest of the three Wilson brothers, wasn't exactly appreciated in its time, stalling out at #185. But in the years since, many have come to love the easygoing songs (most cowritten with Myrna Smith, the wife of Wilson's manager), and the classy production.
Watch the very first hour of MTV's programming

Latest posts by Best Classic Bands Staff
(see all)