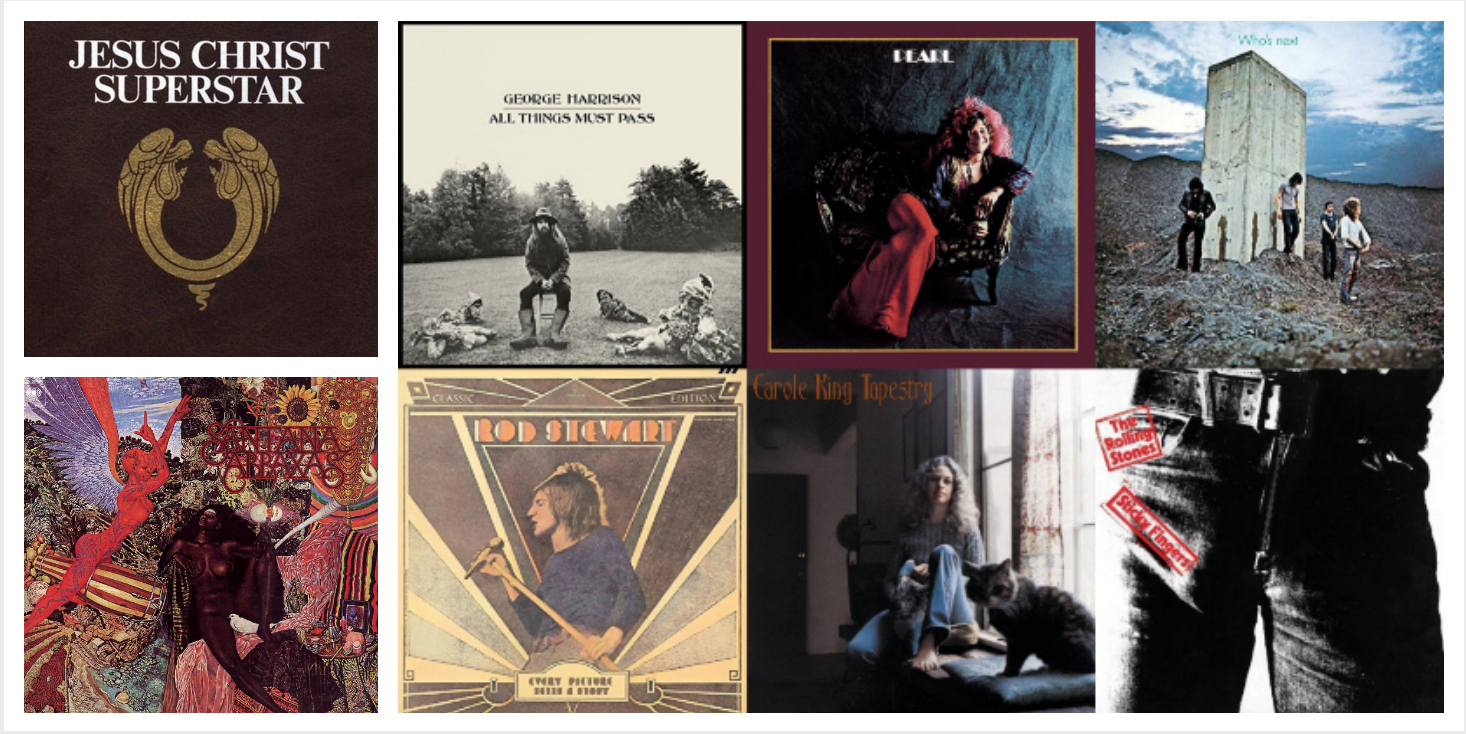 Making headlines in 1971… A ban of cigarette ads on TV and radio stations in the U.S. went into effect. All in the Family made its debut while The Ed Sullivan Show aired its last. Daredevil Evel Knievel set a world record by jumping over 19 cars on his motorcycle. Joe Frazier defeated Muhammad Ali in the so-called "Fight of the Century" at Madison Square Garden.
The Allman Brothers Band performed the two concerts that comprised their Live at the Fillmore album. Fillmore East closed three months later. Jim Morrison died at age 27 in Paris, France. Walt Disney World opened in Orlando, Florida. D.B. Cooper parachuted from a plane he skyjacked, with $200,000 in ransom money. He was never seen again.
Recordings made by some of the biggest classic rock artists of the era dominated the list of 1971's top-selling albums in the U.S. The chart, compiled by the former music industry trade magazine, Record World, features several all-time classics among the year's Top 20 sellers, including legendary albums by Rod Stewart, the Rolling Stones and Carole King, as well as recordings from three members of The Beatles.
One pop band enjoyed three #1 singles and 21 Billboard Top 40 hits between 1969 and 1975. That would be Three Dog Night, and many of their early hits were included on their first compilation, Golden Bisquits, the year's #20th best selling album.
For The Who's first studio album after their rock opera, Tommy, Pete Townshend's ambitious Lifehouse project was shelved and the group ultimately recorded the tracks that became Who's Next (and #18 for the year). The opening and closing numbers, "Baba O'Riley and "Won't Get Fooled Again," remain two of their most popular and endearing recordings.
Related: Townshend gives birth to "Baba O'Riley" with "Teenage Wasteland"
"Hey, Elton… we love your 1970 self-titled album. How quick can you make a follow-up?" Before 1970's Elton John was released, the singer-songwriter had already recorded Tumbleweed Connection. Despite no successful singles, the album featured such memorable songs as "Burn Down the Mission," "Country Comfort" and "Amoreena," and connected with album buyers who made it the year's #17 top seller.
The individual members of The Beatles didn't miss a, er, beat as their solo careers began. Two John Lennon releases, December 1970's Plastic Ono Band and September 1971's Imagine, were the year's #16 and #14 biggest sellers. From the latter, he gifted us with "Jealous Guy" and what is likely the most enduring song of his solo career, "Imagine."
Related: 1971 book makes a strong case for rock's best year
Each year from 1967 to 1972, the Moody Blues released a new studio album. 1971's Every Good Boy Deserves Favour was their third to hit #1 in the U.K. Thanks to "The Story in Your Eyes," the album reached #2 in the U.S.
The incredibly prolific Creedence Clearwater Revival released their sixth studio album in less than two-and-a-half years with December 1970's Pendulum. The LP, the year's 13th biggest, was the first to feature all John Fogerty originals, including "Have You Ever Seen the Rain?".
The mostly instrumental double album soundtrack for the film Shaft was completely written and produced by Isaac Hayes. The so-called "blaxploitation" film starred Richard Roundtree as private detective John Shaft. The album earned three Grammy Awards and Hayes' "Theme From Shaft" was a #1 smash, helping the album become the year's 12th best seller.
1971's "Maggie May" is one of the all-time classic rock greats and it led Rod Stewart's brilliant Every Picture Tells a Story to the #1 spot in the U.K., the U.S. and many other countries. The album also includes "Mandolin Wind," choice covers of Tim Hardin ("Reason to Believe"), the Temptations hit "(I Know) I'm Losing You" and Bob Dylan's ("Tomorrow is a Long Time"), as well as the great title track. It all added up to #10 for the year.
Many Rolling Stones fans call 1971's Sticky Fingers their favorite from the band and there are no shortage of reasons why. There's its famous Andy Warhol-designed album jacket. Tracks like "Wild Horses," "Dead Flowers," "Bitch" and "Can't You Hear Me Knocking" are among the LP's 10 songs. "Brown Sugar" is among their many signature songs. Mick Taylor made his studio album debut here. It all led to their first of eight straight #1 albums in the U.S., and the year's 9th biggest seller.
Who would've thought that James Taylor's Mud Slide Slim and the Blue Horizon would've ranked so high? Well, thanks to a #1 smash cover of Carole King's "You've Got a Friend," and the momentum of the prior year's Sweet Baby James, it all added up to big success for the 1971 follow-up, and #8 for the year.
Though it was released in November 1970, George Harrison's ambitious 3-LP set, All Things Must Pass, enjoyed huge sales in 1971, becoming the year's #7 biggest. There were just two singles: the mega-hit "My Sweet Lord," which went #1 around the world, and the buoyant "What is Life." Repeated plays of the album deliver such remarkable listens as "Beware of Darkness," "Wah Wah," "Awaiting on You All" and "Isn't It a Pity," among many favorites. Has there ever been a more stellar list of musicians on a studio album?
Related: Our Album Rewind of All Things Must Pass
When Pearl was posthumously released in January 1971, the interest it generated among music fans was no doubt driven in part by instincts to memorialize Janis Joplin. But what took it to #1 on the Top 200 for nine straight weeks was how the album finally captured her musical soul and realized her creative vision. Joplin's cover of "Me and Bobby McGee" was a #1 pop hit, leading to the album's rank as the year's #6 biggest seller.
How do you follow up a hugely successful debut album that coincided with a star-making performance at Woodstock? Well, if you're Santana, you release Abraxas a year later. The album featured two enormous singles, both of which were covers: "Black Magic Woman" and "Oye Como Va." Abraxas has sold a whopping five million copies in the U.S. and was the #5 album for all of 1971.
Related: Our Album Rewind of Abraxas
The brother-sister recording duo The Carpenters earned a dozen Top 10 singles including three #1s. Three of their huge hits–"For All We Know," "Rainy Days and Mondays" and "Superstar"–are on their 1971 self-titled album, the biggest of their career and the year's #4 top seller.
The third member of The Beatles to score mightily on the year's top sales charts was Paul McCartney, who released the album, Ram, with his wife, Linda. Though it peaked at #2, its consistent weekly sales and the success of the #1 smash "Uncle Albert/Admiral Halsey" helped it to the year's overall #3 seller.
Carole King's Tapestry remained on the album charts for over six years, setting a record for longest run on the charts until 1980, when Pink Floyd's Dark Side of the Moon broke that with its 303rd week. It has sold over 25 million copies and was the best selling album ever until 1976. Every track is a winner.
At #1? The original pre-theater edition of Jesus Christ Superstar, released as a 2-LP set in September 1970, which featured Deep Purple's Ian Gillan in the titular role, Yvonne Elliman as Mary Magdalene and Murray Head as Judas Iscariot.
Related: Looking at the year differently – The #1 albums of 1971
20. Golden Bisquits – Three Dog Night (Dunhill)
19. Love Story – Andy Williams (Columbia)
18. Who's Next – The Who (Decca)
17. Tumbleweed Connection – Elton John (Uni)
16. Plastic Ono Band – John Lennon (Apple)
15. Every Good Boy Deserves Favour – The Moody Blues (Threshold)
14. Imagine – John Lennon (Apple)
13. Pendulum – Creedence Clearwater Revival (Fantasy)
12. Shaft (Orig. Soundtrack) – Isaac Hayes (Enterprise)
11. Love Story (Orig. Soundtrack) (Paramount)
10. Every Picture Tells a Story – Rod Stewart (Mercury)
9. Sticky Fingers – The Rolling Stones (Rolling Stones)
8. Mud Slide Slim and the Blue Horizon – James Taylor (Warner Bros.)
7. All Things Must Pass – George Harrison (Apple)
6. Pearl – Janis Joplin (Columbia)
5. Abraxas – Santana (Columbia)
4. Carpenters – The Carpenters (A&M)
3. Ram – Paul and Linda McCartney (Apple)
2. Tapestry – Carole King (Ode)
1. Jesus Christ Superstar – Various Artists (Decca)

Latest posts by Best Classic Bands Staff
(see all)