Rod Stewart's 'Every Picture Tells a Story': Ha!
by Mark Leviton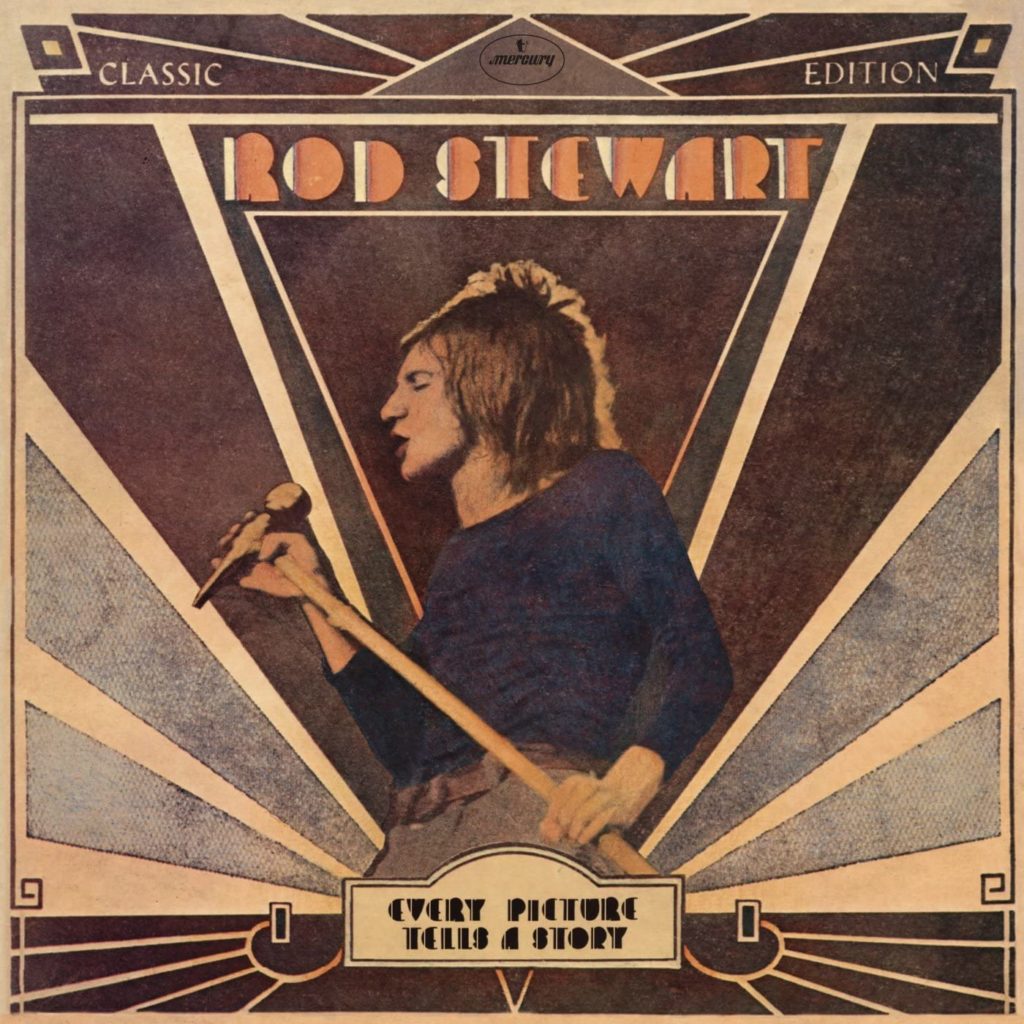 In 1971, after a decade as a professional singer and songwriter, Rod Stewart's career was well-established on two fronts. As vocalist with the rowdy, hard-partying rock band the Faces, he toured the world, strutting the stage with no less authority than Mick Jagger or Robert Plant. (In his 2012 autobiography Rod he cheekily wrote, "Carrying 200 pounds of velvet and satin around a stage for 90 minutes—that's man's work, let me tell you.") As a solo performer, he recorded highly popular albums with a more acoustic-based sound, and showed his knack for composing and finding introspective, sensitive songs ("Gasoline Alley," "Handbags and Gladrags," "I Wouldn't Ever Change a Thing" and "Only a Hobo" among them) that flooded FM radio. His raspy voice, described as "the guts of the East End of London condensed and piped through stereo speakers" by the writer Steve Turner, was instantly recognizable.
Listen to the title track from Every Picture Tells a Story
As he'd shown during his tenure with the Jeff Beck Group, "Rod the Mod" could handle blues, folk, rock or Broadway show tunes and make them distinctive. On his first solo album, known as An Old Raincoat Won't Ever Let You Down in much of the world and The Rod Stewart Album in the United States, he had audaciously opened with a spectacular version of the Rolling Stones' "Street Fighting Man" (which Stewart says emerged from his aborted attempt to record Little Richard's "The Girl Can't Help It") and concluded with Ewan MacColl's aching folk lament "Dirty Old Town." Few singers had that kind of range.
What Stewart didn't have was a #1 pop single, but he was about to get the first of several: his third solo album, Every Picture Tells a Story, released on May 28, 1971, contained it. The lyrics to "Maggie May," written by Stewart and guitarist Martin Quittenton, were based on Stewart's first sexual experience at the 1961 Beaulieu Jazz Festival, when an older woman—not actually named Maggie—initiated him. "It nearly didn't make the album," Stewart explained in the liner notes to the Storyteller boxed set, "the criticism being that it had no melody." But it did have a hell of a story to tell.
Stewart's record label and management thought so little of the track it was relegated to the B-side of the album's first 45 rpm single release in summer 1971, an excellent version of Tim Hardin's "Reason to Believe" that failed to excite the airwaves and peaked at #62 in Billboard. A few AM radio DJs, including WMMS' Murray Saul in Cleveland, liked the B-side better, and gave it some spins, lighting the fire that led Mercury Records to promote "Maggie May" on its own. It hit the top of the U.S. charts and stayed there for over a month. ("Reason to Believe" became a genuine hit later, when Stewart's live MTV Unplugged version emerged in 1993.) Every Picture Tells a Story and "Maggie May" smashed the pop charts in Canada, England, Spain, Scandinavia, Italy, Japan and Australia, laying the groundwork for Stewart's worldwide tours of the future.
Related: What were the other #1 albums of 1971?
Listen to "Maggie May" from the album
"Maggie May" had only required a couple takes in the studio, with drummer Micky Waller making do with half a drumkit, overdubbing cymbals later. The rest of the recording process was likewise smooth, with Stewart producing himself at London's Morgan Studios in late 1970 and early 1971. He later reported it only took two days to record the title track, "Reason to Believe" and the bulk of "Mandolin Wind," which he thought was pretty good "considering we spent as much time in the pub as we did in the studio." Although mostly uncredited due to contractual issues, all of Stewart's pals from the Faces played, certainly on the powerful version of the Temptations' hit "(I Know) I'm Losing You."
Among the liquors referenced on the LP sleeve, "Martell Brandy" is no doubt a reference to Ronnie Lane, who was fond of the stuff. Two of the Faces were given full official credit for their contributions, Ron Wood playing guitar, pedal steel and bass, and Ian McLagan on organ, and they provide much of the muscle.
Stewart was expert at drawing the best, spontaneous performances out of the musicians gathered. The album shines with crucial gifts from pianist Pete Sears (especially on "Seems Like a Long Time" and "Reason to Believe"), Lindisfarne's Ray Jackson on mandolin, Liverpool slide guitarist Sam Mitchell (on Arthur Crudup's "That's All Right" and its coda, "Amazing Grace"), Dick Powell's violin (on Dylan's "Tomorrow Is Such a Long Time") and Danny Thompson and Andy Pyle on bass. The lineup also includes Long John Baldry singing backup on the title track: Baldry had given Stewart his first professional gig after hearing him, slightly inebriated, singing on the railway platform in Twickenham, London. At the time, Stewart would probably have preferred a career in professional sports, but he never made the grade, later insisting, "I'm a rock star because I couldn't be a soccer star." (Stewart repaid the favor by co-producing Baldry's album Everything Stops for Tea around the same time as the Every Picture Tells a Story sessions.)
Quittenton handles most of the acoustic guitar parts, and it's his playing, paired with Wood, that more than any defines the album's sound. Stewart's solo composition "Mandolin Wind" exquisitely winds together several string instruments, moving forward and back in the mix while Stewart's light yet passionate vocal leads the way. The deceptively simple song contains some of Stewart's best lyrics: "When the rain came I thought you'd leave/'Cause I knew how much you loved the sun/But you chose to stay, stay and keep me warm/Through the darkest nights I've ever known." Listen for how Waller energizes the track in the final moments, making the most of every spare fill, a drummer very much in the Charlie Watts mold, with a visceral sense of swing.
The six-minute epic written by Stewart-Wood, "Every Picture Tells a Story," leads off the album, and has achieved the same iconic status as "Maggie May," perhaps besting it in rhythmic drive, vocal exuberance and humor ("Down along the Left Bank, minding my own/Was knocked down by a human stampede/Got arrested for inciting a peaceful riot/When all I wanted was a cup of tea"). Stewart's brilliant idea of soliciting "vocal abrasives" from Maggie Bell kicks in when she shares the couplet, "Shanghai Lil never used the pill/She claimed that it just ain't natural" with him—it's like an audio version of exploding fireworks. Shortly thereafter the two duet on a beautifully designed, slower bridge section ("I firmly believed that I didn't need anyone but me/I sincerely thought I was so complete/Look how wrong you can be") before the arrangement again pumps up, Waller in the lead and Stewart taking musical playacting to new heights with "Make the best out of the bad/Just laugh it off—ha!"
For full enjoyment, one does have to ignore the racist and sexist talk, which didn't grate quite as much in 1971 as it does now. Stewart has never apologized very convincingly about his devotion to beautiful women, fast cars and alcoholic and pharmaceutical stimulants, and several of his biggest hits ("Tonight's the Night" and "Da Ya Think I'm Sexy?" among them) have been controversial. Yet he's such a colorful character it's difficult not to love him. "It's his storytelling style," wrote Janet Maslin about his autobiography in The New York Times, "which mixes wild boastfulness with barely credible self-deprecation, that proves so winning."
Born Jan. 10, 1945, Sir Roderick David Stewart CBE remains one of the best-selling artists of all time, with over 120 million records sold worldwide. He's reinvented his musical style a number of times, including a successful series of "Great American Songbook" albums that had him compared to Tony Bennett and Frank Sinatra. Now living in Los Angeles, he's a model railroad and World Cup fanatic, has survived cancer, is a father many times over, and is on his third marriage, although he was once quoted as saying "Instead of getting married again, I'm going to find a woman I don't like and just give her a house." Ha!
Watch Rod Stewart and Ron Wood perform "Maggie May" in a 1993 "MTV Unplugged" session
When Stewart tours, tickets are available here and here.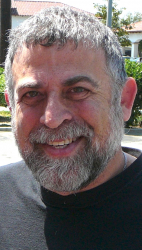 Latest posts by Mark Leviton
(see all)