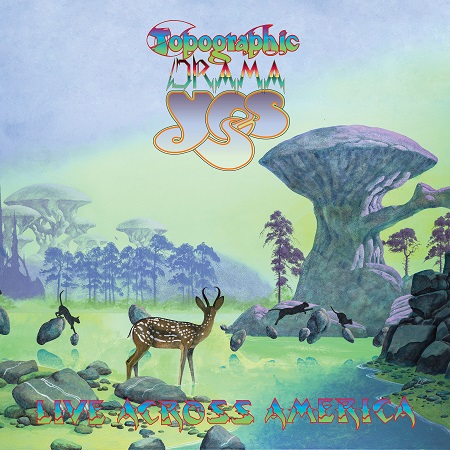 From Summer of 2016 until earlier this year, Yes performed its 1980 album Drama in its entirety – for the first time ever – plus sides one and four of their 1973 double album, Tales From Topographic Oceans. The 2017 Rock and Roll Hall of Fame inductees announced today (Sept. 28) a new live album, Topographic Drama –  Live Across America, to be released on Nov. 24. The 2-CD and 3-LP set, via Rhino, also includes the fan favorites "Roundabout," "Starship Trooper," "Heart of the Sunrise," and more.
The album's cover art is designed by the band's longtime art director (including their iconic bubble logo) and set designer, Roger Dean.
Related: Our interview with Roger Dean
The new collection features live performances from 12 dates recorded on the tour in February 2017 by the current Yes line-up: Steve Howe (guitars), Alan White (drums), Geoff Downes (keyboards), Billy Sherwood (bass), Jon Davison (vocals), and additional drummer for this tour, Jay Schellen.
From the announcement: "Topographic Drama –  Live Across America highlights the best performances from the 2017 leg of the 28-show tour and mirrors the set list from those concerts. Each night, Yes opened with all six songs from Drama, the band's tenth studio album."
At those performances, the band played "And You And I" (from 1972's Close To The Edge) and "Heart Of The Sunrise" (from 1971's Fragile).
Next, the group played the lengthy opening and closing tracks of its concept album, Tales. Topographic Drama –  Live Across America concludes with two live staples: "Roundabout" (also from Fragile) and "Starship Trooper" from 1971's The Yes Album.
Topographic Drama Track Listing
CD 1
"Machine Messiah"
"White Car"
"Does It Really Happen?"
"Into The Lens"
"Run Through The Light"
"Tempus Fugit"
"And You And I"
"Heart Of The Sunrise"
CD 2
"The Revealing Science Of God"
"Leaves Of Green"
"Ritual"
"Roundabout"
"Starship Trooper"
Watch a fan video of Yes performing "Heart of the Sunrise" during this tour on February 12, 2017
The progressive rock band was founded in 1968 and have sold more than 50 million records. In 2018, Yes will kick off a 50th Anniversary tour. Dates in the U.K. and Europe have been announced with many more to follow.

Latest posts by Best Classic Bands Staff
(see all)