Roger Dean Interview: Getting Close To the Edge
by Greg Brodsky
Many of the visitors to the furniture shop, restaurant, live music venue and gallery that is Trading Boundaries in Sussex, England, browse through the rooms filled with beautiful £995 coffee tables while oblivious to the artwork that adorns the walls, many with "Prices Available Upon Request" signs.
That's okay, because there are plenty of incredible pieces of furniture, textiles, jewelry and more from around the world in the vast Georgian Manor house that dates to 1777.
But if those same visitors studied those walls more closely they'd see original works by artist Roger Dean, best known for his album cover artwork for Yes (who finally gained entrance to the Rock and Roll Hall of Fame's Class of 2017).
Trading Boundaries is one of only two galleries in the world – the other is in San Francisco – that are authorized dealers of Dean's work. And much of Dean's art is on display and for sale here year 'round. [Our interview took place in October 2015. A new Dean exhibition takes place each year.]
His Fall 2015 exhibit, "Somewhere Near Here," curated an extensive amount of original paintings, sketches, limited edition serigraphs and more.
While some of those originals are priced in the (gasp!) seven figures, fear not: there are many items, including Dean-signed prints of the famed Yes "bubble logo" available for purchase in the very low three figures.
On this day, Michael Clifford, who co-owns Trading Boundaries with Tracy Thomson, walks a visitor through the building with obvious pride. Midway through, we were joined by Roger Dean, who resides nearby, for an interview over lunch. (The restaurant seats 90 and doubles as an intimate concert venue with room for an additional 70 standees who have enjoyed live performances by the likes of Steve Howe, Carl Palmer, and Focus.)
At around the time he earned his Masters degree, Dean had begun designing album covers. "I put together a portfolio and knocked on the door at Atlantic Records (U.K.). Phil Carson was in charge of Atlantic in Europe – not just the U.K. – and Phil liked my work, was very kind, very enthusiastic and he said, 'But Roger, I only have two bands: Led Zeppelin and Yes. And when one of them needs a cover, I'll give you a call.'"
What?!? Those iconic Yes covers that began with Fragile could have adorned Led Zeppelin IV and Houses Of the Holy? The mind boggles. To Yes fans, their music and Dean's artwork are inextricably linked. Their previous LP, The Yes Album, featured the band members on the cover, albeit lit in green with a polystyrene head hanging on a thread. Dean is asked if the band balked at having art, rather than a photo, on the cover of Fragile.
"It was never an issue," Dean, born August 31, 1944, says. "It was an easy thing for all of us, I think. We got to know each other. I photographed them, as well as talked ideas. The idea was to put it together like an Edwardian illustrated book."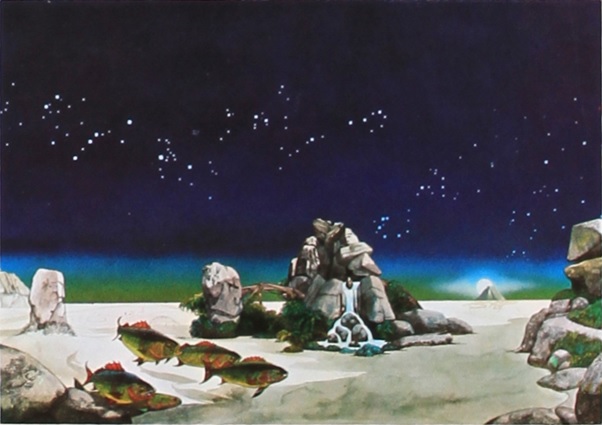 But certainly you listened to Fragile while you were designing the artwork? Myth shattered: "Back then, the cover had to be finished long before the album."
Surely, the ambitious double-album Tales From Topographic Oceans proved trickier?
"I had just done a book cover for [British author] John Michell called The View Over Atlantis. Yes had got this tour of Japan and I had been invited along and we were gonna thrash out the new album and stage (design) and everything on that tour. Yes were not big on drugs but they were all briefed: 'You do not take drugs into Japan.' I don't think that was inconvenient for anybody but the wives and girlfriends made a cake and that cake was on the airplane and we all had some. I have no idea what was in it but from London to Anchorage, I was stoned. I couldn't speak; I was just staring out the window.
"But from Anchorage to Tokyo, I couldn't stop talking. And I was telling Jon [Anderson] all about this book, about patterns in the landscape and dragon lines, and we were flying hour after hour after hour over the most amazing landscapes in Siberia and it was incredible. So the idea of sort of geomantic references in the landscape and a sort of magical landscape and an alternative landscape… that informed everything: the album cover, the merchandising, the stage… everything."
Related: Our interview with Jon Anderson
But certainly some of the fantasy images in his work must have been inspired by, ahem, artificial means?
"(Hallucinogens) were never involved. For me to do my best work, I'm stone-cold sober. And I have to be. I don't drink. I don't do drugs. I don't smoke. I don't do any of that stuff. But back then I did smoke the occasional joint. I have to own up to that," Dean says with a laugh. "But I don't now and it was only a brief thing. That isn't to say that I had any idea what we had in that cake, though." He laughs again.
"I do get asked all the time where the ideas come from. Basically it's about finding the quiet in your head and allowing the ideas to come, and you have to find that quiet. I meditate, but I just sit quietly or walk; it's the most helpful thing although it's informal."
Back upstairs at Dean's "Somewhere Near Here" exhibition a customer is buying a print. Michael Clifford asks if he'd like it signed personally. The patron is shocked to learn that the unassuming fellow standing nearby is Dean himself.
The conversation turns to the changes that we've witnessed in music packaging, from the magnificent gatefold sleeves of vinyl albums to CDs to files.
"The magical thing about the old vinyl days… it was a unique period in history when you could give someone music as a gift, a permanent gift. The peak of that period was, maximum, 25 years. Giving someone that as a gift and receiving it as a gift was a fabulous experience. What went wrong for me was not the size, although 12 by 12 was an ideal size. CDs could have worked if the record company didn't make it an excuse to make totally crap packaging and they did. Cheap and nasty printing; that awful jewel box. What happened is it looked so tacky it no longer had the qualities and status of a gift. So that was for me, the long painful slow suicide of the music industry."
Among the one-of-a-kind items on display and for purchase at the time of our meeting was Dean's handwritten lyrics for the Close To The Edge inner sleeve at $75,000. We strongly suggest you put it on your holiday wish list and start dropping hints.
Yes are on tour. Tickets are available here and here.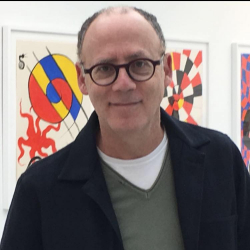 Latest posts by Greg Brodsky
(see all)