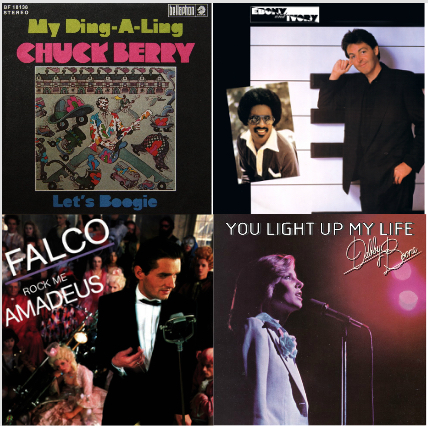 When we published an article about Starship's smash hit "We Built This City," that reached #1 on November 16, 1985, and which many rock critics have called the worst song ever, we expected to get lots of feedback from classic rock fans both agreeing and disagreeing with the sentiment. What we got was an avalanche! Some of you really, really hate that song! Many others felt that "We Built This City" wasn't even in the top 100 of worst-ever tunes.
If there are other #1 hits that were at least as bad as "We Built This City," maybe even worse, what are they? We started tossing around some contenders. Our conclusion: Yes, there were. Many of them! Here are 17 for starters. All of these came out between the late '50s and the mid-'80s—after that, nearly every other #1 hit could qualify.
Now, a caveat emptor—Best Classic Bands can not be held responsible for any stomach ailments or psychiatric episodes that result from reading this list or listening to these songs. And if you disagree with us on our choices, or can think of others that are even worse, we welcome your feedback but we're sticking with what we've got. (If you convince us though, we may do a part two.)
Please keep one thing in mind before you comment though: This list consists solely of songs that went to #1 on the Billboard singles chart. We're not interested in songs that went to #2 or #78. There's plenty to trash without ever leaving the top of the pops!

17. Starship—"Nothing's Gonna Stop Us Now" (1987)
So you thought "We Built This City" was the worst song ever? Wrong! It's not even the worst Starship song! And you know who agrees with that? Grace Slick, who sang the lead on "Nothing's Gonna Stop Us Now" with Mickey Thomas. She now regrets having anything to do with this song, co-penned by Albert Hammond and Diane Warren. In her blunt, poker-faced manner, she once said, "I know what will stop us. A Mack truck will stop us!" In an interview, I asked her to elaborate: "I don't like to sing songs where I don't believe the lyrics. Diane Warren is an amazing pop songwriter and she, I'm assuming, believes in that state, where…you're in love, you get kind of crazy. But I'm older now. I [was] damn near 50, and I'm singing, 'Nothing's gonna stop us now.' I know goddamn well how fast a relationship can come apart. So I'm getting up onstage and I'm thinking, yeah, right. It's distracting and disconcerting to me."
16. Chuck Berry—"My Ding-a-Ling" (1972)
Roll this around in your head for a little bit before you go back to the actual song in question. Chuck Berry, the Chuck Berry! Inventor of rock guitar. America's true poet laureate. "Johnny B. Goode." "Roll Over Beethoven." "Sweet Little Sixteen." "Little Queenie." We could go on all day. None of those songs made #1. Then, more than a decade after his last top 10 single, after every band in the world had covered him, he comes out with this bit of embarrassing middle-school silliness filled with double entendres about playing with his dick. Written and first recorded by Fats Domino's right-hand man Dave Bartholomew, Berry had actually recorded it once before, as "My Tambourine." But here, recorded live (with two members of the Average White Band among the backing musicians), he found his one and only ticket to the top of the charts. And after that, he was never able to not perform it at one of his gigs. That might have been OK with Chuck, but it makes us upchuck.
15. Bobby Goldsboro—"Honey" (1968)
This Floridian, one of many Bobbys who took over the charts between the downfall of Elvis and the arrival of the Beatles, managed to place a whopping 37 singles onto the Billboard chart. This treacly ballad was his only #1 though and, as has been pointed out, may very well owe its success to the fact that its rise coincides with a time when America was in mourning over the assassination of Dr. Martin Luther King and about to lose RFK. But yuck, what a sappy sentiment: "Honey" is one of many songs about the loss of a loved one, "kind of dumb and kind of smart," who, while home alone one day, was taken by the angels. "Now my life's an empty stage, where Honey lived and Honey played and love grew up/And a small cloud passes overhead and cries down on the flower bed that Honey loved." Dude, did it ever occur to you that she just couldn't take you anymore and begged the angels to end her misery?
14. Terry Jacks—"Seasons in the Sun" (1974)
Did you ever look at a list of the songs that were huge hits in 1974? Some classics, to be sure, but some unbelievably awful ones. This falls into the latter column. Jacks and his wife Susan started out with the Poppy Family (1970's "Which Way You Goin', Billy") but Terry found his rocket ship to the top with this tune. It was composed by the Belgian Jacques Brel, given English lyrics by Rod McKuen and then worked up pop-style by this guy. Interestingly, its lyrical sentiment is nearly identical to that of "Honey," and it's sung in a similarly adenoidal whine: "Goodbye, Michelle, it's hard to die when all the birds are singing in the sky/Now that the spring is in the air with the flowers everywhere/I wish that we could both be there." Yeah, well Michelle doesn't—move on.
13. Christopher Cross—"Sailing" (1980)
Grammys for Record of the Year, Song of the Year and Best New Artist? For what? Cross had a nice enough singing voice and sure, sailing is a great way to spend the day. But this self-penned ballad is so saccharine and devoid of edge that we'd probably be hurling off the side of the sailboat if he made us listen to it on the open sea.
Related: 11 surprising 1970s radio hits
12. Falco—"Rock Me Amadeus" (1986)
Fusing rock with classical music can sometimes be a wholly rewarding experience (Emerson, Lake and Palmer, Procol Harum, Yes). Or it could be this. The Austrian's synth-pop tribute to Mozart might have worked if he'd treated it as the novelty it is, but somehow you can't help feeling he was dead serious, even when he sang: "Amadeus, Amadeus, Amadeus/Amadeus, Amadeus, Amadeus, Amadeus, Amadeus/Oh, oh, oh, Amadeus, come and rock me Amadeus!" Rock this.
11. Starland Vocal Band—"Afternoon Delight" (1976)
Hey, it was the '70s; sex was on everyone's mind, all the time. But maybe if you know how the song came about you'll have more insight into why it's still sort of creepy. From Wikipedia: "The title came from the happy hour menu at Clyde's restaurant in Georgetown, Washington, D.C., where Bill Danoff was eating with fellow band member Margot Chapman while his then-wife Taffy Danoff was undergoing surgery for cervical cancer." Hey, my wife might die but here's what's on my mind: "Rubbin' sticks and stones together makes the sparks ignite/And the thought of lovin' you is getting so exciting, skyrockets in flight." It's a wonder she didn't take an overdose of morphine in her hospital bed.
10. Zager & Evans—"In the Year 2525" (1969)
Who were these two bozos (answer: Danny Zager and Rick Evans) and why did they think we wanted to hear their apocalyptic predictions? Well, at least the world will be around until 8510, long after any memory of this pretentious drivel is erased from consciousness. That is, "if man is still alive, if woman can survive."
9. Pat Boone—"Ain't That a Shame" (1955)
Look, it would've been easy to populate this entire list with this icky white boy's scrubbed-to-death covers of R&B hits. But let's just use his first #1, a rollicking tune made famous by Fats Domino, as our example, and leave it at that. It's a wonder he didn't change "ain't" to "isn't." Ain't it a shame this wasn't the end of his career?
8. Donny Osmond—"Go Away Little Girl" (1971)
When Steve Lawrence sang this Goffin-King ballad in 1962 (and took it to #1), a 27-year-old man addressing a younger woman, it was kind of sweet: "I'm not supposed to be alone with you/Oh yes, I know that your lips are sweet but our lips must never meet/I belong to somebody else and I must be true." But when Donny Osmond sang it in 1971, he was 14. Just how young was this little girl? Ever think that you should've been the one to go away, Donny?
7. Paul Anka—"(You're) Having My Baby" (1974)
Where to even begin. How about with Paul Anka's past? He had already logged two typically wimpy '50s #1 pinup-boy hits ("Diana" and "Lonely Boy"), had written "My Way" and the theme from Johnny Carson's Tonight Show and was considered a respected performer as he matured into his thirties. But by the mid-1970s he hadn't had a big hit in well over a decade. Enter the truly nauseating "(You're) Having My Baby." Written by Anka and sung as a duet with Odia Cotes, on the surface it's a beautiful sentiment: this couple is so in love and what better way to solidify their relationship than making a kid? "You're a woman in love and I love what's goin' through ya," Anka sings. So sweet. But it's sooo sweet that it will make your teeth fall out. And what does he mean by "my baby," anyway? Does he own it? How about "our" baby? She's the one who's going to do the hard work. In fact, that weird parenthesis around the word you're makes us wonder if she was an afterthought. You're? Who else was going to have this baby, the dog? Does he want to clarify that he's not giving birth to it himself? CNN chose this as the #1 worst song ever.
Related: BCB's interview with Paul Anka
6. Stars on 45—"Medley" (1981)
Smart, inevitable concept: Take a load of hooks from Beatles classics—"Nowhere Man," "Drive My Car," "We Can Work it Out," etc.—and then, for no apparent reason, toss in the Archies' "Sugar, Sugar" and Shocking Blue's "Venus." Put it over a boring disco beat. Go to #1. Then come back with "Medley II," "More Stars" and a couple more before you finally, mercifully, go away.
Related: Our feature story on the medley phenomenon of 1981-82
5. C.W. McCall—"Convoy" (1975)
Do you remember CB radios? Let's just say they were like early cell phones, except way more annoying. You needed to speak a secret jargon to use them. This country singer managed to wrap a bunch of CB radio slang and a story about truck drivers into one talky little bit of silliness that swept the nation and was then instantly forgotten. Breaker, breaker. You can drive off a cliff now, good buddy.
4. Debby Boone—"You Light Up My Life" (1977)
We already mentioned the execrable Pat Boone above. You know what was even worse than listening to Pat Boone? Hearing his daughter's one big hit—10 weeks at #1!—over and over and over again. Apparently a lot of people loved this excruciatingly sappy ballad—and still do; it's a wedding perennial—but at least a few of us felt that it darkened our lives every time it came on.
3. Rupert Holmes—"Escape" (The Pina Colada Song)" (1979)
Sure, I like a pina colada as much as the next guy—can't beat that refreshing, tropical combo of pineapple and coconut. But I really don't need to hear how the protagonist of Rupert's biggest hit likes them so much he works them into his personal ads or, conversely, how, "If you're not into yoga, if you have half a brain/If you like making love at midnight, in the dunes of the cape/I'm the love that you've looked for, come with me, and escape." Really, that "half a brain" line actually got you chicks? And now you want these lonely women to escape with you? You sound like a serial killer with that b.s.
2. Phil Collins—"Sussudio" (1985)
Phil Collins really was some kind of phenomenon: After putting in a good number of years as drummer and then vocalist for Genesis, he found the magic ticket to superstardom as a solo artist. He ultimately racked up seven #1 singles, of which "Sussudio" was the fifth. Some of the others were actually pretty great, some were abysmal, but this one, with its fake funk and mindless lyrics ("Ah, she's all I need all of my life/I feel so good if I just say the word/Su-Su-Sussudio)—its commercial success aside—should have stayed on the st-st-studio floor. What kind of name is Sussudio for a girl, anyway?
1. Paul McCartney/Stevie Wonder "Ebony and Ivory" (1982)
How was this even possible? Are there two more talented individuals in the music world than Stevie Wonder and Paul McCartney? Then how could they, together, come up with such a crap song? "Ebony and ivory, live together in perfect harmony/Side by side on my piano keyboard, oh Lord, why don't we?" OK, it's an admirable sentiment. We all want to live together in peace. So why, then, does this song make some people want to strangle everyone in sight?

Latest posts by Jeff Tamarkin
(see all)