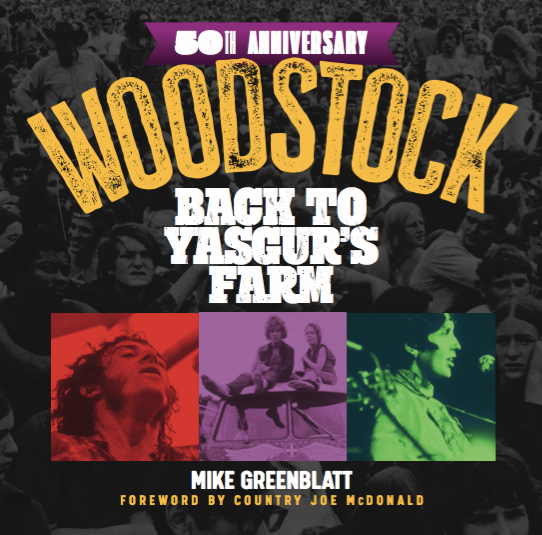 A new book, Woodstock 50th Anniversary: Back to Yasgur's Farm (Krause Publications), celebrates "the greatest peaceful event in history," offering "a dazzling and compelling front-row seat to the most important concert in rock history, an implausible happening filled with trials and triumphs that defined a generation," according to a pre-publication press release.
Author and Woodstock attendee Mike Greenblatt "brilliantly captures the power of music's greatest performers such as Jimi Hendrix, Janis Joplin, Joe Cocker, Santana and the Who, while sharing stories both personal and audacious from the crowd of a half-million strong who embraced not only the music but each other," says the announcement.
The book, available July 16, features a foreword by Country Joe McDonald, whose rousing solo acoustic version of "The Fish Cheer/I-Feel-Like-I'm-Fixin'-To-Die Rag" was one of the most memorable performances at Woodstock. Readers will enjoy interviews with such rock icons as Graham Nash, Carlos Santana, Joe Cocker, Richie Havens, McDonald, Edgar Winter, members of Jefferson Airplane, Creedence Clearwater Revival, Sly and the Family Stone, Canned Heat, Sha Na Na, co-host Chip Monck, fans and many others. In addition, all 32 performances at the festival are showcased.
The 8×8 hardcover book is 224 pages and includes 300-plus photographs.
Watch the famous "Rain Chant" from Woodstock
Best Classic Bands spoke with author Greenblatt about his forthcoming book.
How is your Woodstock book different from other Woodstock books?
I was there. I took the brown acid. In my book, what was an idyllic Thurs./Fri./Sat. turns into a Sunday survival tale. Besides the 32 interviews I conducted and the nine books I read while I wrote mine, my memory remains intact. No other book will put the reader right smack dab in the middle of it all, tripping, hungry, thirsty, having to go to the bathroom, hunkered down during a monsoon with no music on the stage and no way out, not even knowing where the car was (with all our stuff).
What is your most prominent memory of that weekend and how did your first-hand experience there shape your approach to writing about Woodstock?
What stands out in my mind still is when I started panicking Sunday as the acid started coming on a little too strong and I was left alone when my friend Neil went to find a phone booth so he could call our moms. It was a perfect storm of escalating surrealism as Joe Cocker finished, the sky got dark in the middle of the afternoon, the winds whipped up, the music stopped, I was alone, freaked out, and it wasn't fun anymore. I knew from the outset, this book had to make the reader feel some of my panic.
Related: Where are all of the original Woodstock performers today?
What's one thing we'll learn from the book that we don't know about Woodstock?
Two things, actually, neither of which I knew. 1) Governor Nelson Rockefeller was close to sending in armed National Guard solders to disburse the crowd until his staff was convinced otherwise by [co-promoter] John Morris. It could have been much worse than Kent State, which happened just months later. 2) The Sunday monsoon frayed the top layer of soil, which held underneath it power lines running to the stage. At one point, the principals feared a mass electrocution.
Why is Woodstock still so important?
Woodstock was the only time in recorded history that half a million people could police themselves (there was no security) in those conditions. Despite not enough water, food or bathrooms, in a pouring rain for almost four straight hours with no music, there was not one reported instance of violence. Think about that!
Watch Santana's career-launching "Soul Sacrifice" from Woodstock

Latest posts by Best Classic Bands Staff
(see all)