9/4/15 Update: From the band's Facebook page:
"Regrettably Motörhead have had to cancel their Dallas (Fri., Sept. 4) and Houston (Sat., Sept. 5) appearances. Saxon will still be playing in each city (please check local media for up-to-date venue information). Lemmy fully intends to resume touring duties as, and when, his doctors give him the all-clear.
STAY TUNED FOR FURTHER UPDATES, and as always, THANK YOU for your support, understanding and good wishes."
9/2 Update: At the band's 9/1 show in Austin, Kilmister only made it through two songs. He attempted to play a third, "Metropolis," warning the audience he probably couldn't do it. He only made it halfway through and then walked offstage. Lemmy did return to the stage to tell fans he was sorry. As BCB's source at the concert noted, "It was very very sad." Motörhead also cancelled its 9/2 appearance in San Antonio but the show will happen with Saxon as the headliner.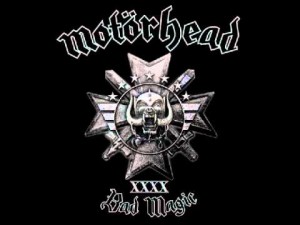 With their new Bad Magic album out and and a U.S. and European tour running through February, the world's loudest band have already hit snags that raise doubts about Motörhead's near and far-term future. At a Salt Lake City, UT show last Thursday (8/27), the group's bassist, singer, braintrust and id Lemmy Kilmister had to cut the show short after four songs due to respiratory difficulties and, in some reports, back pain.
Citing thin air and altitude sickness as factors, the band subsequently cancelled its appearance the next night (Friday 8/27) at Riot Fest in the Mile High City of Denver, CO. They retake the stage this evening (Tuesday 9/1) in Austin, TX at Emo's.
Kilmister's taste for indulgences is part of his legend, though other health matters in recent years have prompted him to curb some of his bad habits – like switching from Jack Daniels and Coke to vodka and orange juice. He suffers from diabetes and heart problems (and had a device implanted to prevent his heart from stopping), and last year suffered a hematoma. Gastric illness prompted some show cancellations earlier this year, and due to weakness in his legs Lemmy – who turns 70 this coming Christmas Eve – has taken to walking with a cane.
Known as a rock music lifer, Kilmister insists he will continue to perform "as long as I can walk the few yards from the back to the front of the stage without a stick. Or even if I do have to use a stick." Hopefully his break from the road onto the high seas of the Caribbean at the end of this month for the band's Motorboat cruise (with Slayer, Anthrax and Suicidal Tendencies) will have a salutary effect on Lemmy's wellbeing.

Latest posts by Best Classic Bands Staff
(see all)