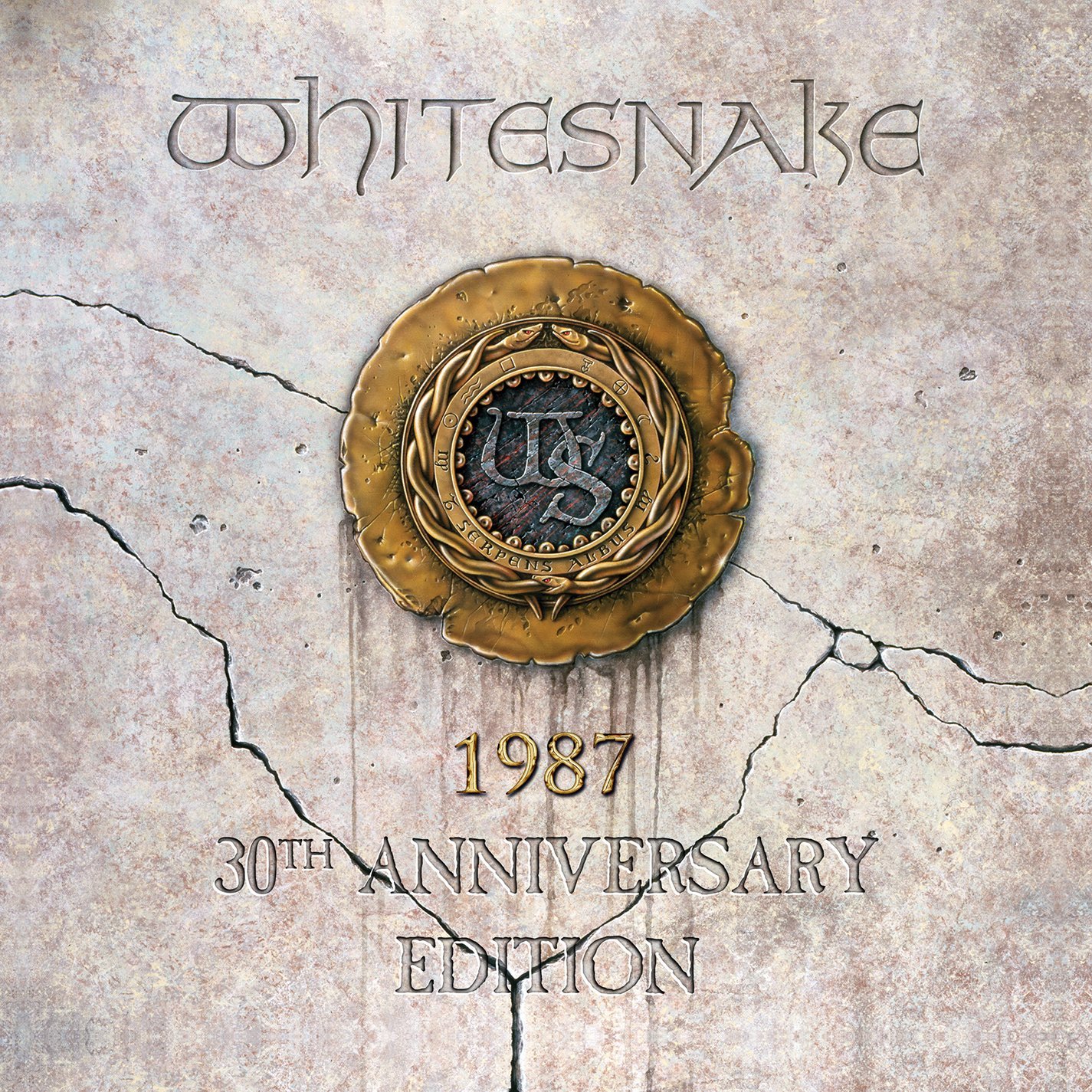 When Whitesnake released their 1987 self-titled album (also known in some countries as 1987), they had already released a string of Top 10 albums in the U.K. Their previous U.S. chart peak was #42. The album was certified multi-platinum and featured the smash single "Here I Go Again." The classic rock album turns 30 this year and Rhino is celebrating with four new versions.
A 4-CD/DVD collection, Whitesnake: Super Deluxe Edition, coming October 6, includes the original album with newly remastered sound, unreleased live and studio recordings, classic music videos, concert footage, a 30-minute documentary featuring a new interview with David Coverdale, Whitesnake's founder and lead singer. The set comes with a 60-page hardbound book that's filled with rare and unseen photos from the era, an extended essay based on new interviews with Coverdale, plus a booklet of the album's lyrics, handwritten by Coverdale.
Three other versions will also be released the same day. A Deluxe Edition, in both 2-CD and 2-LP versions, each including the newly remastered album expanded with a selection of unreleased bonus recordings. A single-disc version of the newly remastered album will also be available.
Soon after its release in April 1987, Whitesnake became a huge success around the world, peaking at #2 on the Billboard album chart and spawned four popular singles: "Still Of The Night," "Give Me All Your Love," "Is This Love" (which reached #2) and the #1 hit "Here I Go Again."
Enter our Deep Purple – Alice Cooper contest!
Whitesnake: Super Deluxe Edition comes with an entire disc of unreleased live performances featuring Adrian Vandenberg, Vivian Campbell and Tommy Aldridge, recorded during the band's 1987-88 tour. The music includes live versions of several tracks from 1987, plus Whitesnake classics "Slide It In," "Love Ain't No Stranger," and "Slow An' Easy." (See complete track listing below.)
An additional disc spotlights the creative process behind Whitesnake with a selection of 11 unreleased demo and rehearsal recordings, including early versions of nearly every song on the album called 87 Evolutions. The final disc introduces newly remixed versions the album's four singles, and includes rare radio mixes, as well as songs from 87 Versions, an EP released exclusively in Japan.
The DVD includes music videos for the four singles, all of which have been carefully restored and remixed in 5.1 Surround Sound for the first time ever. The DVD also features a new 30-minute documentary about the making of Whitesnake, a new promo video made especially for this set of the 1988 version of "Here I Go Again" and unreleased live footage from the 1987-88 tour.
Whitesnake: Super Deluxe Edition
4CD/DVD Track Listing
Disc One: Original Album 2017 Remaster
1. "Still Of The Night"
2. "Give Me All Your Love"
3. "Bad Boys"
4. "Is This Love"
5. "Here I Go Again 87"
6. "Straight For The Heart"
7. "Looking For Love"
8. "Children Of The Night"
9. "You're Gonna Break My Heart Again"
10. "Crying In The Rain"
11. "Don't Turn Away"
Disc Two: Snakeskin Boots [Live On Tour 1987-88]
1. "Bad Boys/Children Of The Night" *
2. "Slide It In" *
3. "Slow An' Easy" *
4. "Here I Go Again" *
5. "Guilty Of Love" *
6. "Is This Love" *
7. "Love Ain't No Stranger" *
8. Guitar Solo – Adrian and Vivian *
9. "Crying In The Rain" *
10. "Still Of The Night" *
11. "Ain't No Love In The Heart Of The City" *
12. "Give Me All Your Love" *
Disc Three: 87 Evolutions [Demos and Rehearsals]
1. "Still Of The Night" *
2. "Give Me All Your Love" *
3. "Bad Boys" *
4. "Is This Love" *
5. "Straight For the Heart" *
6. "Looking For Love" *
7. "Children Of The Night" *
8. "You're Gonna Break My Heart Again" *
9. "Crying In The Rain" *
10. "Don't Turn Away" *
11. "Crying In The Rain" (Lil' Mountain Alternate Take Ruff Mix) *
Disc Four: 87 Versions [2017 Remixes]
1. "Still Of The Night" – Remix *
2. "Is This Love" – Remix *
3. "Give Me All Your Love" – Remix *
4. "Here I Go Again 87" – Remix *
5. "Standing In The Shadows" – 1987 Versions, Japanese Mini-Album
6. "Looking For Love" – 1987 Versions, Japanese Mini-Album
7. "You're Gonna Break My Heart Again" – 1987 Versions, Japanese Mini-Album
8. "Need Your Love So Bad" – 1987 Versions, Japanese Mini-Album
9. "Here I Go Again" – Radio Mix
10. "Give Me All Your Love" – Single Version
DVD
1. "Still Of The Night" – Music Video, Restored and Remixed in 5.1
2. "Here I Go Again 87" – Music Video, Restored and Remixed in 5.1
3. "Is This Love" – Music Video, Restored and Remixed in 5.1
4. "Give Me All Your Love" – Music Video, Restored and Remixed in 5.1
5. Documentary about the making of 1987 Album *
6. "Here I Go Again" – Purplesnake Video Jam *
7. "Crying In The Rain" – 1987 Tour Video Bootleg *
8. Band Intros – 1987 Tour Video Bootleg *
9. "Still Of The Night" – 1987 Tour Video Bootleg *

Latest posts by Best Classic Bands Staff
(see all)