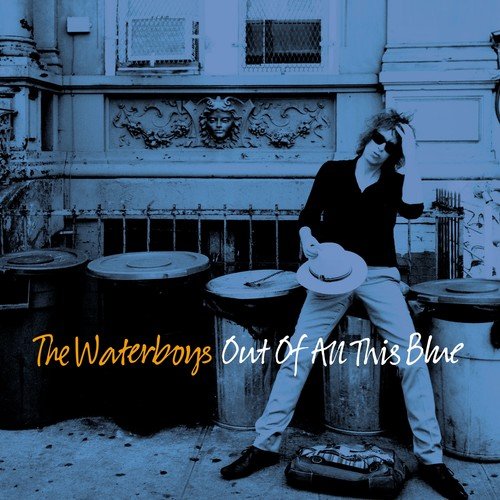 The Scottish band The Waterboys recently released a new double album titled Out of All This Blue, their debut for BMG Records. Produced by Mike Scott and recorded in Dublin and Tokyo, Out of All This Blue is available in digital, double CD, and double LP formats, plus deluxe triple CD and LP packages, which include bonus tracks. The official track listings are below.
Out of All This Blue is described in a press release as the Waterboys' "most exploratory recording yet, comprising 23 songs with Mike Scott's trademark sharp lyrics set to pop music with echoes of classic R&B, country, soul and funk, underpinned by modern hip-hop production values and rhythms. String & brass sections were arranged and conducted by Trey Pollard of The Spacebomb Collective."
Of the record, Scott explained, "Out of All This Blue is two-thirds love and romance, and one-third stories and observations. I knew from the beginning I wanted to make a double album, and lucky for me—and I hope the listener—the songs just kept coming, and in pop colors."
Related: Interview with another well-known Scot, Donovan
Watch the video for "Payo Payo Chin" from the album
Track listing
1. Do We Choose Who We Love
2. If I Was Your Boyfriend
3. Santa Fe
4. If the Answer Is Yeah
5. Love Walks In
6. New York I Love You
7. The Connemara Fox
8. The Girl in the Window Chair
9. Morning Came Too Soon
10. Hiphopstrumental 4 (Scatman)
11. The Hammerhead Bar
12. Mister Charisma
13. Nashville, Tennessee
14. Man, What a Woman
15. Girl in a Kayak
16. Monument
17. Kinky's History Lesson
18. Skyclad Lady
19. Rokudenashiko
20. Didn't We Walk on Water
21. The Elegant Companion
22. Yamaben
23. Payo Payo Chin
Bonus Tracks:
1. The Memphis Fox
2. If the Answer Is Yeah (Alternate Version)
3. If I Was Your Boyfriend (Zeenie Mix)
4. Epiphany on Mott Street
5. Didn't We Walk on Water (JessKav Mix)
6. Santa Fe (Instrumental)
7. Payo Payo Chin (Tokyo Hotel)
8. Return to Roppongi Hills
9. Nashville, Tennessee (Live)
10. Mister Charisma (Alternate Version)
11. So in Love with You
The Waterboys will tour the U.K. beginning next week in support of Out of All This Blue.
10/18 – Bristol Colston Hall
10/19 – Birmingham Symphony Hall
10/21 – London Palladium
10/22 – Manchester Opera House
10/23 – Sage Gateshead
10/24 – Glasgow SEC Armadillo
10/26 – Dublin 3Arena
2018 dates are here.
Watch the video for "The Answer Is Yeah"

Latest posts by Best Classic Bands Staff
(see all)