Wanda Young, the lead singer for many Marvelettes singles, most prominently 1965's "Don't Mess With Bill," died on December 15, 2021 at age 78. News of her passing was first shared by uDiscoverMusic on Dec. 16, citing Claudette Robinson of the Miracles as the source, the day Best Classic Bands first posted the story. On Dec. 25, Young's daughter, Meta Ventress, told The New York Times that her mother died in the Detroit suburb of Garden City, Mich., of complications from chronic obstructive pulmonary disease.
Young joined the singing group just prior to their signing with Motown's Tamla label in 1961. Their first single, "Please Mr. Postman," released that same year, features lead vocals by the group's Gladys Horton. (Young was among several who performed backing vocals.) The song became Motown's first #1 pop hit, and also topped the R&B charts. (It was later recorded by the Beatles and the Carpenters, who took it to the top again in 1975).
After several other chart successes with Horton singing lead, the group hit a relative dry spell and Young took over as their primary lead singer. "Don't Mess With Bill," written and produced by Smokey Robinson, was released in late 1965. By early January 1966, it began to climb the charts and by month's end it was at #32 on the Hot 100 and top 5 on the R&B chart. It ultimately became their biggest hit in years.
When the song peaked at #7 on the pop chart on Feb. 26, among the artists blocking them from the top were Stevie Wonder and the Supremes, the latter of whom had long supplanted the Marvelettes atop the Motown galaxy of star singing groups.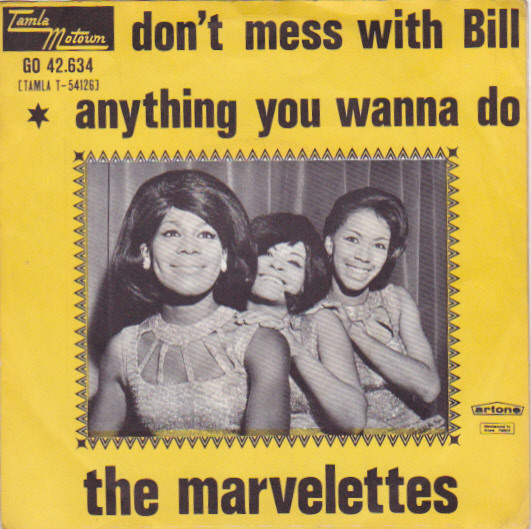 Though the Marvelettes would score two more top 20 singles, "The Hunter Gets Captured by the Game" and "My Baby Must Be a Magician," both of which were also written and produced by Robinson, Motown's first all-female singing stars were essentially finished and the group disbanded in 1970.
Young was born on Aug. 9, 1943, in Inkster, Mich., a Detroit suburb. She reminisced about her days with Motown in a 1990 interview: "Those were the greatest days I've ever experienced in my life. We–all the artists–were like one big happy family! Not only Berry Gordy, but the whole Gordy family, looked after us like we were their babies. Berry Gordy was like the daddy, and we were his children! If any problems would go wrong within the group, or with the female vocalists–Mary Wells, Kim Weston–we'd sit and have meetings. Even if somebody had personal problems at home, we'd still sit and discuss it. We'd have such great times. We'd have big company picnics every summer; Christmas parties where Mr. Berry Gordy would give the artists beautiful gifts… It was something I'd never experienced before, and I loved it!"
Related: Musicians and others we've lost in 2021

Latest posts by Best Classic Bands Staff
(see all)