Waddy Wachtel Talks About Linda, James, and His Career as a Session Ace
by Greg Brodsky
If you've ever enjoyed holding a record jacket in your hands while listening to an album from a prominent singer-songwriter from the '70s or '80s, and examined the credits while it plays, chances are that you'll discover the name Waddy Wachtel. Frequently. The guitarist has been a first-call Los Angeles session player for many of the biggest artists of the era, recording and touring with such stars as Linda Ronstadt, James Taylor, and Stevie Nicks, to name a few. His name often gets mentioned along with the session aces Danny Kortchmar, Leland Sklar and Russ Kunkel, and for good reason: they've worked together for over five decades. Now the four, along with "newcomer" Steve Postell, have released their first full-length album as a unit, calling themselves the Immediate Family. [An EP, Live From Telefunken Soundstage, was released in May 2022.]
Watch their live video for a new song, "Slippin' and Slidin'," sung and co-written by Wachtel
On the eve of their first tour as a band, Best Classic Bands spoke with Wachtel about how he came to be a highly sought-after musician.
Wachtel moved to Los Angeles in 1968 with a band that never got off the ground, and in that time met a few studio musicians and started thinking, "I can do that job. I looked at these album covers and I'd see Russ Kunkel, Lee Sklar and Danny Kortchmar. I'd say to myself, Who is this 'Kootch' guy? Why does he get all that work?"
Wachtel was working with producer Keith Olsen, who booked him and Sklar on dates. "We got along right away. We did a Bobby Womack session, which was great. A couple of weeks after that, I was driving a '57 Chevy, and out of this driveway at S.I.R. [Studios] comes another '57 Chevy. And we stopped in the middle of Santa Monica Boulevard, holding up traffic, and Russell Kunkel looked at me and said, 'Are you Waddy?' And I went, 'Yeah.' And he said, 'I'm Russ, man.' And I said, 'Good to meet you.' And he said, 'We better go but I'm gonna be seeing a lot of you.'"
Wachtel was also working with the renowned producer, Nik Venet, who signed the Beach Boys and worked with scores of artists. "One night he says, 'We gotta talk.' 'Why, what's the matter?,' I asked. 'It's time for you to move on.' I thought it meant that he was firing me. (laughs) 'What's the matter? What'd I do?' 'No, no, no. I'm not firing you. You need to move on. You're better than what we're doing here, so I've invited this guy David Foster down and I want him to hear you.
"David Foster was the hot, new piano player in town from Canada and Nik said, 'I'm bringing this guy down to hear you so bring your electric stuff. I want you to play slide, rhythm, lead.' I did, and David told [producer] Lou [Adler] and a few days later I got a call from Lou's office saying they wanted me to play a session for a Tim Curry album. So I got there and that was the moment I met 'Kootch.' After a year of 'Who is this fucking guy?,' we loved each other right away.
"It was Russell and Leland and Danny and me. David Foster was playing piano. There was the basis of this band right there. That was the first time the four of us played together. I had worked with Russ. I had worked with Lee independently. But that was the first date, at A&M Records, for Lou Adler. That was the beginning of the Immediate Family. We [just] didn't know it yet."
The four musicians subsequently did hundreds and hundreds of sessions together. Other times it was just one, two or three of them recording for such boldfaced names as Linda Ronstadt, Randy Newman, Warren Zevon and scores more.
Wachtel arrived in Los Angeles from the East Coast right when Crosby, Stills and Nash were forming. "David had just produced Joni's record," he recalls. "Linda was picking up speed. Jackson was picking up speed. Warren and I met playing for the Everly Brothers. That formed a relationship that lasted 10 years. It was this explosive, amazing musical period when I got here and it stayed like that for years. I equate it to Liverpool when all the bands were happening.
"All of a sudden, there was the Buffalo Springfield. The Byrds were here. Crosby, Stills and Nash. Little Feat sprung up. Then the Eagles. Warren. Jackson. Linda. Karla Bonoff. There was Andrew Gold. Andrew and I worked for Linda together. He became his own celebrity with 'Lonely Boy.'"
Watch Wachtel play lead guitar on "Lonely Boy" in 1977
"It was this amazing time. Everybody was offering themselves. 'Hey, do you need help? Do you need me to play on that? Do you want me to write with you?' Everybody was helping everybody. If you weren't in the studio, you were at somebody's house writing, or listening to records and then writing. It was so amazingly, beautifully musical."
He's asked how tours fit in. It's an easy answer: Peter Asher.
"Peter [managed and produced] Linda Ronstadt and James Taylor, the two best singers in the country. His concept was, 'Now that you've played on this album and it's so good, you should tour with the artist so it sounds the same. When James or Linda go on stage, I want it to sound just like that record. So that means you guys are going!' (laughs)
"A couple of weeks after we all [worked on the Curry album], we worked on Carole King's Thoroughbred record. There we were again. Danny, Leland, Russell and myself, and Clarence MacDonald, an incredibly great pianist. Beautiful guy. We cut the record with Carole and then we went out and played on tour."
Listen to King's #1 A/C hit, "Our Love is Real," from 1976, featuring Wachtel, Kortchmar, Sklar, and Kunkel, plus background vocals from David Crosby, Graham Nash, and J.D. Souther, with Tom Scott on sax
"Leland, Russell and Danny had already been on the road with James by then. So that concept was already carved in stone. When Peter saw me playing with them at UCLA on the Carole King tour, he called me to come play with Linda in the studio and we did a few sessions. He liked what I was doing and said he wanted me to go on the road with her. I went 'Oh, man, what a great idea!' They were extensive tours. We were out for weeks and weeks at a time."
Weren't they afraid of losing the lucrative studio sessions? "We were fortunate that when we came back to town, we hadn't been replaced yet. Because that's the danger. You don't want to leave because someone else is gonna get that phone call. We would come back to town and right away get calls to be in the studio. It was the thick of musical productivity for all of us at that time. We were constantly out [on the road] or in the studio, two or three sessions a day. It was remarkable."
It's so easy to get Wachtel to share more stories and insights into those "two best singers." Of Ronstadt, he says, "Unbelievable singer. She picks all the material. She knows exactly what she wants. And when she sings, the world stops. When she sang 'Blue Bayou' [in the studio], it was a live vocal. Peter said, 'When she's singing, have your shit together, because it's going to be going live.' Fantastic. Incredible is the word."
Listen to Ronstadt's live vocal and Wachtel play acoustic guitar on 1977's "Blue Bayou"
"When Peter wanted me to play for Linda, we had lunch and talked about it, and after it he said, 'Do you want to come with me? Your boys are rehearsing with James. Do you want to meet James, say hello?' We went walking into S.I.R. and there were these speakers in there, and James' voice was coming out of the speaker. And I froze. Because to hear that voice live… You always think that when you get in the studio they can always do amazing things in the studio to his voice. And there was James Taylor's voice coming out of the speakers and it was breathtaking. I couldn't believe it. The first time we worked together in the studio, we got on very well and they brought me out to play with them on the road. We spent a lot of years together on the road. A gifted, amazing songwriter."
Watch Wachtel, "Kootch," Sklar, and Kunkel perform with Taylor
Wachtel credits Asher as the one responsible for getting the names of musicians on album jackets and sleeves. "He was the first one to do it," he says. He's forever grateful. We asked Asher for his reaction to Wachtel's comment.
In an email to Best Classic Bands, Asher wrote, "That is very gracious of [him]! Yes, I have the greatest respect for my favorite musicians. I first heard Kootch around 55 years ago, I suppose, and the others not long after. I take advantage of their skill and creativity whenever I can, whether in the studio or on stage, and it seems only logical and fair to credit them accordingly. Asking them to play is good for the artist whom they are accompanying, for the audience, for the record–and for me!"
So where did the nickname "Waddy" come from, Robert Wachtel [born May 24, 1947, in the New York City borough of Queens] is asked.
"I was in a band when I was 16 or 17," he recalls. "I was always telling people what the right thing was to do. There was one guy who would mess up a lot and I would be on his case all the time. I was Bob Wachtel at the time. One day, when I was done yelling at him, he said—out of nowhere—'Okay, I'm sorry, Waddy.' I think he did it to shut me up, really. He just pulled it off from my last name. I went, 'What?' And he said, 'I'm sorry, Waddy' again. And I said 'Don't call me that,' but after a little while I started thinking I'm sick of the name 'Bob' and Waddy sounded pretty good to me."
He's asked what his reaction would be if his new band with his veteran musician friends, the Immediate Family, gets nominated for the Grammy for Best New Artist?
"You've gotta ask someone else. (laughs) I hope so. That would be pretty wild. We worked hard enough on it and I'd love people to dig it."
Related: More details on the Immediate Family's 2021 studio album
Tickets to see the Immediate Family are available here.
Read Part 2 of our interview, including Waddy's anecdotes on recording with Warren Zevon, Randy Newman, Stevie Nicks, and Kim Carnes, plus his wild story about The Poseidon Adventure.
Related: Our interview with Danny "Kootch"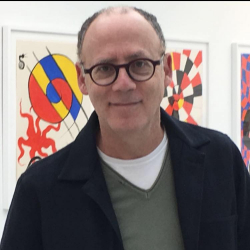 Latest posts by Greg Brodsky
(see all)