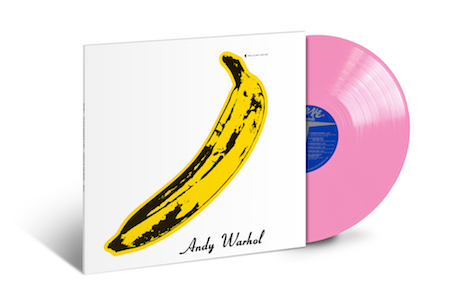 Although they met with little commercial acceptance during their existence, the Velvet Underground—Lou Reed, John Cale, Sterling Morrison and Maureen Tucker—has since attained legendary status. To celebrate the 50th anniversary of the New York quartet's debut LP The Velvet Underground and Nico is releasing a special vinyl edition of the album on June 30 UME that preserves its iconic original Andy Warhol-designed cover art. The anniversary edition will be available as standard black vinyl and available at retail and online outlets. (Pre-order here.)
A limited edition pink-vinyl version with a pressing of only 1,000 copies will be available exclusively through uDiscover.
In addition to reproducing Warhol's original "banana cover" design, complete with peelable banana sticker, the 50th-anniversary vinyl edition also reproduces the album s original gatefold cover as well as its rare original back-cover "torso" photo, with Lou Reed's face superimposed over the torso of Warhol associate Eric Emerson. The photo appeared in this form on The Velvet Underground and Nico's initial pressing, but was quickly altered for later editions when Emerson threatened legal action. The shot is restored on the 50th anniversary edition, along with a replica of the black sticker that was once used to obscure the disputed image. The sticker will be attached to the shrinkwrap of the anniversary LP, allowing listeners to experience the album's full original package. An additional insert has been added for this edition, with vintage images plus new liner notes by Velvets co-founder John Cale and Richie Unterberger, author of the book White Light/White Heat: The Velvet Underground Day-By-Day.
Related: When Lou Reed played  the White House
On November 16-18, Cale will celebrate the Velvets' 50th anniversary by curating three nights of special performances as part of the 2017 Next Wave Festival at New York's BAM. For the first two nights, Cale will be accompanied by an orchestra and special guests to perform The Velvet Underground and Nico in its entirety. On the third evening, Cale, backed by an orchestra ensemble and choir, will perform selections spanning his career, including his work with the Velvet Underground.
Early in their career, the Velvet Underground gained a patron in pop-art icon Andy Warhol, who used his influence to help the band win a recording deal with MGM's Verve imprint. It was Warhol who suggested that the musicians add German chanteuse Nico (nee Christa Päffgen) to their lineup.
With Warhol credited as producer, The Velvet Underground and Nico is now considered one of the most auspicious debut albums in rock history. With such numbers as "Heroin," "I'm Waiting for the Man," "Sunday Morning," "Venus in Furs," "The Black Angel's Death Song," "Femme Fatale," "All Tomorrow's Parties" and "I'll Be You Mirror" (the latter three featuring Nico's lead vocals), the album, says a press release, "chronicles a seamy urban milieu that had never before been documented in popular music, while also exploring a gentler baroque pop sensibility that provides a complementary contrast to the album's harsher insights."
As Cale writes in his liner notes "We focused on trying to inject psychological techniques of hypnosis, drone and repetition into music about topics that we thought were incendiary but within a literary tradition."
In its original release, The Velvet Underground and Nico rose no further than #171 on Billboard's album chart. Yet the album now occupies the #13 spot on Rolling Stone's list of the top 500 albums of all time, and is included the Library of Congress' Recording Registry, established "to maintain and preserve sound recordings and collections of sound recordings that are culturally, historically or aesthetically significant."
Watch a rare, hour-long video of the Velvet Underground and Nico from 1966

Latest posts by Best Classic Bands Staff
(see all)