Van Morrison 'The Healing Game' Deluxe: Review
by Jeff Burger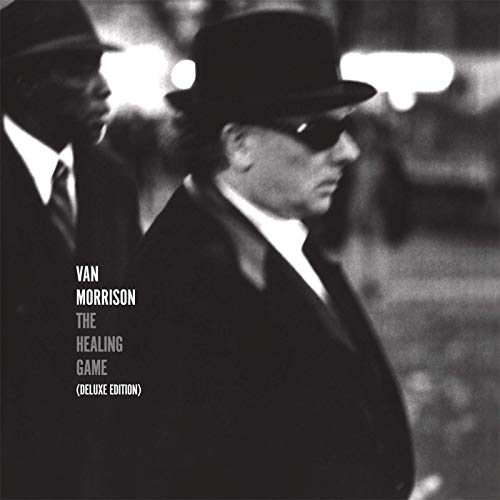 The latest installment of Legacy Recordings' Van Morrison reissue project finds the label turning its attention to 1997's The Healing Game, which followed a pair of jazz-oriented side trips. When originally released, the album garnered some lukewarm reviews and made it to only #32 on the U.S. Billboard chart. This three-CD deluxe edition, which features remastered sound and a host of related material, may prompt a well-deserved assessment, however. The album isn't quite on a par with such masterworks as Astral Weeks, Tupelo Honey and Into the Music, but those are high bars indeed. The Healing Game could be ranked just a notch below them. In other words, this is great stuff.
The first disc opens with the original album, a collection of 10 well-crafted Morrison compositions that mine his tried-and-true recipe: tasty blues vocals, jazzy horn charts and appealing mid-tempo melodies. There's not a weak track on the list but standouts include "Rough God Goes Riding," "Waiting Game," the doo-wop–influenced "If You Love Me" and the title cut, all of which exude spirituality and emotional intensity. Among the five bonus tracks are "At the End of the Day," the B-side of the "Rough God Goes Riding" single; alternate versions of Into the Music's "Full Force Gale" and St. Dominic's Preview's title track; the single edit of The Healing Game; and a number called "Look What the Good People Done," which first appeared on that single.
Listen to an alternate take of "Fire in the Belly"
Morrison's trademark grumpiness comes through in songs like "This Weight" ("In the neighborhood people watching me/Got to move on to protect my sanity…And this Hollywood ain't no good") and "It Once Was My Life" ("Trials and tribulations and stupidity rules/Sometimes it looks like I'm on a ship of fools"). But as the title suggests, this is mostly an album about healing: Morrison sings largely about love and about getting back to the music that first moved his soul. He seems to do that here, perhaps especially on some of the bonus tracks that find him collaborating with a few of his heroes (see below).
Throughout, he sings as well as ever. And the instrumentation is terrific—especially the prominently featured tenor, baritone and soprano sax work by Leo Green and Pee Wee Ellis, the latter a veteran of James Brown's band. Also here on Hammond organ: British R&B artist Georgie Fame, who first appeared on record with Morrison on 1989's Avalon Sunset.
Disc two includes alternate versions of songs on the original album, such as a jazz-inflected reading of the title cut and an extended rendition of "Sometimes We Cry." Also featured is a previously unreleased recording of "A Kiss to Build a Dream On," the Louis Armstrong favorite. There are some satisfying collaborations, too, among them a pair of tracks with John Lee Hooker (Morrison's "Healing Game" and Hooker's "Don't Look Back," both from a Morrison-produced, Grammy-winning Hooker album that came out the same day as The Healing Game); a number with skiffle artist Lonnie Donegan (Jimmie Rodgers' "Mule Skinner Blues"); and five selections with early rocker Carl Perkins (Perkins' "Matchbox" and "Boppin' the Blues," plus "Sittin' on Top of the World," a Morrison/Perkins cowrite called "My Angel" and Fats Domino's "All By Myself").
Related: Looking back at Morrison's masterpiece Astral Weeks
Ten of the 15 tracks on disc two have not previously been released, and disc three—a 14-song 1997 concert from Montreux, Switzerland—consists entirely of recordings that have been widely bootlegged but have not been officially available until now. Among them are versions of seven of The Healing Game's 10 tracks plus readings of such catalog standouts as "Tupelo Honey" and "Tore Down a la Rimbaud" and several covers: Ray Charles' "Fool for You," Anthony Newley's "Who Can I Turn To (When Nobody Needs Me)" and Sly Stone's "Thank You (Falettin me Be Mice Elf Agin)."
Just as Bob Dylan's Another Self-Portrait prompted a fresh assessment of an overlooked period in his career, this deluxe edition of The Healing Game may lead fans to re-examine what Morrison was up to in the late '90s. They're bound to like what they hear.
Listen to the title track, performed live at Montreux
Latest posts by Jeff Burger
(see all)