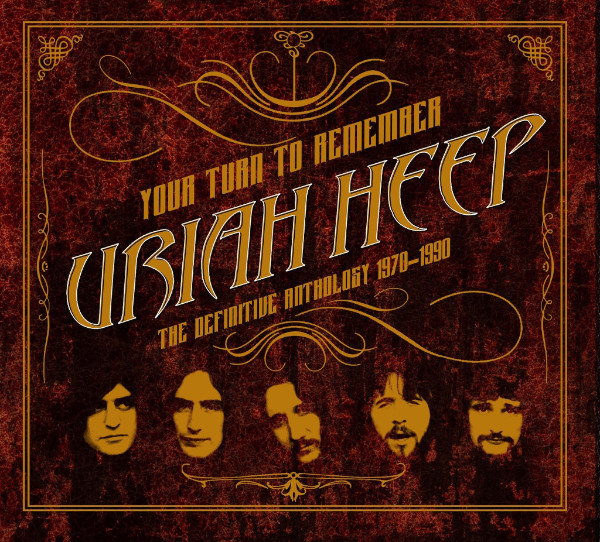 British hard rock band Uriah Heep are seeing their catalog receive an extensive reissue campaign from BMG, beginning this year and continuing into 2017.
Per the announcement, the reissues are being "created with the full collaboration of Heep themselves and curated by guitarist and founding member Mick Box." The titles come as 2-CD expanded packages, with the original LPs on CD1 re-mastered by engineer Andy Pearce (Lou Reed, Black Sabbath) and liner notes by best-selling rock author Joel McIver (best known for his book Justice For All: The Truth About Metallica).
The campaign began with a new Uriah Heep anthology, Your Turn To Remember: The Definitive Anthology 1970-1990, which as the news release notes, evokes "an era when prog, hard rock and heavy metal co-existed in an era of glorious, boundary-breaking music." The collection features songs from some of the band's most celebrated albums including 1971's Look At Yourself, 1972's Demons And Wizards and The Magicians Birthday, and 1975's Return To Fantasy. (See tracklist below.)
Watch a live version of one of their biggest hits, "Easy Livin'"…
As Box explains: "We were very green! If the engineer had said, 'Stand in a fire bucket and plug your guitar into that radiator', we probably would have done it. We had no experience of the studio at all. Two years later we were in America, playing to between 10,000 and 20,000 people a night. We were in a big bubble, with all the private Learjets and so on: I don't think I went through an airport for 10 years! We were picked up by limos on the tarmac, and all that stuff. We'd take whole floors of hotels, with bodyguards outside each room. It got to those heady, silly heights, but I was personally always up for the fun of it. I never believed it was going to continue, but some did, which was a bit unfortunate…"
The band came into prominence at around the same time as such British classic rock bands as Deep Purple and Led Zeppelin. Also available now are Heep's 1970 debut album, Very 'Eavy …Very 'Umble and 1971's Salisbury.
This reissue of 'Eavy brings together the newly re-mastered original album with a second disc of never-before-issued alternate mixes. Three tracks on CD2 are from the late period Spice (pre Heep) sessions (just prior to Ken Hensley joining the fold); the rest are from the Very 'Eavy sessions, recorded over a period of several months in late 1969 and early 1970. These bonus tracks were recently discovered by Heep fan, Robert Corich, who has a library of unreleased music that are being used across these reissues.
The current lineup are currently on tour with dates scheduled through February 2017.
Your Turn To Remember: The Definitive Anthology 1970-1990 Tracklist:
Disc 1
1. Gypsy
2. Come Away Melinda
3. Bird Of Prey
4. Lady In Black
5. Look At Yourself
6. July Morning – Japanese Single Edit
7. Easy Livin'
8. The Wizard
9. Sunrise
10. Sweet Lorraine
11. Stealin'
12. Sweet Freedom
13. The Shadows And The Wind
14. Suicidal Man
15. Return To Fantasy
16. Devil's Daughter
Disc 2
1. Weep In Silence
2. Can't Keep A Good Band Down
3. Sympathy
4. Firefly
5. Free N' Easy
6. Free Me
7. Woman Of The Night
8. Come Back To Me
9. It Ain't Easy
10. No Return
11. Too Scared To Run
12. Chasing Shadows
13. Straight Through The Heart
14. The Other Side Of Midnight
15. Rockarama
16. Poor Little Rich Girl
17. Voice On My TV
Don't miss a post! Sign up for Best Classic Bands' Newsletter; form is on every page.

Latest posts by Best Classic Bands Staff
(see all)