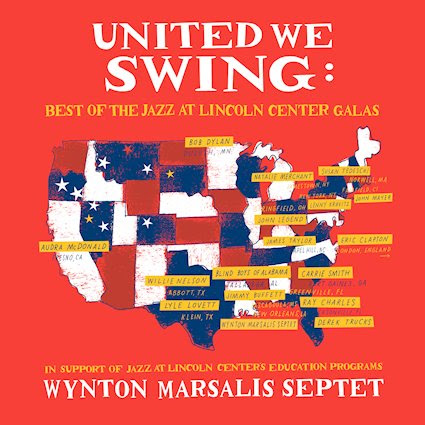 Blue Engine Records, the label showcasing music from New York's Jazz at Lincoln Center, has released United We Swing: Best of the Jazz at Lincoln Center Galas. The album, first announced Feb. 6, features the Blind Boys of Alabama, Jimmy Buffett, Ray Charles, Eric Clapton, Bob Dylan, Lenny Kravitz, John Legend, Lyle Lovett, John Mayer, Audra McDonald, Natalie Merchant, Willie Nelson, Carrie Smith, James Taylor, and Susan Tedeschi and Derek Trucks.
Listen to several tracks below.
Recorded between 2003 and 2007, United We Swing finds what a press release describes as "an unparalleled array of music talent that collectively boasts 94 Grammy Awards joining Jazz at Lincoln Center Managing and Artistic Director Wynton Marsalis (a nine-time Grammy Award winner himself) and some of the world's top jazz musicians to perform blues-inflected versions of iconic American repertoire. Their backgrounds and musical stylings are diverse, but together these artists raise their voices to highlight jazz's importance to America's cultural heritage and to remind us that, even in divided times, music can unite us all."
These one-night-only, live performances have never been released before. They include Lenny Kravitz performing Wynton Marsalis's New Orleans-inflected arrangement of Kravitz's own song, "Are You Gonna Go My Way"; Susan Tedeschi and Derek Trucks uniting on the Civil Rights anthem "I Wish I Knew How It Would Feel to Be Free"; Bob Dylan adding harmonica licks to a rendition of "It Takes a Lot to Laugh, It Takes a Train to Cry"; and Ray Charles taking the stage for one of his final performances to play "I'm Gonna Move to the Outskirts of Town."
Listen to Bob Dylan and the Wynton Marsalis Septet
Related: 10 jazz singles of the '60s that became hits
The concerts from which these performances are culled were produced by Jazz at Lincoln Center. These galas have become an annual tradition, and are the organization's annual signature fundraiser for its education programs. In keeping with those concerts, United We Swing is dedicated to a great cause: 100% of the album's proceeds will go toward introducing thousands of children from around the world to jazz, American's greatest homegrown art form.
Listen to Willie Nelson sing "Milk Cow Blues" with the Wynton Marsalis Septet
Listen to Eric Clapton and the Wynton Marsalis Septet perform "I'm Not Rough"
The performances were only briefly rehearsed before being performed and captured in front of a live audience in the heart of New York City.

Latest posts by Best Classic Bands Staff
(see all)