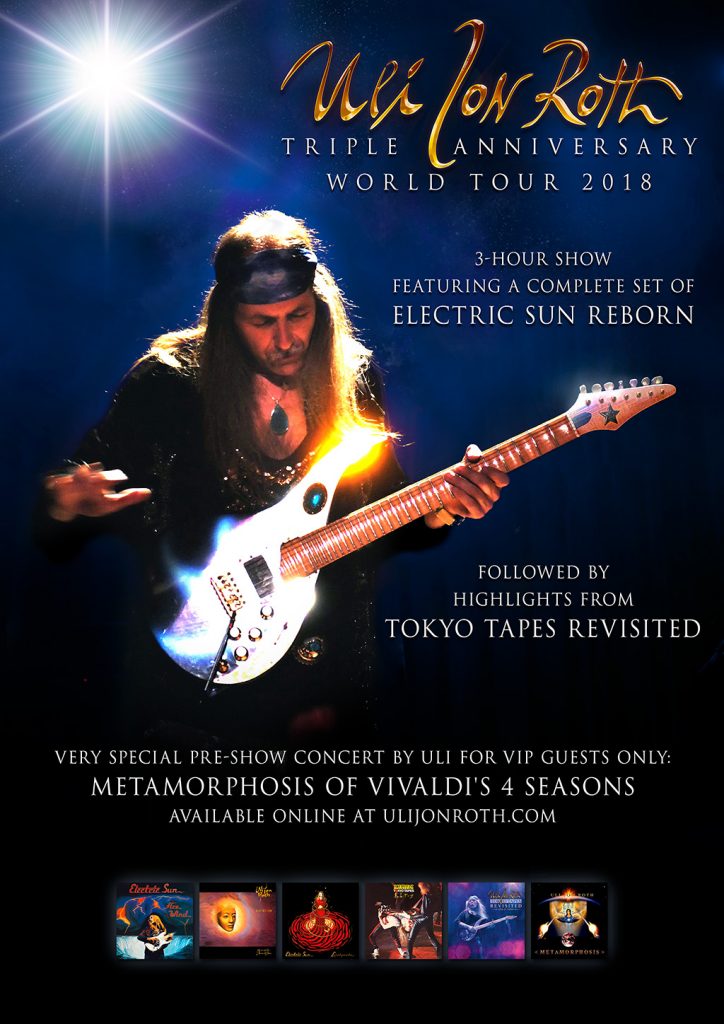 Guitarist Uli Jon Roth is celebrating a triple anniversary next year: It's the 40-year anniversary of Scorpions' Tokyo Tapes; the 40-year anniversary of the birth of Roth's band Electric Sun; and it's the 50-year anniversary of his first-ever stage performance in 1968.
To celebrate this special anniversary year, the German musician is performing a series of concerts and tours worldwide with varying programs. See below for the full itinerary.
Roth's two-month Triple Anniversary North American Tour, starting at the end of May 2018, will be devoted to performing a complete set of songs from Roth's Electric Sun period.
Electric Sun Reborn will consist of a 90-minute set by Roth and his band, complemented by multi-media projections. This is followed by an intermission and a shorter set of the highlights from Tokyo Tapes Revisited to round off the three-hour extravaganza.
Related: Scorpions are currently on tour with Megadeth
Roth has not performed the bulk of this music for over 30 years. According to a press release, "Although it never enjoyed the overwhelming commercial success of Scorpions, Electric Sun was far more than just a cult band and had a sizable following on both sides of the Atlantic as well as in Japan. Largely thanks to Uli's innovative and ground-breaking guitar playing and interesting compositions the band became artistically influential and presented a unique blend, which was sometimes likened to a strange mixture, located somewhere between Beethoven and Hendrix."
Following the worldwide success of his latest Scorpions Revisited releases, Roth will now revisit the music of his first solo venture after leaving Scorpions and reconnect with his songs from that era.
Confirmed Tour Dates (Tickets are available here)
5/31 Dallas, TX Trees
6/1 Houston, TX Arcadia
6/2 San Antonio, TX Rockbox
6/5 Phoenix, AZ Club Red
6/6 Hollywood, CA Roxy Theater
6/7 San Jan Capistrano, CA Coach House
6/8 San Diego, CA Brick by Brick
6/9 Las Vegas, NV Vamp'd
6/10 Ventura, CA Ventura Theater
6/12 Santa Cruz, CA Catalyst
6/13 Petaluma, CA Mystic Theater
6/14 Berkley, CA Cornerstone
6/15 Sacramento, CA Holy Diver
6/16 Seattle, WA Studio 7
6/17 Portland, OR Bossanova Ballroom
6/18 Vancouver, BC Venue
6/26 St. Paul, MN Amsterdam Music Hall
6/29 Joliet, IL The Forge
6/30 St. Charles, IL Arcada Theater
7/1 Detroit, MI Token Lounge
7/2 Toronto, ON Rockpile
7/3 Montreal, QU TBA
7/4 Quebec, QU L' Anti
7/5 Ottawa, ON Brass Monkey
7/6 Pawling, NY Daryl's House
7/7 Derry, NH Tupelo Music Hall
7/8 Hartford, CT Infinity Music Hall
7/10 NYC, NY Gramercy Theater
7/11 Asbury Park, NJ Wonderbar
7/12 Sellersville, PA Sellersville Theater
7/15 Anderson, IN State Theatre
Additional dates will be added soon.
Watch Uli Jon Roth play "Sky Overture" live

Latest posts by Best Classic Bands Staff
(see all)