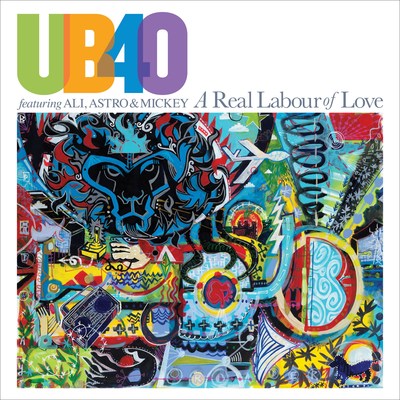 Britain's biggest reggae band, UB40, have a new album featuring founding members singer Ali Campbell, second vocalist Astro and keyboardist Mickey Virtue. A Real Labour of Love, a fresh take on their earlier series of albums, will be released March 2 on UMe. The band topped the U.K. singles chart on three occasions and sold 70 million records as they took their rootsy musical blend to all corners of the globe. putting the focus primarily on reggae tracks from the 1980s.
"The first three albums featured the songs we grew up listening to," says Ali."This one is built around the records we were listening to once UB40 were on the road."
Between 1983 and 1998 UB40 produced three Labour Of Love albums, bringing hits such as Eric Donaldson's "Cherry Oh Baby," Lord Creator's "Kingston Town" and Johnny Osbourne's "Come Back Darling" to a new, global audience. They also topped the charts on both sides of the Atlantic with their reggae cover of Neil Diamond's "Red Red Wine."
Related: "Red Red Wine"'s strange path to #1
Watch UB40 perform their hit version
A Real Labour Of Love sees the group explore songs that defined reggae in the Eighties, a decade that saw dancehall reggae enter the mainstream. Pre-order the CD here.
"We were spending more time in Jamaica and some of these numbers are the ones we'd hear on the radio and out in the streets," says Astro. "The singers of these songs were our heroes. They are quintessential reggae artists."
The new album builds confidently on the momentum gathered in the five years since Astro rejoined singer in 2013.
Sadly, A Real Labour Of Love also marks the passing of long-serving trombonist John Johnson. A former member of Simply Red who joined forces with Ali seven years ago, Johnson played on the album but passed away the night before the rest of the group were due to play a benefit concert to raise money for his cancer treatment. The album is dedicated to him.
The group have a busy road schedule ahead, with U.K. festival appearances lined up for the summer and a U.K. arena tour planned for 2019. Tickets for the 2018 dates are available here and here.
A Real Labour of Love Track Listing
Making Love
She Loves Me Now
Strive
Here I Come
Telephone Love/Rumours
How Could I Leave
Ebony Eyes
Hush Darling
Hard Times
Moving Away
International Herb
A Place In The Sun
Tune In
Once Ago
In The Rain
Under Me Sleng Teng

Latest posts by Best Classic Bands Staff
(see all)