Craft Recordings will release a 30th-anniversary 12-inch picture-disc reissue of The Traveling Wilburys Vol. 1 on November 2. The group consisted of Bob Dylan, George Harrison, Tom Petty, Jeff Lynne and Roy Orbison. The music they created together on their October 18, 1988 debut won Grammys and garnered platinum plaques.
The limited-edition picture disc is available for pre-order here.
Says a press release: "The origin story of the Traveling Wilburys is a pretty simple one. It was really just about five friends gathering to make music together in a home studio-except for the fact that they all happened to be rock 'n' roll royalty. It began in 1988, when George Harrison and co-producer Jeff Lynne were tasked with recording a B-side for the former Beatle's album, Cloud Nine. In need of a place to record on the fly, the two borrowed their friend, Bob Dylan's, studio. They ended up spontaneously pulling Tom Petty, Roy Orbison, and ultimately Dylan himself into the process. The resulting track was 'Handle With Care,' a collaborative effort which Harrison's A&R team knew was just too good to use as a B-side."
Watch the video for "Handle With Care"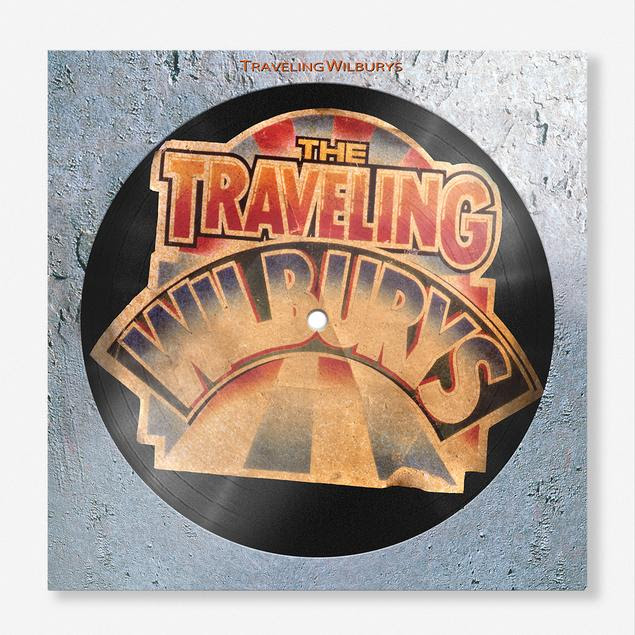 Each member of the Wilburys adopted an alias: Dylan was Lucky Wilbury, Harrison was Nelson Wilbury, Orbison was Lefty Wilbury, Lynne was Otis Wilbury, and Petty became Charlie T. Wilbury Jr.
The Traveling Wilburys Vol. 1 is bookended by two huge hits, says the press release. Opening the album is the aforementioned "Handle With Care," while "End of the Line" closes things out. According to the announcement, "In between lie the swinging rockabilly of 'Rattled,' the tongue-in-cheek, double-entendre-laden 'Dirty World,' the vintage-sounding Orbison weeper 'Not Alone Any More'" the south-of-the-border stroll 'Last Night,' the sunny 'Margarita' (where synth, sax, and slide guitar slug it out for dominance), and more. The once-in-a-lifetime nature of this historic partnership was underscored tragically by Orbison's unexpected death just six weeks after the album's release." The 30th anniversary arrives just over a year after Petty's passing.
Related: Tom Petty, a true rock 'n' roll star
The A-side features the band's logo, and the B-side displays an Alberto Tolot photo of the Wilburys, and a die-cut sleeve reveals the picture disc.
Track Listing
A1. Handle With Care
A2. Dirty World
A3. Rattled
A4. Last Night
A5. Not Alone Any More
B1. Congratulations
B2. Heading for the Light
B3. Margarita
B4. Tweeter and the Monkey Man
B5. End of the Line

Latest posts by Best Classic Bands Staff
(see all)