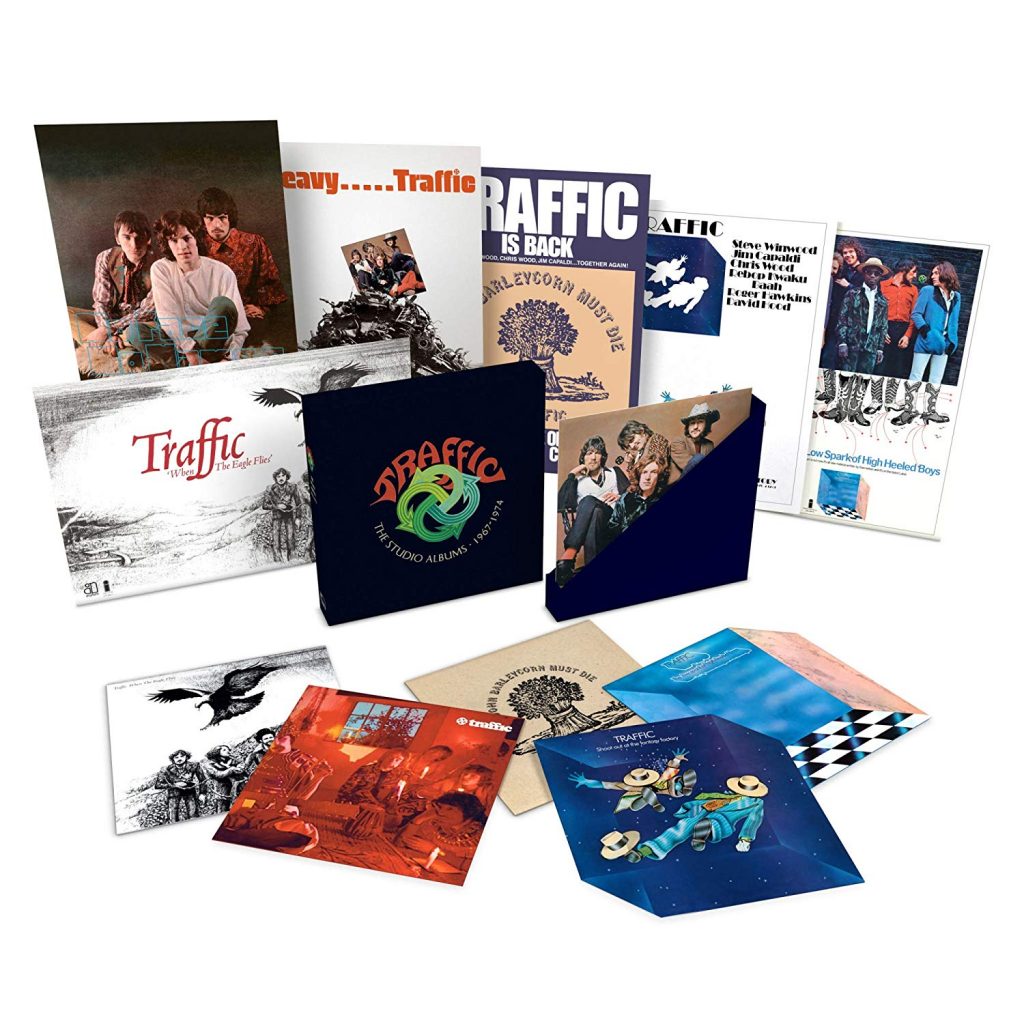 This May 17, UMe/Island will celebrate Traffic's legacy with a limited-edition Island Records studio collection, The Studio Albums 1967-1974.
Says the April 4 announcement from the record label, "Inducted into the Rock and Roll Hall of Fame in 2004, Traffic came to prominence in the late 1960s with a distinctive sound which quickly earned them U.K. Top Ten hits in the shape of 'Paper Sun' and 'Hole In My Shoe' before releasing their first album, Mr. Fantasy, in December 1967. Formed earlier that year, Traffic comprised vocalist/organist Steve Winwood (still only 18 years old at the time); drummer/singer Jim Capaldi; singer/guitarist Dave Mason and reed player Chris Wood. Alongside contemporaries like Cream and the Jimi Hendrix Experience, Traffic set about shifting the boundaries of rock music, experimenting with sound and incorporating elements of blues, soul and jazz to create their own unique oeuvre. A key part of their story is their retreat to a communal stone cottage in Berkshire, where they took inspiration from their natural surroundings and worked without distraction, writing and rehearsing the material for the first two albums, Mr. Fantasy and Traffic (1968).
"Always revolving around the three core members, Steve Winwood, Jim Capaldi and Chris Wood, Traffic had as few as three and as many as seven members between the years 1967 to 1974 but despite all the personnel changes and shifts, they remained a force to be reckoned with until deciding to split in 1974, having given their final performance on August 31st and releasing their last album, When the Eagle Flies.
Related: Dave Mason talked to us about Traffic and more
"Boasting all six studio albums recorded for the Island Records, the LPs have been remastered from the original tapes and presented in their original and highly collectable 'first' Island pressing form (gatefold sleeves, pink eye labels, etc.). The set also includes a related and super rare facsimile promo poster for each album."
Watch Traffic plays "Dear Mr. Fantasy" in 1972

Latest posts by Best Classic Bands Staff
(see all)