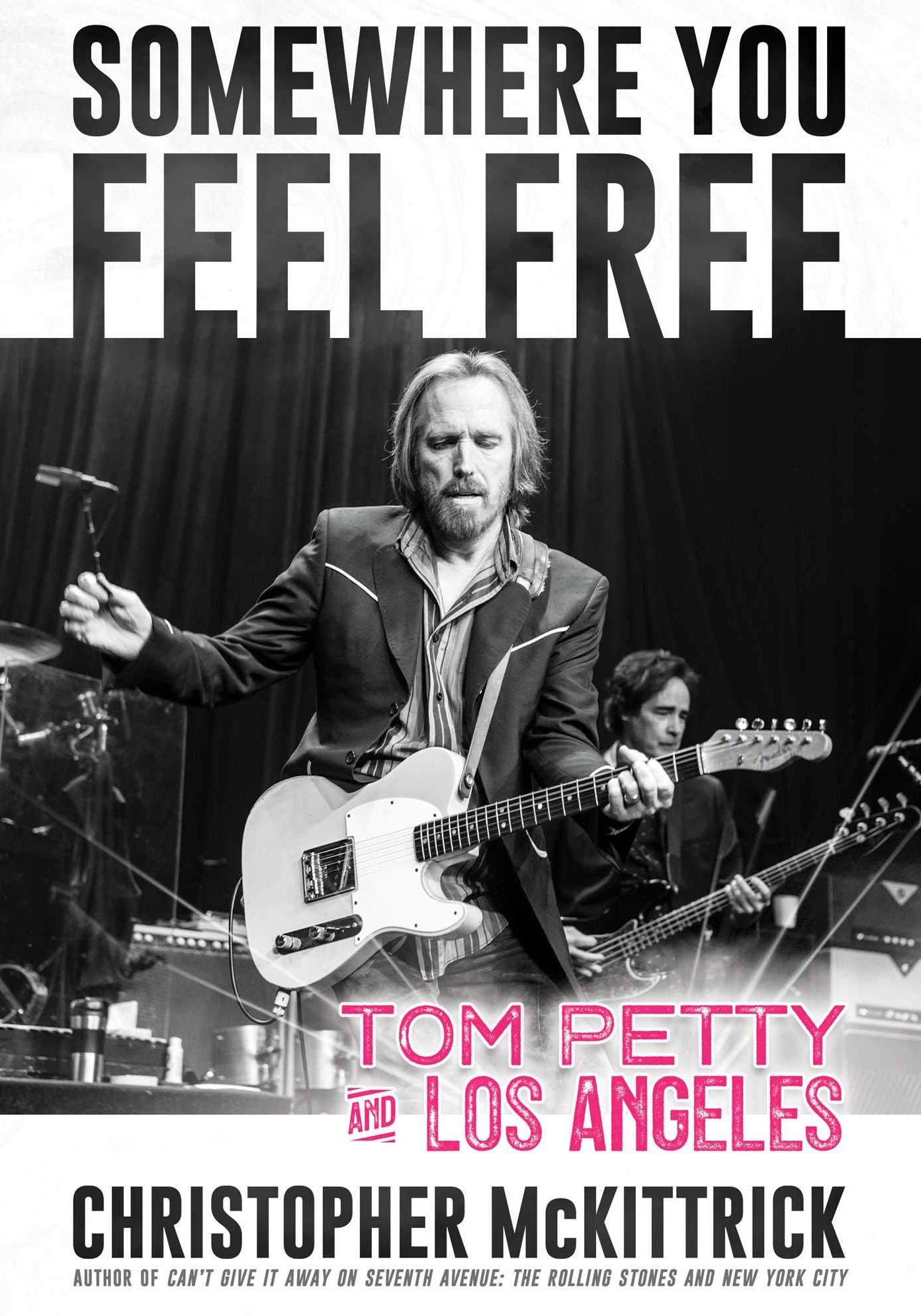 When Tom Petty arrived in Los Angeles in 1974 in search of a record deal for his band Mudcrutch, the Gainesville, Fla. native found one almost immediately. But it would take years for Petty and his subsequent band, the Heartbreakers, to break onto the pop charts. Over the following decades, Petty would stay planted in Los Angeles through battles with record labels, chart-topping albums, and collaborations with fellow classic rock legends, as he became one of the most acclaimed artists of his generation.
An upcoming book, Somewhere You Feel Free: Tom Petty and Los Angeles, from author Christopher McKittrick, explores his career-long relationship with the city and the many colorful characters and venues that inspired him and his music—including his work with George Harrison, Bob Dylan, Stevie Nicks, Johnny Cash, Roger McGuinn, Leon Russell, Del Shannon, and more. The book arrived Nov. 17 via Post Hill Press.
From the book's announcement: From the earliest Heartbreakers concerts in Los Angeles at the legendary Whisky à Go Go and the Santa Monica Civic Auditorium, to the band's final concerts at the iconic Hollywood Bowl, Petty aimed to continue the tradition of the Southern California rock and roll of his musical heroes like the Byrds and Buffalo Springfield in his own fashion. At the same time, Petty's career often coincided with seismic shifts in the music business, indicated by Petty's famous refusal to back down in the face of label management, industry conventions, and the changing courses of platforms that helped make him a superstar, like rock radio and MTV.
McKittrick is also the author of Can't Give it Away on Seventh Avenue–The Rolling Stones and New York City, published in 2019.
Best Classic Bands asked McKittrick to share insights about the book in this Q&A.
What did you discover about how Tom adapted to Los Angeles as a young man? He and TPATH were far from being overnight sensations.
The early days of Mudcrutch (Tom Petty, Mike Campbell, and Benmont Tench's pre-Heartbreakers band) in Los Angeles are a fascinating study in itself of musicians that have a record deal and all the talent they need to make it, but who are lacking that unexplainable element that makes a rock group legendary.
The most interesting thing to me was that despite all of the experience the band had playing in Gainesville, Florida, they hadn't yet discovered what the Heartbreakers were supposed to be yet. However, the owner of their label, Denny Cordell, believed in Petty. Even after he dropped Mudcrutch from the label, he retained Petty to write songs with Leon Russell, who in turn introduced Petty to countless iconic musicians in Los Angeles. So before Petty had even recorded the first Heartbreakers album – which then took a whole year for a single to break into the Top 40 – he had already met Brian Wilson and one of his future closest friends, George Harrison. That was quite an education for an up-and-coming musician.
Did you read the book by Jon Scott, the label exec who Tom credits with almost singlehandedly, er, breaking "Breakdown" at radio?
Jon Scott's book, Tom Petty and Me, was such a great resource for Somewhere You Feel Free: Tom Petty and Los Angeles. Not only does Scott's book speak about his long history with Petty, it gives a fantastic perspective on the music business and Southern California's radio markets at the time that the Heartbreakers were struggling to get any sort of attention. It's a totally different world than what the music business was even in the 1990s, let alone today.
Tell us a bit about the formation of the Traveling Wilburys and the special camaraderie amongst the five individual stars.
My favorite aspect of the Traveling Wilburys origin story is that the group was formed by happenstance. George Harrison needed to record a B-side for his hit Cloud Nine album, and was having lunch with his producer, Jeff Lynne, and Roy Orbison, who had been working with Lynne on what would be his posthumous hit album, Mystery Girl. Harrison asked Orbison if he could guest on the track, and then asked Petty if he'd join them because Harrison had left his guitar at Petty's house. Lynne preferred recording at home studios, so they told Orbison they would be recording at "Bob's" house. Orbison had no idea that the "Bob" in question was Bob Dylan.
Interestingly, after the supergroup released their first hit album and Orbison passed, many in the media who would take Orbison's "spot" in the band. There were at least three candidates discussed in the press at the time that I wrote about in my book, with some almost campaigning for the spot. But as you mentioned, the Wilburys had fantastic camaraderie – there was never any intention to replace Orbison. The Wilburys revered him for the incredible talent that he was.
"Free Fallin'" makes numerous references to the Los Angeles. Do you spend time talking about the song?
Absolutely. For many people it's Petty's signature song, yet "Free Fallin'" was held back by MCA as a single on the album at first because the label thought the lyrical references to Los Angeles were too regional. Petty, who understood that for many California is more of a state of mind than an actual place, disagreed. Of course, he was right. I pulled from many sources to find out exactly why Petty decided to reference Reseda, Mulholland Drive, and, most curious of all, those Valley vampires in that iconic ballad.
As acts become true superstars, they develop an enormous fan base. What can you say about Tom's connection with his fans? What do you attribute the intensity of the fans loyalty to him?
Beyond his incredible music, Tom Petty gained a reputation for having an adversarial relationship with record labels, and his fans at the time embraced him as a "man of the people" for that image. It's obvious that Petty learned to truly appreciate his fans for their support after not having much early in his career. He had a long history of going the extra mile. One of the reasons why Petty made such great and memorable music videos in the 1980s and early 1990s was because he felt many artists didn't put much effort into them.
By the late 1990s, the Heartbreakers were one of the few major classic rock bands that were not only regularly releasing new music and trying to get airplay, but Petty made significant sacrifices to keep ticket prices to his concerts reasonable. Fans are loyal, but they're not stupid. They know when they're getting ripped off – and though he could've charged it, face value of tickets to see Petty weren't $400. Petty fans appreciated that.
Petty's only concept album in his career, 2002's The Last DJ, delves into his disgust at the time with the music business. It's a fascinating listen nearly 20 years later, knowing that Petty wrote an entire album about how awful the music business is even though he knew radio and promotions wouldn't support it. Fans still embrace that honesty about Petty.
Any unusual anecdotes that you can share to any extent with our readers to whet their appetites before the book arrives?
One of my favorite parts about doing research for this book was discovering how much Petty truly saw the Heartbreakers as part of Southern California's pop music tradition of the Byrds, Buffalo Springfield, Crosby, Stills, Nash & Young, the Flying Burrito Brothers, and so on. Rightfully so, he was a staunch defender of the Heartbreakers' place in rock history. The Los Angeles Times once ranked the top Los Angeles bands of all time and the Heartbreakers were ranked eighth on the list. Petty was very bothered by this – and he brought it up in subsequent interviews with the Times – because it was extremely important for him for the Heartbreakers to be considered a top California rock band. A writer for the Times even apologized in print years later!
It helped me discover a narrative thread throughout Petty's career that reflected just how important Los Angeles was to his image and his love of rock and roll. You can place so many anecdotes from Heartbreakers' history in Los Angeles into Petty's love for his adopted hometown and Los Angeles' love for Petty.
Watch the final song at the Heartbreakers' last performance, on Sept. 25, 2017
Related: Our Q-and-A with McKittrick on his Rolling Stones and New York City book

Latest posts by Best Classic Bands Staff
(see all)