So you want to be a rock and roll star, then listen now to what I say. Just get an electric guitar, then take some time and learn how to play.
And play he did.
Tom Petty, just 66 when he died on October 2, 2017, was one of the youngest of the great rock 'n' roll generation's stars.
He and his band, the Heartbreakers, had just completed a 40th Anniversary tour, with a final concert at the Hollywood Bowl on Sept. 25.
In my review of the band's June 16 concert at the Prudential Center in Newark, NJ, I wrote: "Not many classic rock bands get to enjoy a 40th anniversary and even fewer are able to do so by selling out arenas wherever they play. The Heartbreakers are celebrating the occasion with as polished a set as any band you'll see."
We learned what Petty's wife, Dana, and eldest daughter, Adria, shared from the Medical Examiner's statement: "an accidental drug overdose as a result of taking a variety of medications." And we take solace in what they wrote: "We now know for certain he went painlessly and beautifully exhausted after doing what he loved the most, for one last time, performing live with his unmatchable rock band for his loyal fans on the biggest tour of his 40-plus year career."
Petty idolized the Byrds and had famously incorporated their 1967 song, "So You Want to Be a Rock 'n' Roll Star," written by Roger McGuinn and Chris Hillman, into his own band's concert repertoire for decades.
Related: McGuinn performs Petty tribute
And though he was five to ten years younger than most of rock's biggest names–heck, he was 14 years younger than his Traveling Wilburys' bandmate Roy Orbison–Petty was, of course, their peer in every way. And then some.
This one's personal. When I took that above photo of Petty from the photographer's pit at the Prudential Center last June, he was looking right at me. He was my guy. But, of course, I knew that I shared him with countless others in Tom Petty Nation who recognized his remarkable gift.
Tom Petty. Rock and roll star. I didn't see this one coming.
Related: Our obituary of an American rock giant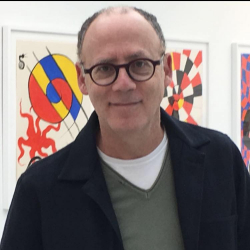 Latest posts by Greg Brodsky
(see all)