Tom Petty's 'American Girl': Take it Easy, Baby
by Greg Brodsky
It was the second single from Tom Petty and the Heartbreakers' 1976 self-titled debut. When "American Girl" was released on February 4, 1977 on Shelter Records, it barely got any notice from Top 40 radio programmers and failed to chart on that format.
Over the years, as the audience for Petty's music widened exponentially, the appreciation for "American Girl," with its now-familiar jangly guitar riff courtesy of Petty and the band's Mike Campbell, became enormous and it's long been a classic rock favorite. Of all the great tunes in the Petty canon, decades later, "American Girl" can be looked at as a perfect song.
The song's protagonist is unnamed, simply referred to multiple times as "she." In the second verse, Petty writes:
It was kind of cold that night
She stood alone on the balcony
She could hear the cars roll by
Out on 441
Like waves crashin' on the beach
Watch Tom Petty and the Heartbreakers perform the song on The Midnight Special in 1978
"441" refers to a portion of U.S. Route 441 that runs through Gainesville, Fla., Petty's hometown. On Oct. 30, 2017, less than four weeks after Petty's death, Florida State Senator Keith Perry filed a bill to have a portion of U.S. 441–known locally as NW 13th Street–re-named Tom Petty Memorial Highway after the city's native son. While Perry's heart was in the right place, it appears that he didn't do his research. The road already has a name in honor of Dr. Martin Luther King Jr., a designation awarded in 1998.
The backlash was swift and Perry was hoping to amend his original bill to re-name a section of Southwest 34th Street that features a now-prominent Petty memorial that fans painted on a wall overlooking a stretch of that road.
The local ABC TV affiliate WCJB reported on Feb. 23, 2018, that the bill had been put on hold. The station noted: "while we wait to find out if 'Tom Petty Memorial Highway' will become a reality at some point, Perry is still open to ideas on ways to make this tribute bigger and better."
Gainesville's Parks, Recreation and Cultural Affairs departments organized a survey for residents to vote on alternative ways to honor the city's native son. On April 21, 2018, the public's top choices were an annual concert, statue or park.
Finally, in August 2019, the Florida Historical Marker Council announced that a two-side marker would be erected in the "Duckpond" neighborhood where Petty grew up.
The city of Gainesville celebrated its native son with a birthday bash in October 2018, with a variety of performers that included Tom Leadon, who played with Petty in their early band, Mudcrutch, as well as the reformed edition. (The event was repeated a year later.)
"I'm really blessed that I was a teenager when Gainesville was full of talented musicians," Leadon told the Gainesville Sun. "Don Felder taught me my first solo scales. He and my brother Bernie taught me how to play guitar. Tom Petty was the closest friend I ever had. He was a brother to me."
Fans have analyzed the song and have tried to connect the lyrics "if she had to die" and "one desperate moment" with the girl on the balcony. Over the years, the nearby University of Florida has had a series of suicides. Petty repeatedly denied any connection.
The song's lyrics include the bawdy lyrics:
Take it easy baby
Make it last all night
Though "American Girl" failed to connect with Top 40 radio programmers, Petty would ultimately earn 11 Top 20 U.S. pop sings. (1979's "Don't Do Me Like That" was the first, reaching #10; 1994's "You Don't Know How it Feels" was the last, at #13. (Rock radio embraced him: he had no less than 31 that reached the format's Top 10.)
It took a while, but the Heartbreakers' debut album, released on November 9, 1976, eventually reached #55 on the Billboard chart in '78, and ultimately was certified Gold.
Related: Meet Jon Scott, who doggedly worked to get Petty's early records played on the radio
Not surprisingly, Petty and the Heartbreakers chose to perform "American Girl" at their 2002 Rock and Roll Hall of Fame induction.
Related: Roger McGuinn talks about recording "American Girl," written by a then-unknown songwriter
Take it easy, baby…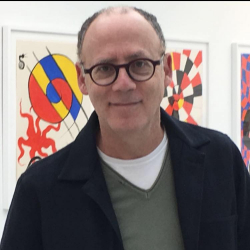 Latest posts by Greg Brodsky
(see all)