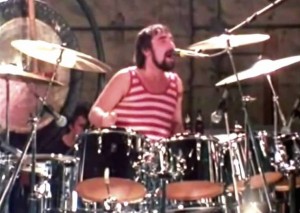 One of our favorite rockumentaries is Jeff Stein's 1979 film The Kids Are Alright about The Who. The movie uses dozens of great clips from the band's career and the director also got them to perform several songs in front of a tiny audience in 1978.
Among the film's great scenes is when Roger Daltrey, John Entwistle, Pete Townshend and Keith Moon goof around in the studio performing "Barbara Ann" in the style of the Beach Boys' version.
This Classic Video begins with the bearded, skinny-armed Townshend demonstrating his windmill sans guitar, moves to a quick shot of Rog and Moonie in the control room and then quickly shifts to the studio where Keith does a rare lead vocal while on the drum kit. Somehow, he hits the high notes.
Townshend finishes it off with a guitar solo while doing a duck walk. Moon died on September 7, 1978, well before the film was released the following spring.
Related: Our feature on Keith Moon, rock's greatest drummer
The Kids Are Alright soundtrack has been reissued on vinyl for the first time in years. One year after making the documentary, its director, Stein, was commissioned by New York's WPLJ to make a TV spot for an ad campaign for the Central Park Music Festival that the radio station was co-sponsoring.
Stein suggested making a retrospective ad of artists that had played in the park and gone on to superstardom. "I felt that there should be some kind of salute to the concerts. They had always been fun and a good thing to have in the city." The spots were then tailored for use in other markets.
Watch 1980's "WPLJ Rocks"
Close followers of The Who know that they actually recorded "Barbara Ann" in 1966 for their Ready Steady Who ep. Here's a bonus live version from that same year…

Latest posts by Best Classic Bands Staff
(see all)