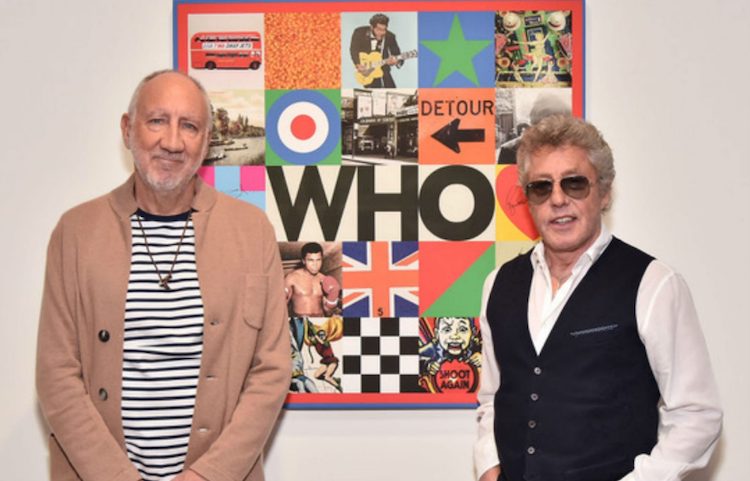 Roger Daltrey is having a procedure done today (Fri., Nov. 22) at an undisclosed hospital to scrape his throat to check for pre-cancerous cells. The Who's lead singer called the operation "routine" in a brief interview with The Sun (U.K.). In 2009, Daltrey had been diagnosed with dysplasia – abnormal growths in his vocal cords. Last Sept. 25, The Who were forced to cut short their performance at Houston's Toyota Center when the singer lost his voice eight songs into the show.
The band subsequently postponed the next two scheduled dates: Sept. 27 in Dallas and Sept. 29 in Denver, to allow the 75-year-old singer some time to recuperate from what they described as bronchitis. Their Moving On! tour ultimately resumed on Oct. 9.
[The impacted concerts – in Houston, Dallas and Denver – have been rescheduled for Spring 2020, following the group's 10-date U.K. tour.]
The Who announced a new studio album on Sept. 13. It's simply called WHO—in all-capital letters—via Interscope Records. It was originally scheduled for Nov. 22 but (on Oct. 3) has been pushed back to Dec. 6. A third song has been released in advance.
Listen to "I Don't Wanna Get Wise" from WHO
The final song that Daltrey sang lead at the truncated Houston concert on Sept. 25 was "Who Are You." (Pete Townshend handles lead vocals on "Eminence Front," which followed.)
Watch them perform "Who Are You" on Sept. 25 in Houston
Don't be surprised if The Who end up expanding that North American visit. Pete Townshend took to Instagram to say that they'll return "next April or May," adding "we're doing the New Orleans Jazz Festival, I believe."
WHO will be released in several formats, including various CDs, vinyl and digital packages, and even on cassette. On Oct. 3, the Who released a second song, "All This Music Must Fade."
The set, which includes 11 brand new songs, plus three more on a deluxe edition—scroll down for the track list—features a cover by artist Peter Blake, whose past work includes the Beatles' Sgt. Pepper's Lonely Hearts Club Band as well as the Who's own 1981 release Face Dances. The cover was unveiled Sept. 12 at an event at the Pace Gallery in New York City.
WHO is the band's first new studio album since 2006's Endless Wire. In addition to surviving founding members Pete Townshend and Roger Daltrey, the album features the band's longtime drummer Zak Starkey.
The album, recorded in London and Los Angeles, was co-produced by Townshend and D. Sardy (Noel Gallagher, Oasis, LCD Soundsystem and Gorillaz), with vocal production by Dave Eringa (Manic Street Preachers, Roger Daltrey, Wilko Johnson),
The band performed two of the new songs, "Hero Ground Zero" and "Ball and Chain," on its recent "Moving On!" U.S. tour. "Ball and Chain" was released as the first single from the new album.
Watch the lyric video for "Ball and Chain"
The album is available for pre-order below.
In support of WHO, the band will embark on a U.K. tour that launches March 16 in Manchester and touches down in 10 cities in all, leading up to a gig on April 8 at London's famed Wembley Arena. The tour, which will feature the Who accompanied by orchestras, as they did on the recent U.S. tour, will reportedly be extended to other cities worldwide following the U.K. dates.
Townshend and Daltrey are joined by guitarist/backup singer Simon Townshend, keyboardist Loren Gold, bassist Jon Button and drummer Zak Starkey.
Related: Our recap of the Who's September show at Madison Square Garden
In a quote posted by Britain's NME.com, Daltrey said of the album, "I think we've made our best album since Quadrophenia in 1973, Pete hasn't lost it, he's still a fabulous songwriter, and he's still got that cutting edge."
Townshend is quoted as saying, "This album is almost all new songs written last year, with just two exceptions. There is no theme, no concept, no story, just a set of songs that I (and my brother Simon) wrote to give Roger Daltrey some inspiration, challenges and scope for his newly revived singing voice. Roger and I are both old men now, by any measure, so I've tried to stay away from romance, but also from nostalgia if I can. I didn't want to make anyone feel uncomfortable. Memories are OK, and some of the songs refer to the explosive state of things today. I made new home studio demos of all these songs in the summer of 2018 using a wide collection of instruments old and new. We started recording as the Who in March 2019, and have finished now in late August just in time to make some vinyl…maybe even some cassettes…ready for release in November."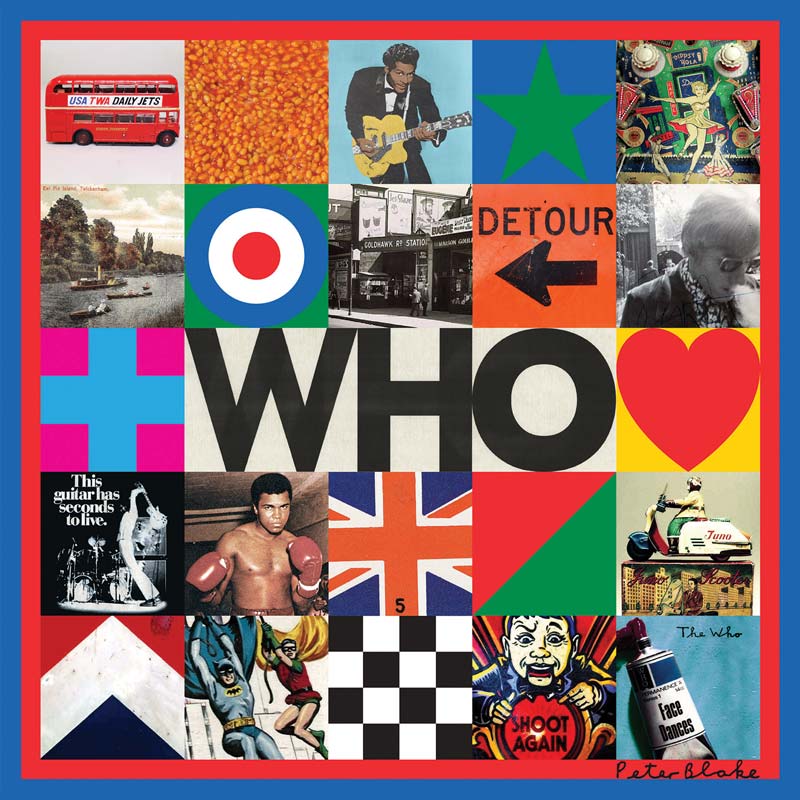 The track list for WHO is as follows:
All This Music Must Fade
Ball and Chain
I Don't Wanna Get Wise
Detour
Beads On One String
Hero Ground Zero
Street Song
I'll Be Back
Break The News
Rockin' In Rage
She Rocked My World
This Gun Will Misfire
Got Nothing to Prove
Danny and My Ponies
The Who 2020 Tour Dates (Tickets are available at Ticketmaster and here)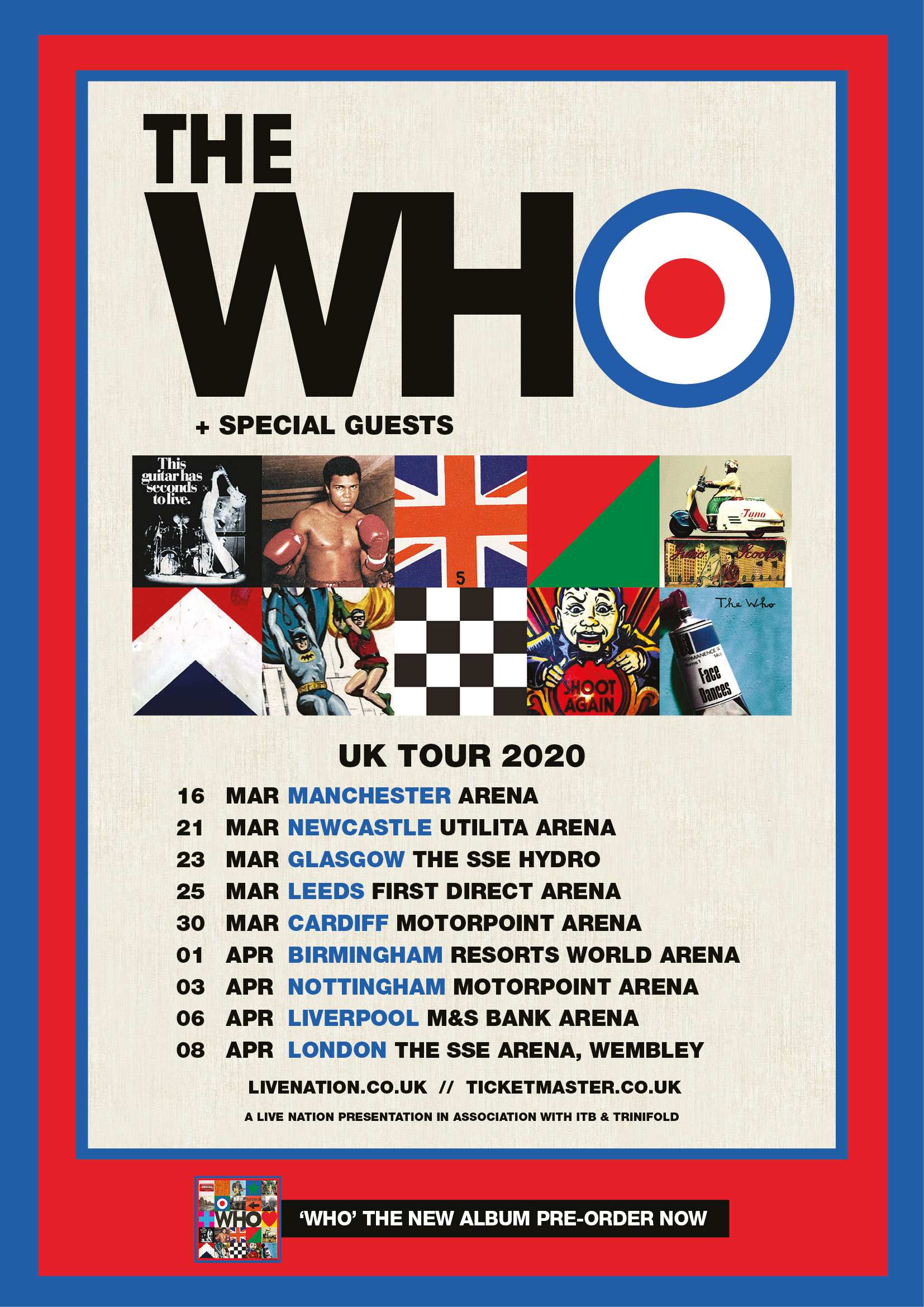 Mar 16 – Manchester Arena
Mar 18 – Dublin 3 Arena
Mar 21 – Newcastle Utilita Arena
Mar 23 – Glasgow SSE Hydro Arena
Mar 25 – Leeds First Direct Arena
Mar 30 – Cardiff Motorpoint Arena
Apr 01 – Birmingham Resorts World Arena
Apr 03 – Nottingham Motorpoint Arena
Apr 06 – Liverpool M&S Bank Arena
Apr 08 – London SSE Wembley Arena
TBA – New Orleans, LA – Jazz Fest
Apr 27 – Dallas, TX – American Airlines Center
Apr 30 – Houston, TX – Toyota Center
May 02 – Denver, CO – Pepsi Center
Watch the Who perform "Hero Ground Zero" at Madison Square Garden in September 2019

The BCB team brings you the latest Breaking News, Contests, On This Day rock history stories, Classic Videos, retro-Charts and more.

Latest posts by Best Classic Bands Staff (see all)