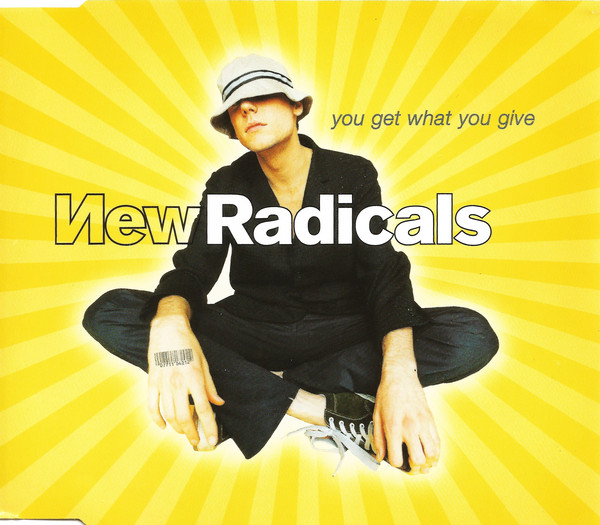 New Radicals made a brief, but mighty, impact with their 1998 release, "You Get What You Give." The song from the Los Angeles band reached #5 in the U.K. and #1 in several countries, including Canada. In the U.S., it went to #8 on the Modern Rock chart but stalled at just #36 on the Hot 100 in 1999. Still, the future looked bright for the band and their frontman, Gregg Alexander, who also produced their album, Maybe You've Been Brainwashed Too.
Alexander also wrote 10 of the LP's 12 tracks, including "You Get What You Give," which he co-wrote with Rick Nowels. [Nowels has written or co-authored over 60 hit singles including Belinda Carlisle's "Heaven is a Place on Earth" and Stevie Nicks' "I Can't Wait."]
The name-checking song — it mentions, towards the end, Beck, Hanson, Courtney Love and Marilyn Manson — has earned considerable airplay in the decades since it was released. In a 2006 interview with Time, U2's The Edge called it the song he is "most jealous of. I really would love to have written that."
As the song begins, Alexander confidently counts off, "One, two, one, two, three, ow…" The song features the anthemic lyrics:
Wake up, kids
We got the dreamers disease
Age fourteen, they got you down on your knees
And the chorus:
You've got the music in you
Don't let go
You've got the music in you
One dance left
This world is gonna pull through
Don't give up
You've got a reason to live
Can't forget
We only get what we give
And another lyric:
This whole damn world could fall apart
You'll be okay, follow your heart
You're in harms way, I'm right behind
Now say you're mine
Watch the video for "You Get What You Give"
Thanks to the song's success, the Maybe You've Been Brainwashed Too went Platinum in the U.S., representing sales of over one million copies. The promising band then became another one-hit wonder. (It's a long list.)
On July 12, 1999, just six months after the song peaked in the U.S., Alexander announced New Radicals were no more. "It was an experience playing the artist, but I accomplished all of my goals with this record, and I'm ready to move on and make the next step in my career," he said.
"I'm going to be turning 30 next year, and realize that the fatigue of traveling and getting three hours sleep in a different hotel every night to do boring 'hanging and schmoozing' with radio and retail people, is definitely not for me … now I can do what I do best.
"Over the last several months, I'd lost interest in fronting a 'One Hit Wonder' to the point that I was wearing a hat while performing so that people wouldn't see my lack of enthusiasm. I am, however, excited and looking forward to getting started on working in the studio with a wide range of artists and building the next phase of my career. So although there will be no more albums, videos (besides the two made) or unalbum worthy outtakes from the band or me solo, as a producer there will be a lot more good music coming."
Since then, Alexander has written songs for many other artists, including the Santana and Michelle Branch single, "The Game of Love," which he co-wrote with Nowels. The song earned a Grammy Award.
Like so many of a certain age, the song was a favorite of Joe Biden's son, Beau. It's a favorite, too, of Kamala Harris' husband, Doug Emhoff, who used it at his appearances on the 2020 campaign.
On Jan. 17, 2021, Alexander announced that New Radicals would reunite for a one-off performance at Biden's virtual Presidential "Parade Across America" on January 20.
In announcing the one-time reunion, Alexander, born May 4, 1970, said, "If there's one thing on Earth that would possibly make us get the band together, if only for a day, it is the hope that our song could be even the tiniest beacon of light in such a dark time.
"America knows in its heart that things will get bright again with a new administration and a real plan for vaccines on the way. That's the message of the song… this world is gonna pull through.
"Performing the song again after such a long time is a huge honor because we all have deep respect for Beau's military service and such high hopes for the unity and normalcy Joe and Kamala will bring our country again in this time of crisis."
Watch the reunion performance which aired on Jan. 20
Related: A one-hit wonder from 30 years earlier

Latest posts by Best Classic Bands Staff
(see all)