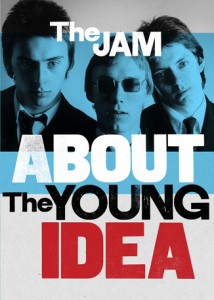 Modfather Paul Weller has always been vocal about his disdain for reunion shows, an ethos that's refreshingly in keeping with that of his seventies-era self. While we may never see him jam old favorites onstage, members of The Jam are letting fans relive the band's heyday a little in the form of a long overdue documentary, About the Young Idea, out December 4th in Canada and January 22nd in the U.S. via Eagle Rock Entertainment.
It all started last April when the former band gave unprecedented access to their archives for an exhibition at Somerset House in London. From June through September, aficionados could get an inside look at everything from personal photographs and hand-written lyrics to early scrapbooks and unreleased music videos. The band also released a best-of CD over the summer.
Like the exhibition and best-of CDs of the same name, About the Young Idea charts The Jam's career from start to finish – their formation in the early seventies, the sweet taste of success (they had 18 consecutive U.K. Top 40 singles), and their eventual break-up in 1982.
Short hair, fast tempos and crushingly loud volumes were par for the course in those days, but The Jam were unique among their punk-rock peers in several ways. They were professional players who wore suits instead of ripped jeans and revered 1960s rockers where others were less impressed with old school cool. They spoke directly to London teenagers about their growing dissatisfaction with society, dead-end routines and relationships, with politically-charged lyrics that are just as relevant today as they were several decades ago.
Director Bob Smeaton intermingles brand new interviews with Weller, Bruce Foxton and Rick Buckler with archive performance footage and new contributions from fans, journalists and others involved in The Jam's career. In addition to the feature-length documentary, the package contains four extra live tracks and the band's full-length 1980 performance on German TV show Rockpalast.
In addition, Fire And Skill: The Jam Live, a six-disc boxed set featuring six previously unreleased concerts ranging from an early club date all to way to Wembley Arena and spanning 1977-82, is out next Friday, October 30th.

Latest posts by Best Classic Bands Staff
(see all)