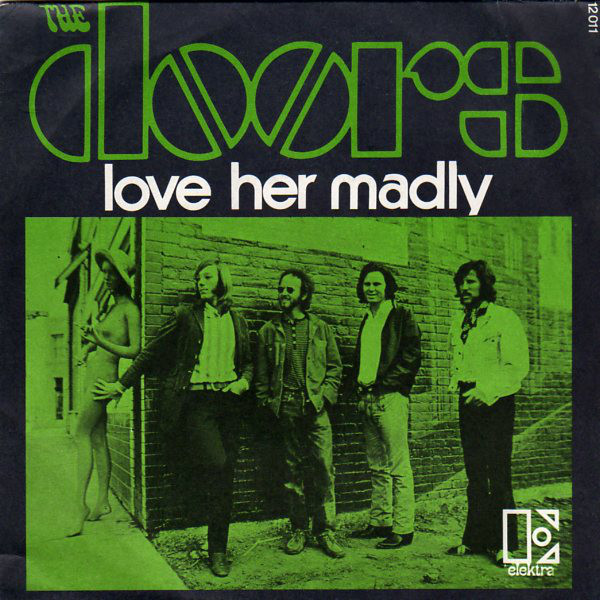 Ask a classic rock fan to name their favorite song from The Doors and you're bound to get plenty of different candidates. One of their two U.S. #1 hits, perhaps, "Light My Fire" or "Hello, I Love You"? Or maybe one of several other Top 40 hits like "Touch Me," "Riders on the Storm"?
Some may choose a favorite LP cut, such as "L.A. Woman," "When the Music's Over" or "Roadhouse Blues." There are no wrong answers.
After a string of hit singles, from 1967-1969, the Doors had been largely absent from Top 40 radio.
That changed with "Love Her Madly." The song, written by the band's guitarist, Robby Krieger, was the first single from 1971's L.A Woman, the band's sixth studio album.
The song was a cover Pick of the Week in the March 27, 1971 edition of Record World, which called it "Something new and long-awaited from the group that is excitement personified. Terrific new rocker… sounds like it will rank among their best single songs."
Related: 1971 book makes a strong case for rock's best year
Two seconds in, we're greeted by the familiar sound of John Densmore's drums. There's Ray Manzarek on a tack piano. He's joined by a great bass line from guest musician Jerry Scheff, a member of Elvis Presley's TCB Band (as in Taking Care of Business). Jim Morrison first appears at the 12-second mark with his trademark, commanding vocal.
At the 1:57 mark, there's Morrison singing "All your love… all your love…" and at 2:09 a spectacular "Yeahhhh… all your love is gone, so sing a lonely song…" as Manzarek's lovely tack piano chords and Densmore's backbeat fill the air.
The next 30 seconds are simply instrumental bliss until Morrison returns for a few lines of "Don't you love her madly," before the song closes out with another 30 seconds of instruments.
It's a perfect rock song. On Top 40, "Love Her Madly" bowed at #70 on the April 3 Singles Chart. It peaked on Billboard on May 22 at #11. (It reached #8 on Record World on May 29.)
Related: Links for 100s of classic rock tours

Latest posts by Best Classic Bands Staff
(see all)