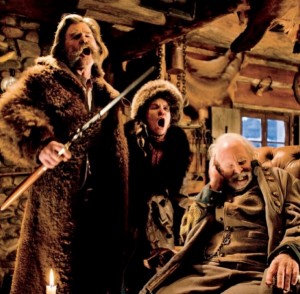 One of modern film's most popular auteurs, Quentin Tarantino, follows in the same genre and some of the themes of Django Unchained with his upcoming eighth feature, The Hateful Eight – logo-ed as The H8ful Eight – which will enjoy a limited 70mm release on Christmas and then hit wide release on January 8 (there's that number again). A teaser and trailer have been released, both markedly different.
The casting bears the usual Tarantino stamp: talented veterans (often in need of a youth market boost) like Kurt Russell (who appeared in the Tarantino/Robert Rodriguez genre twofer Grindhouse), Jennifer Jason Leigh and Bruce Dern matched by hot younger actors; it's his second in a row with Walton Goggins, who made quite a mark as Boyd Crowder on Justified, and hunk of the moment Channing Tatum in an as-yet un-billed appearance. And Samuel L. Jackson in his sixth role in a Q.T. flick.
Quick take: Soon after the Civil War, Russell is a bounty hunter taking a murderous woman (Leigh) to her date with the hangman, and gets snowed in at a stagecoach stopover with six other characters of the sort you might find in, well… a Tarantino movie. The teaser is rather meditative with sumptuous Western scenery that begs to be seem in 70mm Panavision. The trailer promises no small measure of action even if they're snowed in.
And big plus: It has the first Western soundtrack by Ennio Morricone – the man who put the sound of spaghetti into Westerns with The Good, the Bad and the Ugly – in 25 years.
Tarantino notes, "I can definitely say that as bleak as our movie is, we are definitely the funniest snow Western ever made." As snow Westerns are a limited and hardly hardy-har subgenre, it's good he qualified that statement. As for Westerns in general, Tarantino has a ways to go to catch up with Blazing Saddles in the laughs department. And maybe as well when it comes to pointed observations on race relations.
And even though the movie is more than two months away from release, it has already won an award: the Hollywood Ensemble Award from the 19th Annual Hollywood Film Awards, which takes place on November 1st.

Latest posts by Best Classic Bands Staff
(see all)