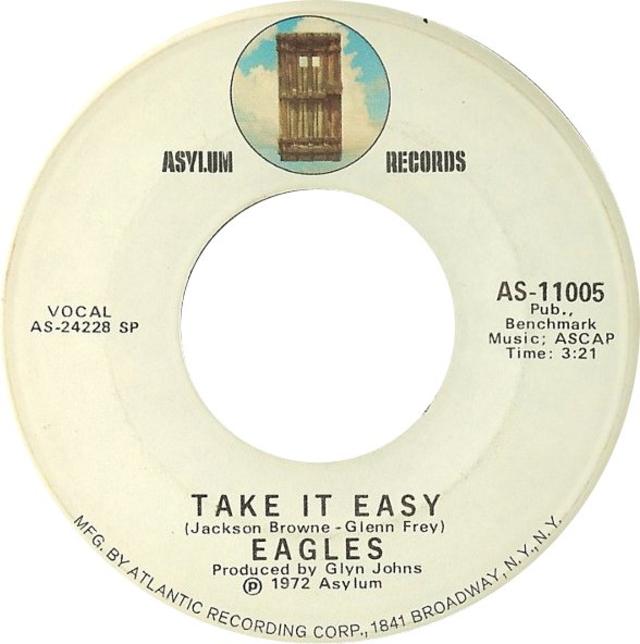 You won't find Eagles' "Take it Easy" on the list of 1972's biggest singles. But it's surely one of the handful of songs most closely associated with one of the most successful bands of all time. The song marked the group's debut when it was released on May 1 of that year by the "quartet of rock and roll musicians, singers and composers," as music industry trade magazine, Record World, wrote in its May 13, 1972 issue.
The song, co-written by Jackson Browne and the band's Glenn Frey, entered the chart a few weeks' later, at #84. Eagles' self-titled debut album arrived on June 1. On July 22, "Take It Easy," with lead vocal by Frey, peaked on the Hot 100 at #12 behind such songs as Bill Withers' "Lean on Me," Wayne Newton's "Daddy Don't You Walk So Fast," and Elton John's "Rocket Man."
Record World introduced the members in that same May 13 issue. "Eagles are comprised of Don Henley, formerly of Shiloh on drums; ex-Flying Burrito Brother Bernie Leadon on lead, rhythm and steel guitar; ex-Poco Randy Meisner on bass; and Frey on lead and rhythm, who formerly played guitar behind Bo Diddley and was half of Longbranch Pennywhistle. All four write and sing, making the group a completely self-contained unit."
The album had two follow-up singles: "Witchy Woman" (#9) and "Peaceful Easy Feeling" (#22).
On Jan. 19, 2016, Browne gave a beautiful, heartfelt performance of "Take It Easy" in tribute to Frey who had died the day before.
Browne, who had been silent about his "Take It Easy" collaborator on social media, said this at his performance in Clearwater, Fla., as quoted by the Tampa Bay Times:
"This is a sad, sad, sad day. I've been doing this song every night for a while here. I didn't use to sing it because it was such a famous song, I figured, you know, if people heard me start singing this song they'd have, they'd come away thinking: 'Uh, yeah, and then he sang a Eagles cover.'
"I wrote this song with Glenn Frey," Browne continued, pausing for the crowd's applause. "It is a song that I started, and I didn't know how to finish it. But I do know if I had finished it by myself, it wouldn't be the song that is it; it wouldn't be the song that we all love, you know?"
Watch a video of the performance, which though out-of-focus for the first minute, is then crystal clear
If you're a new Best Classic Bands reader, we'd be grateful if you would Like our Facebook page and/or bookmark our Home page.
As has been recounted, Browne was writing the song for his debut album but was having difficulty finishing it. As Browne said in a radio interview, his friend Frey "kept after me to finish it, and finally offered to finish it himself. And after a couple of times when I declined to have him finish my song, I said, 'all right.' I finally thought, 'This is ridiculous. Go ahead and finish it. Do it.' And he finished it in spectacular fashion. And, what's more, arranged it in a way that was far superior to what I had written."
You can read various tributes from those who knew Frey best here. (Here's Best Classic Bands' original news story of his death.)

Latest posts by Best Classic Bands Staff
(see all)