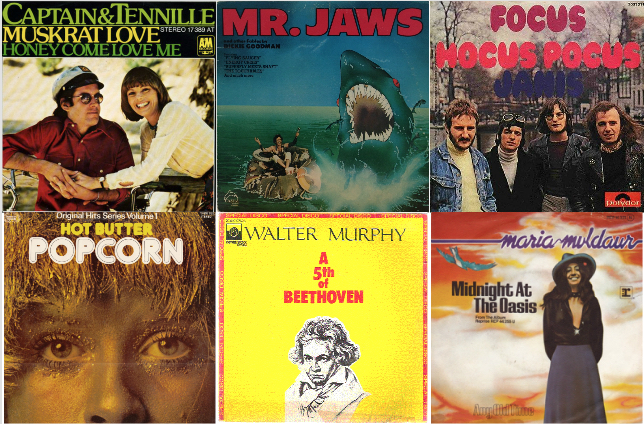 As we noted in our original lists of 11 surprising radio hits of the 1970s, when rock music was still being embraced by Top 40 radio, it was commonplace for multiple genres to be programmed and for listeners to hear songs from the likes of the Eagles, Barry White and Carly Simon in a row on the AM dial.
Of the literally thousands of songs that charted in that decade, not all were traditional songs that were shouted "Hit!" when first played.
Part 3 of our series offers another 11 (okay, 12, actually) surprising 1970s radio hits including a classic rock favorite that features yodeling, a novelty song (or two), a foreign language smash, a classical music composition and one from a real-life porn star. Many will, no doubt, leave you shaking your head, wondering "What were radio programmers thinking?" Note: all chart numbers are for the U.S.
11) "Midnight at the Oasis" by Maria Muldaur
The folk and blues performer scored a hit in 1974 with this song that's been described as a "desert love affair" with lyrics like "you won't need to camel when I take you for a ride." The quirky song obviously pleased programmers who took it to #6. Bonus points: The Recording Academy also took notice and nominated the song for "Record of the Year" and "Song of the Year." Muldaur turned 75 on September 12, 2018.
Related: Our Album Rewind of Muldaur's solo debut
10) "Popcorn" by Hot Butter
This 1972 cover reached #1 in many countries around the world. U.S. radio programmers mercifully only took it to #9. (The song was composed by electronic music pioneer Gershon Kingsley, who died in 2019 at age 97.)
9) "Eres tú" by Mocedades
You may not recognize the song title or group name but you certainly will know this tune, which became a rare Spanish-language Top 40 hit in 1974, reaching #9. Bonus points: the song was the runner-up in 1973's Eurovision song contest.
8) "The Wreck of the Edmund Fitzgerald" by Gordon Lightfoot
The Canadian singer-songwriter had four Top 10 singles in his career. This haunting song from 1976 commemorates the U.S. freighter that capsized during a storm ("the gales of November") in Lake Superior, and it still gives us chills when we hear the lyric "Fellas, it's been good to know ya." It's a moving tune… just not a topic you would expect to hear on Top 40. Bonus points: Lightfoot recorded the song just one month after the ship sank.
7) "Feelings" by Morris Albert
This saccharine hit from the Brazilian singer somehow was Billboard's #45 song for all of 1975, ahead of such songs as Joe Cocker's "You Are So Beautiful" and Linda Ronstadt's "You're No Good." Then again, there was something decidedly "off" that year, as the overall #1 single was the Captain & Tennille's "Love Will Keep Us Together." Bonus points: The lyrics feature this line: Feelings, for all my life I'll feel it.
6) "More More More" by Andrea True Connection
How do you like it? Disco was taking hold and this 1976 smash is one of the most memorable songs of the era. True – real name: Andrea Marie Truden – was born in Nashville and moved to New York to seek fame and fortune. (She's actually listed as an extra in the cast of the blockbuster The Way We Were.) Bonus points: True's other success was as a porn star.
5) "Muskrat Love" by Captain & Tennille
Beginning in 1975, Daryl Dragon (aka the Captain) and Toni Tennille produced a series of recordings that pleased radio programmers and the duo enjoyed huge success with six Top 5 singles including two at #1. This 1976 single reached #4 (and #30 for the entire year) and, yes, it's about rodents mating. We prefer their jubilant #1 debut, "Love Will Keep Us Together." Bonus points: Tennille sings backing vocals on Pink Floyd's The Wall.
4) "A Fifth of Beethoven" by Walter Murphy
Ludwig van B's copyright had long expired, so the composer never got to reap the rewards of this 1976 #1 smash. A year later, it was included on the gazillion-selling Saturday Night Fever soundtrack earning everyone but it's author millions more. Bonus points: Murphy has had a long-running business collaboration with Seth MacFarlane, scoring music for Family Guy and other projects.
3) "I'd Like to Teach the World to Sing (in Perfect Harmony)" by the New Seekers, Hillside Singers
The song originated as a 1971 ad: "I'd like to buy the world a Coke," performed by studio singers. The campaign proved to be so popular that the song was re-written and again recorded by the ensemble, calling themselves the Hilltop Singers, reaching #13 on the pop chart in 1972. The New Seekers also recorded it in 1971, scoring a #7 hit. Bonus points (Spoiler Alert): Jon Hamm's character, Don Draper, of TV's Mad Men, was inspired to create the ad while meditating on a California hillside.
Related: Our feature story on how the Coca-Cola ad inspired the two hits
2) "Mr. Jaws" by Dickie Goodman
The record producer created dozens of songs that featured a narrator commenting or asking questions and using samples from hit records to answer or reply. This one cashed in on the success of the summer blockbuster movie Jaws and features snippets of contemporary hits from Olivia Newton-John, Glen Campbell, James Taylor, the Eagles, Bee Gees, and others, somehow reaching #4. Bonus points: "Mrs. Jaws," released to coincide with Jaws 2, mercifully failed to chart.
1) "Hocus Pocus" by Focus
The rock band from Amsterdam was formed by Thijs van Leer in 1969 and a version of Focus still performs today with van Leer. This unlikely hit, co-written by van Leer and guitarist Jan Akkerman features guitar wizardry, a great drum solo and yodeling with some pretty amazing high notes. "Hocus Pocus" peaked at #9 in 1973. Bonus points: there are more hits by Dutch artists than you realize.
Part 1 of our series, with songs by Edgar Winter Group, Randy Newman and Rick Dees, is here; Part 2, featuring Chuck Berry, Warren Zevon and Cher, is here; Part 4 with "Kung Fu Fighting" and "Autobahn" is here; Part 5 with hits by Ringo Starr and the Rolling Stones is here; and Part 6 with "Chirpy Chirpy Cheep Cheep" and "Me and You and a Dog Named Boo" is here.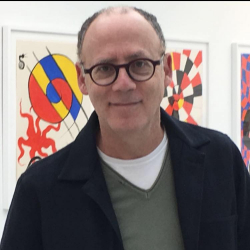 Latest posts by Greg Brodsky
(see all)