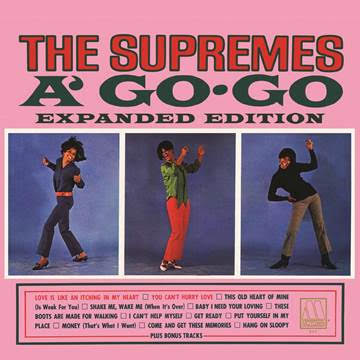 UMe will release an expanded edition of The Supremes A' Go-Go, the group's ninth studio album, on April 28. The album, released originally on August 25, 1966, became the Motown trio's first #1 album. By that time the Supremes had already scaled the charts with hits like "Where Did Our Love Go?," "Baby Love," "Come See About Me," "Stop! In the Name of Love," "Back in My Arms Again" and "I Hear a Symphony."
The Supremes A' Go-Go was also the first LP by an all-female group to reach #1, spawning two Top 10 hits in the #1 "You Can't Hurry Love" and the #9 "Love Is Like an Itching in My Heart." The album also featured the trio tackling an array of hit cover material, mostly from their Motown stablemates the Four Tops, the Temptations, Martha and the Vandellas, Barrett Strong and the Isley Brothers, but also contemporary hitmakers Nancy Sinatra (Lee Hazlewood's "These Boots are Made for Walkin'") and the McCoys (Bert Berns and Wes Farrell's "Hang on Sloopy").
UMe will reissue the album in a deluxe, expanded two-CD edition, featuring the original 12 tracks, in both stereo and rare mono album mixes, plus alternative vocal versions and mixes, as well as a duet of "Shake Me Wake Me (When It's Over)" with the Four Tops. There are also rarely heard album outtakes, such as covers of fellow '60s stalwarts Bob Dylan's "Blowin' in the Wind" and the Rolling Stones' "(I Can't Get No) Satisfaction." Pre-order here.
Related: Top radio hits of 1966
The Supremes A' Go-Go remained on the Billboard chart for 60 weeks, going on to sell 3.5 million copies around the world, including one million in the U.S. It also went to #15 in the U.K. album charts, with "You Can't Hurry Love" peaking at #3 on the U.K. singles chart.
The production represented the peak of the fabled Motown team, headed by producers Brian Holland and Lamont Dozier, the Funk Brothers and even the Detroit Symphony Orchestra on hand.
This expanded edition will also contain two 24-page booklets. The first chronicles the album's production and success, as well as a timeline, and both rare and never-before-seen photos. The second booklet is a recreation of the Supremes 1966 tour book.
Track Listing
Disc: 1 – Original Album (both stereo and mono mixes)
Love Is Like An Itching In My Heart (Mono LP)
This Old Heart Of Mine (Is Weak For You) (Mono LP)
You Can't Hurry Love (Mono LP)
Shake Me, Wake Me (When It s Over) (Mono LP)
Baby I Need Your Loving (Mono LP)
These Boots Are Made For Walking (Mono LP)
I Can't Help Myself (Sugar Pie, Honey Bunch) (Mono LP)
Get Ready (Mono LP)
Put Yourself In My Place (Mono LP)
Money (That's What I Want) (Mono LP)
Come And Get These Memories (Mono LP)
Hang On Sloopy (Mono LP)
Love Is Like An Itching In My Heart (Stereo LP)
This Old Heart Of Mine (Is Weak For You) (Stereo LP)
You Can't Hurry Love (STEREO LP)
Shake Me, Wake Me (When It's Over) (Stereo LP)
Baby I Need Your Loving (Stereo LP)
These Boots Are Made For Walking (Stereo LP)
I Can't Help Myself (Sugar Pie, Honey Bunch) (Stereo LP)
Get Ready (Stereo LP)
Put Yourself In My Place (Stereo LP)
Money (That's What I Want) (Stereo LP)
Come And Get These Memories (Stereo LP)
Hang On Sloopy (Stereo LP)
Mickey's Monkey (Bonus Track)
It's Not Unusual (Bonus Track)
(I Can t Get No) Satisfaction (alternate vocal) (Bonus Track)
Uptight (Everything's Alright) (alternate vocal) (Bonus Track)
In My Lonely Room (alternate mix) (Bonus Track)
Disc: 2 – Bonus Tracks
He s All I Got (alternate vocal)
(Love Is Like A) Heat Wave (version 1)
It's The Same Old Song (version 1)
Mother Dear version 3 (alternate mix)
Misery Makes It's Home In My Heart (alternate mix)
Can I Get A Witness (alternate vocal)
Don't Let True Love Die (alternate vocal)
Just A Little Misunderstanding (alternate mix)
Come On And See Me alternate mix
This Old Heart Of Mine (Is Weak For You) (alternate vocal)
Money (That's What I Want) (alternate vocal)
Put Yourself In My Place (alternate vocal)
These Boots Are Made For Walking (alternate vocal)
Hang On Sloopy (alternate mix)
Get Ready (alternate mix)
Slow Down (alternate mix)
What Becomes Of The Brokenhearted (alternate mix)
What The World Needs Now Is Love (alternate mix)
Blowin' In The Wind (alternate mix)
With A Child's Heart (alternate vocal)
Let The Music Play (alternate mix)
Shake Me, Wake Me (When It's Over) (Supremes & Four Tops Duet)
Love Is Like An Itching In My Heart (early versions the scratch it mix)
Love Is Like An Itching In My Heart (The SupreMix)
Watch a minute's worth of the Supremes singing "You Can't Hurry Love" on The Ed Sullivan Show

Latest posts by Best Classic Bands Staff
(see all)