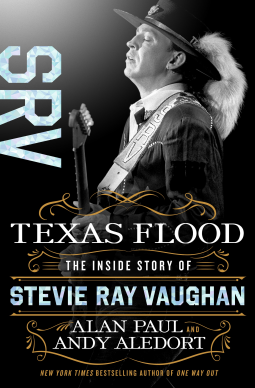 A new biography, Texas Flood: The Inside Story of Stevie Ray Vaughan, published by St. Martin's Press on Aug. 13, has debuted on the New York Times' best seller list for hardcover nonfiction. The title entered the chart at #12 for the August 25 list. Texas Flood is described by the publisher as "The first definitive biography of guitar legend Stevie Ray Vaughan, with an epilogue by Jimmie Vaughan, foreword by drummer Chris Layton, and afterword by bassist Tommy Shannon."
The biography is co-authored by Alan Paul and Andy Aledort.
The advance description reads as follows:
"A clean and sober Stevie Ray Vaughan seemed poised for a new, limitless chapter of his life and career just a few years after his severe addiction to cocaine and alcohol almost killed him. Years of sibling rivalry with big brother Jimmie, his first and greatest musical hero, were behind him, and their first collaborative album was complete and on the verge of being released. His tumultuous marriage was over and he was deeply in love with a supportive, creative woman. His last album had been his most successful, both critically and commercially.
"Instead, it all came screeching to a sudden end, when Vaughan was killed in a helicopter crash on August 27, 1990, after that evening's dynamic performance with Eric Clapton, leaving an endless stream of What Ifs. He was just 35 years old. In the ensuing 28 years, Vaughan's legend and acclaim have only grown; he is an international musical icon. Despite the cinematic scope of Vaughan's life and death, there has never been a truly proper accounting of his story. Until now.
Related: Our "lost" interview with John Hammond, the man who signed Stevie Ray Vaughan
"Texas Flood will provide the unadulterated facts about Stevie Ray Vaughan from those who were with him throughout every stage of his life and career and who knew him best: his brother Jimmie, his Double Trouble bandmates Tommy Shannon, Chris Layton and Reese Wynans, and many other close friends, girlfriends, fellow musicians, crew members and managers."
Watch Stevie Ray Vaughan and Double Trouble perform "Texas FLood," after which the new biography is titled

Latest posts by Best Classic Bands Staff
(see all)