Steve Miller Makes Magic at Met Museum: 2019 Review
by Greg Brodsky
Nearly six months after expressing how moved he was to be involved with the Metropolitan Museum of Art's outstanding exhibit, Play it Loud: Instruments of Rock & Roll, Steve Miller returned to the New York institution on September 28, 2019, to play a spirited concert at a venue he holds in the highest regard. In between numbers of the 14-song set, bookended by seven of the biggest hits of his career, Miller regaled the audience at the institution's Grace Rainey Rogers Auditorium with personal stories about his extensive guitar collection and his love of the blues.
Miller's set followed a performance by his friend and fellow blues-rock musician, Jimmie Vaughan, who led his seven-piece band on 10 songs that included covers from such pioneers as Clarence "Gatemouth" Brown and Lefty Frizzell, plus material from his 2019 album, Baby, Please Come Home.
"Ready to have some more fun?" Miller, born Oct. 5, 1943, asked when he took the stage of the intimate venue. He dedicated his first song, 1968's "Living in the U.S.A.," to "all of our brothers and sisters serving in the military." Two more favorites followed: "Space Cowboy" and "Abracadabra." "Here's a little magic for ya," Miller said as he introduced the latter, a #1 hit from 1982, the third chart-topper of his remarkable career.
The set continued with several blues numbers as Miller invited Vaughan back to the stage, as the pair paid homage to such legends as T-Bone Walker and Freddy King. Halfway through their cover of Otis Rush's "All Your Love (I Miss Loving)," the two guitarists started cooking, trading licks. When it ended, the friends shared a smile.
It's been well-documented that Miller's parents were extremely close with Les Paul and the guitar virtuoso was a constant presence in Miller's life. "He was my godfather, but he never gave me a Les Paul guitar," joked Miller, who looks perhaps 10 years younger than his 76 years, to the Met Museum audience. "So I went to Manny's in New York," he said, referring to the legendary instrument store. "I grabbed this," as he held his guitar high. "I've had this forever. I never thought this guitar would end up in a glass box in the Met." The instrument is one of 400 in Miller's own collection.
He closed the set with five of his mid-'70s hits: "Fly Like an Eagle," which featured a soaring flourish from his longtime keyboardist, Joseph Wooten; "Rock'n Me," his second career #1, as Miller effortlessly played the song's familiar guitar chords; "Take the Money and Run," with Gordy Knudtson providing the familiar drum staccato and Miller's spirited "Ooh lord" at the end; 1973's "The Joker," his first (and unlikely) #1 hit; and the night's final song, a rousing rendition of "Jet Airliner."
[Video recording was not permitted in the auditorium.]
Watch the Steve Miller Band perform "Jet Airliner" on August 21, 2019
"When Jayson [Kerr Dobney, the Met Museum's curator for musical instruments] brought up the idea of the 'Play it Loud' exhibit," Miller said, "we talked about it and then years went by. They started putting it together and I was blown away by what the Met could do."
Related: Our recap of the "Play it Loud" opening event in April 2019, with Miller, Jimmy Page and Don Felder
"When the day came for the preview, I saw Chuck Berry's guitar, and then Muddy Waters' guitar, and then Don Everly's guitar. I was in my world.
"Later, I had a chance to bring fellow musicians in after the museum closed [for the evening] and everybody started talking and sharing stories. It's beyond belief when everyone gets in the rooms."
We know the feeling.
Watch the Steve Miller Band perform "Fly Like an Eagle," at the opening party for the Met Museum's "Play it Loud" exhibit in April 2019
Miller's Welcome to the Vault boxed set was released Oct. 11, 2019. When the band resumes touring, tickets are available here.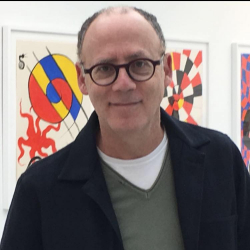 Latest posts by Greg Brodsky
(see all)