In October 2019, the Steve Miller Band released Welcome to the Vault, a new boxed set featuring 52 audio tracks on three CDs plus a DVD containing 21 live performances. The set brings together various demos and studio outtakes, live recordings and rehearsals, plus five previously unreleased studio tracks from the '60s and '70s. It spans Miller's 50-plus-year career, offering an alternate peek into the work of this classic rock giant whose popularity remains as high today as it's ever been.
Best Classic Bands spoke with Miller, born October 5, 1943, starting our conversation with the behind-the-scenes scoop on the Vault release and heading in various directions from there.
Best Classic Bands: Is there literally a vault where you store all of your master recordings?
Steve Miller: I have a warehouse where I keep all of my stuff. It's like 20,000 square feet and it's got 50 years of showbiz junk and records and everything. It's like a giant block of tape, on rolling racks. If you want something, you go in and it's all indexed now. That was part of the project; we just had to clean it all up.
When you were compiling Welcome to the Vault, did you find a lot of things that you had forgotten about?
Oh, yeah. Janice [Miller's wife] found a lot of stuff. I recorded a lot of things that they didn't release. We [the Steve Miller Band] used to go into the studio and set up our equipment and we'd jam for an hour or two, and a lot of that stuff would get recorded and then you wouldn't even think about it. A lot of the guitar work wasn't what I was putting on my pop records; it wasn't about lead guitar. I wasn't looking to do blues albums; I was trying to write rock and roll. So it got lost and I forgot a bunch of it and Janice found things that were really fun. It was a lot better after it was mixed and selected.
Listen to a live alternate version of "Space Cowboy" from Welcome to the Vault
It was always said in the pre-digital era that magnetic tape would eventually deteriorate. Has that happened to some of yours?

Yeah. I can't remember the exact year now off the top of my head, but we went through a period 10-12 years ago when we decided that we had to transfer all the analog stuff to digital. At that time, I had Sony digital tape machines and a Studer 24-track. I had all the equipment. Some of it, you don't have to bake at all. There was an environmental law passed and they started making the backing differently, and that's the stuff that comes off. You can bake it at 125 degrees. I had racks of dehydrators and we would bake it for a day or so. Then you can play the tape, maybe 25 times if you wanted to, but after that it was too much. So we just played it once and did a rough mix, and we were transferring multi-tracks anyway. I just ended up with thousands of hard drives.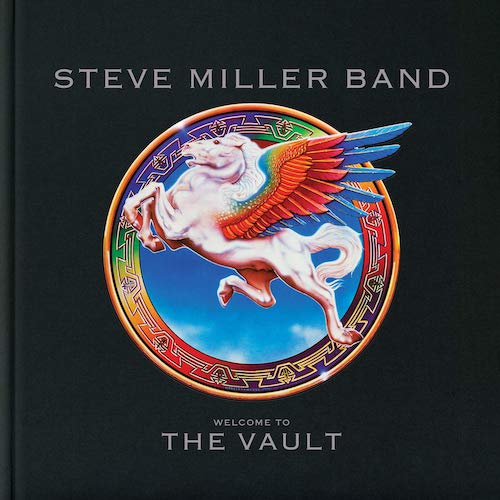 What was the biggest surprise that you found on the tapes?
Janice found some really great performances. I forgot about that period when we were doing [Robert Johnson's] "Crossroads" and "Kitchen Blues" and all of that stuff. That particular band was a really great band. You go over the whole thing and you say, "Gee, that band from, '71, '72, '73, that was a really kicking band." There were songs that I'd forgotten all about, where we were goofing around.
Listen to the Steve Miller Band's "Crossroads"
There were early versions of "Fly Like an Eagle" with different verses. We played around with that for three years before we got it the way we wanted it.
Watch a live performance of "Fly Like an Eagle," three years before the song was released
You've just been nominated for induction into the Songwriters Hall of Fame. How do you feel about that?
I was honored to be nominated; it's a pretty daunting list of songwriters. When I heard about it, I thought, wow, that's really exciting, and then I saw the others who were nominated and I just went, "Right, OK." I'm not worried about it though.
[Miller was selected in the Class of 2020.]
You made a couple of headlines when you were inducted into the Rock and Roll Hall of Fame. You were pretty much indifferent about that one.  How does this compare?
This [event] is much funkier and looser than the Rock Hall of Fame. By the time I was invited to come around to the Rock Hall of Fame, I was just fodder for a TV show. They didn't give a shit about me. When you go to the Songwriters Hall of Fame it's funky, and it's not on television. You don't have all this power play going on. It's kind of ironic, because it's basically run and operated by publishers, who spent their time abusing songwriters. So it's like, "Congratulations. You sold millions and millions of records and you wrote all these great songs and we paid you a little bit." But I like it better, because it's informal. I've been to [the induction ceremony] a couple of times. I inducted Gordon Lightfoot. Bob Seger was there; that was kinda fun.
Watch Miller's 2016 Rock and Roll Hall of Fame induction speech
Do you feel that songs being written today will still resonate 40 or 50 years from now with listeners who are young today?
Yeah, they probably will. [When I was starting out] I only needed three chords. [My father, who was a jazz fan] thought it was bullshit. He really didn't like it. We changed it and now these kids are changing it. There's new technology. When I was making my records, in a matter of six years we went from four tracks to eight tracks to 16 tracks to 32 tracks. Making records stopped being like, we're going into the studio, we're going to be there for four hours and we're going to cut 22 tracks.
Related: Our review of Welcome to the Vault
By the '70s some bands were taking a week just to get the drum sound right.
Yeah, the Grateful Dead were the worst at that. I remember going into RCA Studios one time down in L.A. and the Dead had been working on their drum sound for two weeks. I just kinda went, "Well, that's just fucking incompetence and drugs and torture." That's not real. I think they eventually learned that was all bullshit too. What was different was people would go into the studio and use the studio as an instrument. We had all these multi-tracks and you had all this stuff and you started using it. The studio itself became part of the effects of the recording and that changed everything. Now we're way past that.
The Steve Miller Band started out as a sort of underground band, playing the Fillmores and places like that. Did some fans say you sold out after you started having hit records?
That's true. "Abracadabra" killed me with a whole bunch of people. There were a lot of [artists] that were kind of snide about wanting to make hit records. I knew Les Paul when I was four, and he had 25 hit records or something.
Watch Miller perform with Les Paul in 1990
For me, the whole enterprise, the way it worked, was you wrote something, it was played on the radio, and then you didn't have to play in a nightclub for the mafia. You could actually go do shows. If we had a couple of hits, you could get a bigger PA and you could have a light show and you could build the whole thing more and more and more. I had friends who were kind of snooty about making hits, but the truth was they would've given anything if they could have made one.
What was the story behind "Abracadabra"?
"Abracadabra" was a really slick hit. It's a really great piece of music. I had the music and I love playing it. The audience loves it. I play it all the time. Every night I get a standing ovation for the guitar work on "Abracadabra." When I wrote the lyrics, I was thinking about the Supremes. I had finished it, but it was for another album. I took it off the album right at the end and I just said, "I can write better lyrics." The lyrics weren't that good and it was sort of wasting the good piece of music. So I took it off and I held it back for three years. And then one day I saw Diana Ross and started thinking about her. I had done a show with the Supremes in 1965: the Supremes, the Four Tops and the Goldberg-Miller Blues Band. That was on [the rock and roll TV show] Hullaballoo. The Supremes were really something. I just started thinking about the Supremes and I went, "Gonna reach out and grab ya," and I just wrote the lyrics in 12 minutes. So I always say the song took three years and 12 minutes. Capitol Records hated it. They said, "We're not getting any phone reaction; radio doesn't like it." I said, "OK, fuck you," and I decided to go to Europe to promote it. When I got there, it was number one everywhere in the world except the United States and Japan. Then it became number one in the States too. That was the number one single in the world in 1982. And then Michael Jackson followed that with Thriller. Making hit records is an art and it's a puzzle, it's a contest. It's challenging producing records. I love doing all that.
Watch the Goldberg-Miller Blues Band on Hullaballoo in 1965
What do you have planned for 2020?
I want to continue touring with [country artist] Marty Stuart, and I want to get a blues group too, so I've got blues, country and rock. My audience is really mature now. It's really a great audience. I love my audience. This last tour, with Marty, was the most fun I've had touring in maybe ever. The audience just loved what we were doing and the music we were presenting was just great and Marty was fantastic. They'd come out and play with us. We talked about the history of American music. It's just all grown up and really good. It sounded great. I'm just having the best time.
[The tour was cancelled. When Miller tours, tickets fare available here and here.]
Watch the official "Abracadabra" video

Latest posts by Best Classic Bands Staff
(see all)