Steve Marriott Interview: 'Paying the Bills'
by Jim George
It's one of music's monumental inequities. Despite being posthumously inducted into the Rock and Roll Hall of Fame as part of the Faces/Small Faces package deal, Steve Marriott never achieved the degree of lasting success that many of his peers and many lesser talents enjoyed. Arguably, no one was better at what he did. He was a brilliantly gifted singer-guitarist-songwriter and the centerpiece of two classic bands, Small Faces, from 1965-69, and then Humble Pie into the mid-'70s.
Marriott, born January 30, 1947, wrote or co-wrote many of Small Faces' best known songs, including their sole U.S. top 20, 1967's "Itchycoo Park," as well as "Lazy Sunday" and "Whatcha Gonna Do About It," and then continued to author material for Humble Pie, including the singles "30 Days in the Hole" and "Natural Born Bugie."
Yet, Marriott's twisted fate resulted in him influencing a slew of others whose careers far eclipsed his own. There are as many reasons for this as there are notes in those glorious, sky-high melismatic vocal riffs he delivered onstage and on record. Drugs. Booze. Poor choices. Bad behavior. Lack of ambition. Short fuse. Add your own. Yet, many an artist with vices equal to and worse than Marriott's have flourished despite their bad habits. He was unquestionably at least partly responsible for his lot in life. However, misfortune, in the form of unscrupulous managers, rip-off artists, poor promotion, bad reviews, record company bullying, and accidents must also be factored into the story. The fact is, Lady Luck has a lot of say in such matters, and she can be one fickle bitch.
In late 1983, the transplanted Englishman (and sometime mad dog) was living in Milner, Ga. The previous few years hadn't been the kindest. His first solo album, Marriott, stiffed. Attempts to recapture the magic of his former bands via partially reunited versions were short-lived and ill-fated. His second marriage, which is what initially brought him to Georgia, crumbled. There were health crises. And poverty. But through it all, his power-packed voice and electrifying stage presence could still wow audiences, albeit only a fraction the size of those he commanded during the peak of his popularity in the '60s and '70s. Now free of any record label contractual obligations, Marriott was basically a journeyman musician. But he claimed he still loved the journey.
This Q&A was conducted informally over time and, until now, remained unpublished.
Watch Small Faces perform "Lazy Sunday"
You're on the road pretty much these days.
I'm working for a living—literally. Paying the bills, paying the rent, buying food, buying the old lady a new ring. Which I don't mind doing, man, 'cause there's something good about working for a living. You know exactly what you're getting and you know exactly where it's going. For me, that works. I'm very happy like that, and I wish it would carry on like that forever. I don't want to get too much money again and not know what I'm doin'. And I never want to have so little that I have to take the fuckin' bottles back again.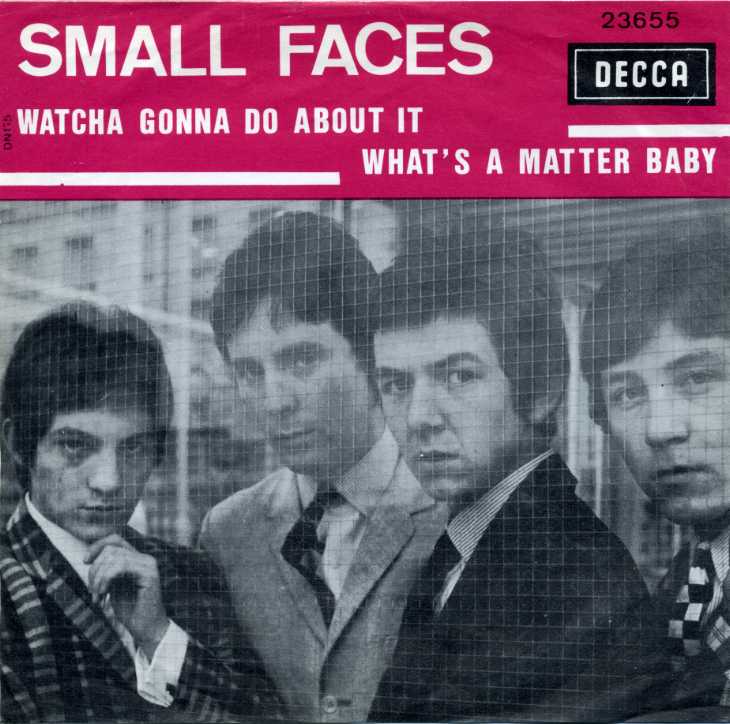 You actually had to do that?
Yeah! I told people that and they laughed; that's what was so funny, man. I said, "Last year when I was in California I was takin' the fuckin' 7Up bottles back (for cash)," and they go, "Ha, ha, ha, ha, ha!" It's no joke, it's true. I lived up on the top of a mountain, and I put all these bottles in a fuckin' sack. I'd drag the sack down and it would split regularly all the way down. I rarely had enough money to take the bus to take them into town. Then I used to have to buy more bottles so I had more to take back. I'd get some eggs, steal some margarine…
Why not butter?
Well, because I figured if they caught me with margarine, they might take pity on me (laughs)—"Oh, look at that poor kid—he doesn't even know to steal butter!" At the time I wasn't working. I just had the kid and took it upon myself not to work, which is a bad move. A really bad move. You know when you've got a few bob put away and you think, well I've got enough for a while, it goes. That's what happened to me.
Do you have a lot of unreleased material?
I've got 40 reels of stuff that's sittin' in New York that was done in my studio in England that's never been released. With everybody and their brother—Mick and Keith, Paul Rodgers and me, and Elkie Brooks. Hundreds of people came to my studio, and I cut 'em all there. They're on 16-track tape. I never even fucked with them. I did some rough mixes, but that's it.
Will they ever see the light of day?
Well, when I die they will (laughs).
Do you write a lot?
Yeah, but I must admit, not as much as I used to. Now if something good comes along, I'll work on it, but usually I don't bother with the bullshit I used to kick around. I've got a surfeit of stuff myself, but I have to realize only X amount of it is what I would consider really good, and the rest is really nice bullshit on a stoned evening or something (laughs). There's songs that come  outta the ass, and when you take a real hard look, you go, "Ooh!" There's six that really make it, and the other 15, forget it.
Trouble is, see, I write a lot on piano, and it doesn't really transpose that well to two-guitar rock 'n' roll. I did a lot of stuff in the Capricorn studios in Macon, but it's mainly keyboard stuff. It's in the can, but people don't expect that stuff from me. Unfortunately, people don't want the unexpected. I'll give you [ex-manager David] Krebs' line: "Why can't you do a whole album of 'Fool for a Pretty Face'?" Because it's called progress, asshole! They've got no idea. They don't see it.
I prefer when you do a variety of styles.
Hey man, I do it all the time, but they won't release it. I don't have that final artistic control. That's how tight they are on the lid. They see a formula, they want you to stick by it. And even if they release it, they have the power to bury it, which is even worse 'cause you're pissin' in the wind. The business has changed that much. The best days for me were with Immediate [Records], 'cause we could do whatever we fuckin' wanted and laugh and get away with it. Generally, I can't think of one that didn't do good when they give you the control. 'Cause they don't know what they want. They think Dolby is a disease (laughs).
Watch Marriott perform "Five Long Years" in 1985
It is a disease!
I know (laughing). Well, it's an engineer's disease.
Related: Humble Pie's Performance: Rockin' the Fillmore is among our picks of 10 great 'Live at the Fillmore' albums
I was just playing the Playmates [Small Faces] album last night.
It's good, isn't it? Yeah, nice. Me and Mac [Ian McLagan] really loved each other at the time. Now he doesn't even fuckin' call me.
What happened with the Small Faces reunion of '77-'78?
The Faces would only work one German tour and one English tour a year. Big fuckin' deal. What do I do in the meantime? I want to work! So I formed a band called Blind Drunk and went out and played with everybody I could. I don't think there's anything wrong in that at all. NME said, "What do you do when your organ player is fuckin' around with the Stones and the  drummer's taking a vacation? You form a band and play, and that's what Steve's doing." And they resented it to hell. It was the damn truth, and that's all there was to it. You know me, I can't stop playing. That's what I love to do the best.
I'll tell you what I did [with the Faces]. I booked a week in the Marquee in London. OK, so it only holds a thousand people, so it's a pisshole, so what? They wouldn't do it. They fuckin' wouldn't do it. I said, "Oh, come on!" We got a week in there—the place where we started, where the Who started, where the Yardbirds started, where the Action started. They said, "No, no, no, it's not enough money, Steve." I said, "Well, fuck the lot of you then." That's when I left. Maybe that's why Mac doesn't call me back. [Ed. Note: McLagan died in 2014.]
You co-wrote some songs with him and also sang some of his on Playmates and 78 in the Shade [the pair of Small Faces reunion albums].
I did a couple. I built him up to feel really good, because he was always the underdog with the Faces, right? All the time I'm going, "That's great, Mac, that's great! Let me rewrite this, rewrite that, don't play A, play G, now play a B. And I'm trying to help the little motherfucker. Then all of a sudden, when I turn around one time and say, "Mac, that sucks," he went crazy! Slamming doors—I thought, "Oh, my God! I've spoiled him," and I didn't mean to do that. I tried to be honest, and he freaked!
Do you keep in touch with any of them?
The only people I keep in touch with are Keith Richards and people like that, 'cause they're the only people I want to talk to.
You mentioned that Keith would be involved with your next album. Is that still going to happen?
Yeah, of course. He loves me. He's always been on my side. He got me out of the hole. So he'll be around whatever happens. Whether he plays guitar, whether he pushes knobs, who cares? I'll write on the back of the album in big black letters, "Thank you, Keith, for bailing me out!" My manager Moe says to me, "Ring Keith, ring Keith!" and I said, "Fuck it—for once in my life I'd like to ring Keith and just go, 'How are you?' instead of, 'Keith help me do this, Keith help me do that.'"
Related: A conversation with Peter Frampton, Marriott's one-time bandmate in Humble Pie
How's your health these days? It was touch and go there with you for a while.
It was, yeah. I was really ill the last time I saw you. I was in fuckin' intensive care–watching my life go by on a ping-pong table (laughs).
It was reportedly an ulcer.
It wasn't an ulcer, it was duodenitis. The way they termed it on the paper was "acute duodenitis with bleeding." What that means is internal bleeding through a split in your intestine. I would've rather had an ulcer than duodenitis 'cause you can't do nothing for it. It has to clear itself up. But the one thing you don't do is a lot of drugs and a lot of booze. You just have to be moderate, that's all. It isn't a problem anymore.
Watch Humble Pie perform "30 Days in the Hole"
Sadly, Steve Marriott died eight years after this interview was conducted, on April 20, 1991, in a house fire in England. He was 44. He was inducted posthumously into the Rock and Roll Hall of Fame in 2012 as a member of Small Faces.
Latest posts by Jim George
(see all)