Steve Earle Interview: The Return of the Outlaw
by Mark Brown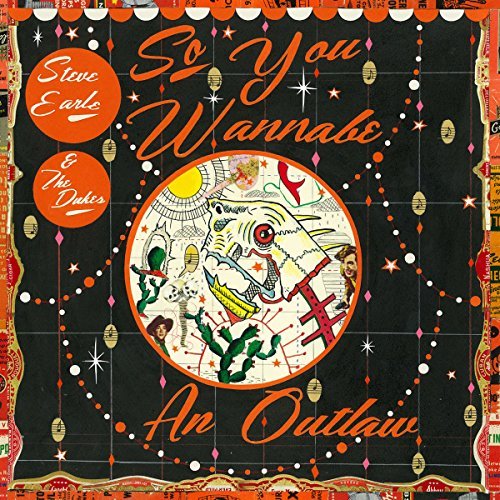 This interview was originally published by Best Classic Bands in 2017.
Steve Earle is pissed. It wouldn't be the first time.
When he sees other singers referring to themselves as "outlaws," he starts to fume. Earle, Willie Nelson, Waylon Jennings and a few others were the real outlaws back when it meant something. He's here to take the term back with a recent album.
So You Wannabe an Outlaw, released in 2017, on Warner Bros. Records, "is really about redefining the term 'outlaw.' These days it's about people being fucked up and 'yee-haws.' That's not what outlaw music was all about," Earle said. "It was about artistic freedom and making records the way they wanted to."
So You Wannabe an Outlaw takes up the challenge, with Earle channeling his earlier self and his latter-day attitude into defiant song. He's still singing for the little guy, people who make mistakes, get their hearts broken or feel left behind.
Still, he remains hard to define even though Earle, born January 17, 1955, has been such a steady songwriting presence for more than three decades. Even when his well-chronicled life was filled with turmoil—drugs, prison, divorces—the songwriting remained consistently strong with an album every year or two.
So You Wannabe an Outlaw strongly echoes his brilliant debut album Guitar Town and it turns out it's not by accident. Earle considers it a "philosophical follow-up" to that 1986 album.
When he recorded Guitar Town, Earle explained: "I was trying to emulate a [Waylon Jennings] record called Honky Tonk Heroes made 13 years before Guitar Town. There wouldn't have been a Guitar Town without Shotgun Willie and Honky Tonk Heroes. Those guys were discovering that rock guys were getting to do stuff they didn't get to do. They wanted more artistic control. That's what the 'outlaw movement' was about. I've been identified with the same thing. When I got there in 1974, that's what was going on."
The lead-up to the 2017 album was shaped by Earle doing the 30th-anniversary tour of the Guitar Town album, working on an album with singer-songwriter Shawn Colvin and making his acoustic blues album, Terraplane. Everything seemed to lead back to revisiting the songwriting sensibility of Guitar Town.
Listen to "Lookin' for a Woman" from So You Wannabe an Outlaw
Earle revisits familiar angst-ridden themes but manages to give new voice to them. The title cut is about the grind of the road and the loneliness that accompanies it. "Fixin' to Die" is properly apocalyptic in its tone; "News from Colorado" is vague in its sense of doom; and "Sunset Highway" still keeps the "Someday" dream alive of moving on and finding someplace better.
"Where do I get it? I don't know," Earle mused. "I've always known this job was about empathy. I'm really lucky and I have been for a long time. It took me a long time to get a record deal and be successful, but I was luckier than a lot of people. I liked what I was doing. I didn't have to 'find myself.' I knew what I was when I was 12 years old. It's about your experience but the part of it that's universal that other people can relate to," he added. "Little Rock 'n' Roller" off his debut album immediately struck a chord with fans and fellow musicians.
"People don't want to hear you feel sorry for yourself," Earle said of his traveling life. "Truck drivers can relate because they're always traveling and away from their kids. One of the first things Johnny Cash said to me was to say he liked 'Little Rock 'n' Roller.' I can understand why Johnny related to it. But truck drivers related to it too. They thought Guitar Town was a truck-driving album."
"If Mama Could Have Seen Me" was written on order for the TV show Nashville. Like James Taylor's songs written for Studs Terkel in the '70s ("Millworker" and "Sleep Come Free Me," songs with which Earle is intimately familiar), Earle enjoyed the challenge of writing on assignment—and writing a song of regret from a prison cell is something he was familiar with.
"It's way easier. It's a way to write," Earle said. "Some things are going to be written anyway. I'm writing something for Joan Baez right now. It's a pretty good song. I'll probably record it too. I like writing stuff for television and films if the television and films are good."
The off-Broadway musical Samara also got Earle, a theater buff, onstage as an actor. During rehearsals he did a stand-in role as the narrator and director Richard Maxwell talked him into taking the part.
"I just wrote a song I may never record. It's for a play I'm in," he said. "I got tricked into performing it as an actor. I came to one of the workshops and they said, 'Do you mind reading the stage directions?' It's like the part of the stage manager in Our Town. It's some scary shit. I've done it in film and television, which is way easier."
So You Wannabe an Outlaw comes after a long period of collaboration, not just with the play but 2016's Colvin & Earle album with longtime friend Colvin. Despite the decades of songwriting under his belt he feels nowhere near done. He doesn't have to look far for inspiration.
"I'm just trying to stay out of trouble. It's another thing like a special project that keeps you interested," he said. The biggest undertaking at the moment is writing his autobiography, which forces him to look back at the bad behavior, seven divorces and other frailties that both crippled and fueled his career.
"This memoir is the hardest thing I've ever done," he said. "Every day I've got to get up and write about me, and sometimes I just don't fucking want to."
He chuckles.
"Maybe some of it is laziness. It's just keeping going," he said. "When you get older you gotta try a little harder to keep things vital. I started yoga when I was 61 because I needed to. I still have to travel a couple of hundred days a year because I have alimony to pay. And a little boy (his autistic son, John Henry). Nobody can accuse me of not being optimistic. I'm over 60 years old and I have a 7-year-old son!"
Watch Steve Earle and the Dukes play the title track from the 2017 album
Related: Earle suffered immeasurable heartache when his son, Justin Townes Earle died in 2020
Earle is regularly on tour. Tickets are available here.

Latest posts by Mark Brown
(see all)